The Most Popular Pie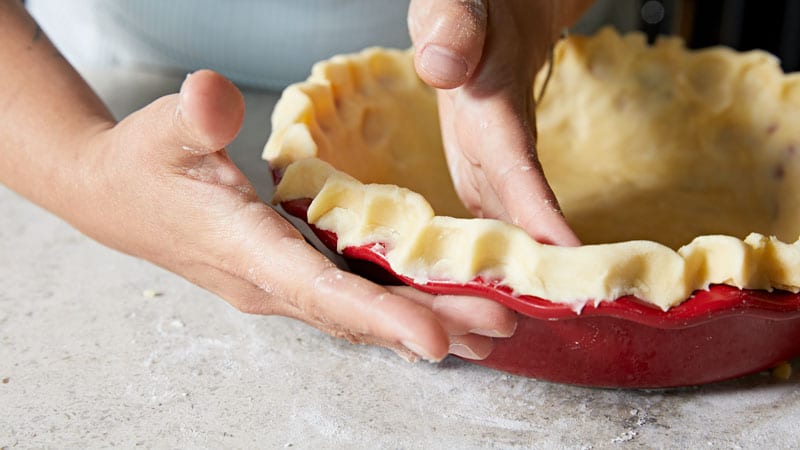 PCC's most popular website recipe has only been around for about 13 years of the co-op's 70-year history—but its roots are far older.
Lynne Vea, who created the top-ranked Old-Fashioned Brown Sugar and Cinnamon Apple Pie around 2010, found inspiration for the dessert from childhood. Vea's grandmother lived down the street from Vea and "was just the ultimate entertainer," she recalled.
Vea loved spending time with her and remembers "from the earliest days, one thing I could help with in the kitchen was piling fruit into crust." Her grandmother used brown sugar in her pies. "It just had so much more flavor," Vea said, and the apple pie smelled so good coming out of her oven.
The pie is just one of hundreds of recipes Vea created for the co-op over her 22-year PCC career, before retiring in 2021 as the co-op's corporate culinary innovation chef. A Le Cordon Bleu trained chef who worked in restaurants around the globe, she had intended to take a sabbatical year in 1999. A friend managing the Green Lake PCC deli, though, asked Vea to help out and rework the cheese counter during her break.
"I loved the company, I loved the people and I never looked back," she said.
Vea went on to start a demonstration program in PCC stores, to teach cooking classes under then-department-head Marilyn McCormick, to organize multi-course wine dinners with PCC "Wine Guy" Jeff Cox, and regularly represent the company on TV cooking shows. Vea's undergraduate degree was in communications, and "the gift of gab is just in my genetic structure," she said. "My family, we love to present, we love to teach, we love to share."
For several years (and 200 episodes) she teamed up with Ciscoe Morris, the beloved Northwest horticulturalist (see "Making the Most of Winter Kale") and was also a regular guest on KING 5's Evening Magazine and New Day Northwest.
The apple pie was another twist: "Working with (former PCC marketing director) Laurie Albrecht, we were working with Fisher Broadcasting doing some promotional spots on the radio," she said. Each season they would present three recipes tied to what was fresh in stores.
Given the "crazy, creative, amazing stuff" that came up over the years, she laughed to hear that a simple pie recipe became the most sought-after recipe by far on PCC's website.
That said, "it's a great recipe and a very inspirational recipe for me."
"The fun thing about the apple pie, and it says it in the recipe, it's so interesting to experiment with all the different apples that PCC carries," she said. Part of that was knowing the farmers that PCC produce managers developed relationships with—Joe Hardiman and Kevin Byers during Vea's tenure, Elliott Lamoureux and Tyler Hine now.
Vea would spend days in the asparagus fields or cider orchards or other farms, meeting the workers and getting some understanding of their passions and hardships. That, she said, was essential to the work.
"To me the whole joy of creating recipes is knowing the source of the beautiful product you're working with, and knowing the people."