Community2Community supports Washington's first cooperative farm
By Tara Austen Weaver, guest contributor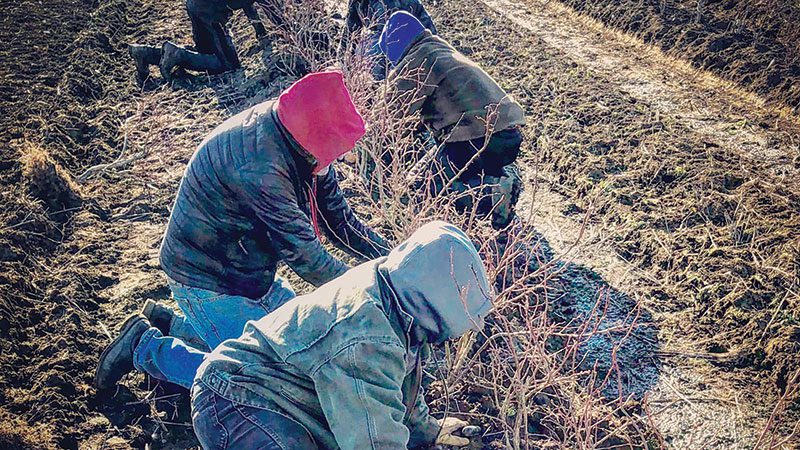 On a road in Everson, Washington, about 25 minutes north of Bellingham, stands a white painted sign showing a picture of Emiliano Zapata, the famed agricultural freedom fighter of the Mexican Revolution. Emblazoned on the large charro hat he was known for wearing is his rallying cry: Tierra y Libertad! Land and liberty.
Today that slogan is also the name of a farm. Tierra y Libertad (TyL), in Everson, is Washington's first cooperative farm, owned and run entirely by farmworkers.
The seeds that grew into TyL were planted in the wake of the September 11 attacks, when the Patriot Act allowed for increased surveillance in border regions to combat terrorism. "In the early 2000s, there were several workplace raids that detained dozens of farmworkers in Whatcom County," explained Tara Villalba, a teacher and organizer with Bellingham-based Community2Community.
As a grassroots organization dedicated to food sovereignty and immigrant rights, Community2Community (C2C) advocated for the rights of those detained farmworkers, pushing back against racial profiling.
C2C was founded in 2003 by Rosalinda Guillen, who comes from a family of farmworkers in La Conner and was active organizing with the United Farmworkers of America (UFW). Guillen, a 2020 recipient of the James Beard Foundation's Leadership Award, took part in the 1993 campaign at Chateau Ste. Michelle, Washington's oldest winery, that resulted in the first union contract for farmworkers in Washington state.
Another seed was planted in 2013, when workers at Sakuma Brothers Farms in the Skagit Valley, one of the largest berry growers in the state, went on strike to protest low wages and working conditions. The workers formed their own union—Familias Unidas por la Justicia (FUJ)—one of the only independent, farm worker-run unions in the country. Over a series of strikes, boycotts and several legal battles, they were able to successfully negotiate their own contract in 2017.
One of the FUJ organizers is former Sakuma worker Ramon Torres. He is currently president of FUJ and a founding member of Tierra y Libertad. Another TyL member, Ana Lopez Demetrio, also a FUJ founding member, was a plantiff in a class-action lawsuit that led to the state Supreme Court ruling that agricultural piece workers are entitled to paid breaks.
The land where the farm is located is a 65-acre plot traditionally dedicated to berry farming—strawberries, raspberries and blueberries. C2C and Tierra y Libertad are in the process of purchasing the farm from the Canadian landowner, a berry-farming family of Punjabi descent. (In 1907, the Punjabi community in Whatcom County, primarily working in the lumber mills, were attacked and forced to leave the area by members of the Japanese-Korean Exclusion League; many of them fled to Canada.)
"We're working with a farmer who is selling this land and wants to see the cooperative succeed," Villalba said. The process is underway, but fundraising—a mixture of grants, public funds and private donations—has taken time.
"We were hoping to finish the purchase in the beginning of this year (2023)," explained Villalba, "but we didn't quite meet the fundraising goals. Hopefully it will be fully purchased with the title in hand by the end of this year. It's really key to be able to do the work."
The plan is to base the cooperative on the traditional ejido system, as practiced in Mexico—five families live and farm their own plots of land, while a sixth portion of land is farmed in common. "This stabilizes farmworkers in terms of housing and their livelihood, and they are able to make decisions about the land that is not possible when someone else is the landowner," Villalba said.
This cooperative model is not common in the United States. "It's revolutionary, in one way," Villalba said, "because the land is owned by farmworkers, but it's revolutionary in another way, because the land is owned in common. It will go into a land trust, to be used as a farm cooperative in perpetuity. So, no one worker owns any part of that land. It's a very different way of approaching self-determination. It's more in line with how we use the land in a non-exploitive way."
What happens when farmworkers are allowed to make their own decisions? In addition to a greater profit share, and the ability to make humane choices about working conditions, they develop new markets and address unmet needs in their community.
While Tierra y Libertad is still primarily a berry farm, they are also growing nopales—the succulent green paddles of the prickly pear cactus, traditionally used in Mexican cuisine. "They're the only farm growing them this far north," Villalba noted.
Chilacayote—a squash also known as fig-leaf gourd—is another popular product. Its flesh, flowers, vines and seeds are all used in South and Central American cooking, as well as in traditional Asian and African foodways. Additional crops include tomatoes, chilies, cucumbers and fresh eggs from a flock of chickens who also provide soil-enriching manure. This year they are also trialing several short-season corn varieties and are interested in starting a tortilla-making cooperative if they can find an appropriate corn for this climate.
One of the partnerships TyL has developed is with local food banks in Whatcom County who purchase produce from the farm. There are reports of increased engagement among the Bellingham Food Bank clientele on the days their produce is delivered, as visitors are excited to receive the nopales and chilacayotes. These are culturally relevant foods for many families and hard to find.
Among those visitors in need of food are fellow farmworkers.
"It's one of the most ironic things," Villalba said, "that our community of farmworkers are getting food at the food banks."
Thanks to Growing for Good, a  partnership between PCC's member-supported food bank program, the Neighborhood Farmers Markets, and the nonprofit group Harvest Against Hunger, the berries, nopales and chilacayotes from Tierra y Libertad are also now in food banks south into Edmonds and Seattle.
Other sales outlets for the farm include Mallard Ice Cream, the Bellingham Food Co-op, City Sprouts CSA, Skagit Food Co-op, Twin Sisters farm stands and the Bellingham School District. Their retail label also features the portrait of Emiliano Zapata—cheekily holding a basket of strawberries—and proudly declares: "This cooperative was formed by farmworkers in 2017."
But perhaps the greatest impact that Tierra y Libertad can make is in the example they are setting for others in the region—and workers in other states, who have also expressed interest.
"For farmworkers who can't afford to buy the food they produce—for them to then see a cooperative run by farmworkers, to see the possibility of something different for them, is just incredible," Villalba said.
And that vision may be spreading.
Not all agricultural workers stay in farm work. They often work in construction, especially in the off season. Recently a group in Burlington came forward wanting to form a cooperative of roofers, because they were tired of exploitative working conditions.
"The fact that they can emerge as a possibility, we think, is because they've seen not just a union, but a different possibility for their livelihoods," she said.
Tierra y Libertad is growing berries and squash, but they are also planting hope, and the potential for self-determination, deep in the soil of Whatcom County.
Seattle writer Tara Austen Weaver is author of several books, including "Orchard House: How a Neglected Garden Taught One Family to Grow," "Growing Berries and Fruit Trees in the Pacific Northwest," and, most recently, "A Little Book of Flowers: Tulips."
Supporting Community2Community
Visit foodjustice.org to learn more about Community2Community and support its work to help purchase land for the Tierra y Libertad farmland co-op.
A $15,000 contribution from PCC's shopper-supported food access fund has been awarded to C2C's Community Fresh Market, a food access program supporting the farmworker community.