A new recycling option for multi-layer plastics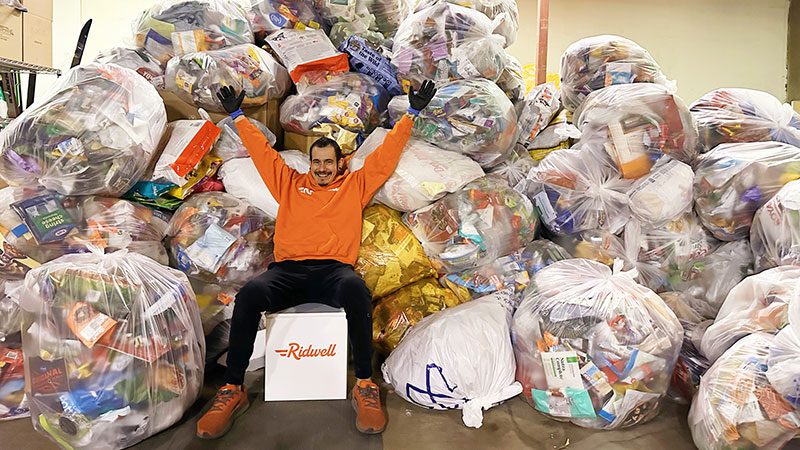 Chip bags, candy wrappers, resealable food bags and other "multi-layer" plastics can have a second life under a new program by recycling company Ridwell, a PCC partner. 
The multi-layer plastics that Ridwell now collects through its paid subscription program are gathered in its warehouse, cleaned and consolidated, baled and sent to one of three partners for reuse. Arqlite recycles the plastic into potting and hydroponic gravel, ByFusion Global, Inc. turns it into concrete-like building blocks, and Hydroblox, Inc. uses it for commercial and industrial drainage planks. 
The ongoing partnership comes after three successful pilot programs over the past year that showed "incredible demand" for recycling the materials, said Gerrine Pan, Ridwell's vice president of partnerships.
Demand for the service is so high, of course, because the supply is too. Multi-layer plastics are present virtually everywhere in modern food packaging: wrappers, bags holding fresh and frozen foods, net-like bags holding produce, the hefty plastic bags that hold fertilizer and dry pet foods and more. 
"While (multi-layer plastics) provide some valuable benefits as a packaging format—they are lightweight and can help preserve the freshness of packaged foods, which can reduce food waste—they pose a waste problem once they serve their purpose, as there are currently no recycling pathways that are proven to be both environmentally beneficial and economically viable," Sabrina Register, a public information officer for the city of Seattle, said in an email. The materials cannot be put in municipal recycling bins.
Ridwell, which focuses on hard-to-recycle items like batteries and light bulbs, had already regularly collected another problematic plastic: thin, stretchy plastic film, which is also not allowed in curbside recycling in Seattle, because it gets caught in sorting machines. (Ridwell collects it for use in Trex decking.) But the multi-layer plastic was an even thornier problem. It took a lot of upfront work to find partners who could use it appropriately, and it took time for the marketplace to grow large enough that companies could reliably take significant quantities of the material. 
For most plastics, "they have a recycling process," Pan said. "There is dedicated machinery, and a process that can, for example, take #1 PET bottles and grind them down into flake and turn them into something from which you can make more bottles." But multi-layer plastics are just what they sound like; layers of different substances fused together. It's hard to break them down in a usable way. "They're really very difficult to work with." 
While free options do exist in the region for recycling stretchy plastic film, those programs do not include multi-layer plastics. King County residents can recycle plastic film at the Bow Lake Recycling Center/Transfer Station with proof they live or do business within King County's service area, which excludes the cities of Seattle and Milton.
Some businesses accept drop-offs of plastic bags, film and wrap for recycling (but again, not multi-layer plastics), see bagandfilmrecycling.org for locations. The list is not guaranteed to be up-to-date, the site recommends contacting stores to confirm before visiting a listed location.
While PCC does not currently have a plastic film recycling program, it is actively working with partners to develop one—stay tuned for details.
PCC member discount
Interested in a Ridwell membership? PCC members can receive 10% off the subscription price at this link.
Plastic Free July
Plastics pollution is a major environmental problem. The three R's of waste management are "reduce, reuse, recycle"—but, as the organizers of Plastic Free July note, we can't recycle our way out of the problem. See the nonprofit's recommendations at plasticfreejuly.org.
Some PCC options for reducing and reusing, including programs that benefit co-op partners this summer, include: 
Thanks to updated health department regulations, shoppers can use their own clean, reusable cups and mugs for drip coffee and espresso drinks at PCC.
The same health department updates allow shoppers to bring clean, reusable containers from home for many bulk foods. (Exceptions include herbs and spices, sugar and oats.)

 

Bulk foods will be 20% off at PCC from July 19 to Aug. 1 for Plastic Free July.

 

In July PCC stores will also feature new aluminum cups and compostable products to help shoppers go plastic-free, including snack and sandwich baggies, Biobags and cling wrap.
PCC is a longtime supporter of Zero-Waste Washington, which sees reducing plastic waste as a top priority. Heather Trim, the nonprofit's executive director, says one of the biggest things individuals can do—besides being mindful about what they purchase—is talking to their elected representatives about these issues. Trim also noted that, just in time for Plastic Free July, the Vancouver-based company Reusables is piloting a Seattle program where users can borrow cups and containers made of recycled steel at participating businesses. (Sign up at Reusables.com)
PCC encourages use of reusable bags. Watch in stores for a limited edition Summer 2023 tote with sales benefiting Long Live The Kings, a nonprofit working to restore wild salmon and steelhead, featuring Seattle artist Stevie Shao.

 

All PCC stores sell reusable cups. Watch for an August fundraiser where, while supplies last, 100% of sales from a camp mug by Miir at PCC stores will support the Washington Farmland Trust.