Brighten meals by cooking with fresh herbs
Story and photos by Nancy Leson, guest contributor
Long before the era of email and Evites, my grandfather owned a printing shop that specialized in custom letterhead and engraved invitations. As a child, I'd often practice the alphabet with letterpress type there and make paper chains from paper scraps.
When I'd had enough of the deafening chug-a-chug-a-chug of the big black presses, I'd hightail it to the tangle of greenery that defined the backyard.
There, mint grew in wild profusion, its scent as alluring to me then as it is now.
I was six when my grandfather died. The shop was soon sold, but I'm reminded of it—and him—each time I snip a handful of fresh mint for a Middle Eastern salad, or a sprig for a mug of hot tea.
You don't need an engraved invitation to appreciate the joys of fresh mint, or any of the wide world of culinary herbs that grow here in the Pacific Northwest. Instead, I invite you to consider using fresh herbs to up the ante in most everything you cook.
I generally have the brownest thumb in three counties, yet a knack for growing herbs. And by "knack" I mean plant and ignore!
That's what I've done with the chives near my backdoor, dormant in the heart of winter, but a returning godsend each spring as their delicate green shoots provide an oniony addition to an omelet or a stir-fry, while their lavender-hued blossoms act as glamorous garnish, adding a pretty "bite" to my chilled cucumber soup.
My gnarly sage plant grows year-round, its hardy leaves lending their scent to a pan of browned butter—a simple sauce for homemade potato gnocchi, or store-bought PCC butternut squash ravioli.
It was hard to ignore the rosemary that grew in our yard for more than 20 years until it died a natural death several winters back after a particularly harsh cold spell. Prolific and unruly, its sturdy sprigs morphed into a magic wand when used during barbecue season to brush olive oil onto grilled lamb. Evergreen—until it wasn't—it's where I'd head year-round, scissors in hand, to make my rosemary and sea salt dinner rolls. (It's since been replaced, and hopefully will thrive for many more winters to come.)
Rosemary stars in the lemony cornmeal-rosemary cake from Tom Douglas' cookbook, "Tom's Big Dinners," in which, in which the needle-like leaves act as both flavor enhancer (when chopped fine) and garnish (blanched, whole), their mildly medicinal mien balanced by a sweetened mascarpone glaze and a hefty hit of lemon juice and zest.
In fall and winter, I use fresh bay leaves in my braises and Bolognese, but who knew how much I'd come to love bay steeped in simmered milk and cream as the basis for a sweet yet savory homemade ice cream?
I regularly turn to "The Herbfarm Cookbook" and follow chef-author Jerry Traunfeld's master recipe to create various herb-infused ice creams (he's fond of cinnamon basil).
What goes around came around recently when a friend showed up at my door with a posy of fresh Turkish bay. "It's from the original Herbfarm," she explained, name-dropping the famous farm-turned-restaurant, late of Fall City and long-lived in Woodinville's wine country. Turns out she keeps a well-pruned bay plant in a container on her condo balcony in Edmonds, while her Herbfarm original looms large at her second home in Quilcene.
The next time she showed up it was with a small potted bay, a dividend from the original. That precious gift took root in my garden, providing me with bay leaves fresh and dried (on a paper towel, in my microwave), as well as a literal connection to the restaurant I've reviewed as a critic—and delighted in as a diner—for nearly three decades.
I've also found great delight seated, a glass of rosé in hand, at the lengthy counter at chef Renee Erickson's Seattle restaurant The Whale Wins, where I once watched a prep cook spend the entirety of my meal stripping fresh herbs for the house's mainstay salad, described on the menu as: "Lettuces, herbs, pistachio, parmesan." I've recreated this at home ever since.
Simple yet spectacular, it's built with soft lettuces (I prefer bibb or oak leaf) and an abundance of tender herbs. I reach for fronds of dill, cilantro and French tarragon, but to each his or her own (favorites). I toss these with vinaigrette, then finish with a flurry of finely grated Parmigiano-Reggiano and—subbing for the pistachios—crushed Marcona almonds.
The summer season is short, the colder months far longer. Which is why I'm a big fan of fresh supermarket herbs. Especially those sold in small planter-pots or with root ball attached as "living herbs," which I transport to repurposed cans that once held Italian tomatoes. These spark joy when perched, indoors, on the windowsill over my kitchen sink, where they're easy to water and access.
Whatever the season, I use an abundance of store-bought Italian parsley and cilantro—tender stems included!—in everything from soups, stews and sautés to sauces, salads and salsas. Once home with these stalwarts in hand, I remove the twist-ties or rubber bands and, to ensure they'll last longer, immediately wash them, spin-dry, wrap in paper towels (or cotton tea towels) and place them in zip-top bags.
Whenever you find yourself with a bonanza of fresh herbs, try this trick: clean then finely chop the herbs; place a couple-few tablespoons in each section of an ice cube tray; (barely) cover with olive oil and freeze. Pop them out and store in a freezer-bag. Instant flavor!
Now excuse me while I head out to my garden, where even in the depths of winter oregano hides among the hedgerow, growing wild like the mint of my childhood having seeded itself and propagated long ago. As for mint? I keep that in a cedar container protected from the elements, where I stop to rub fragrant leaves between my fingers and remember.
Nancy Leson is an award-winning food writer and radio personality who learned much of what she knows about food during her first career: waiting tables. Find her PCC cooking classes here.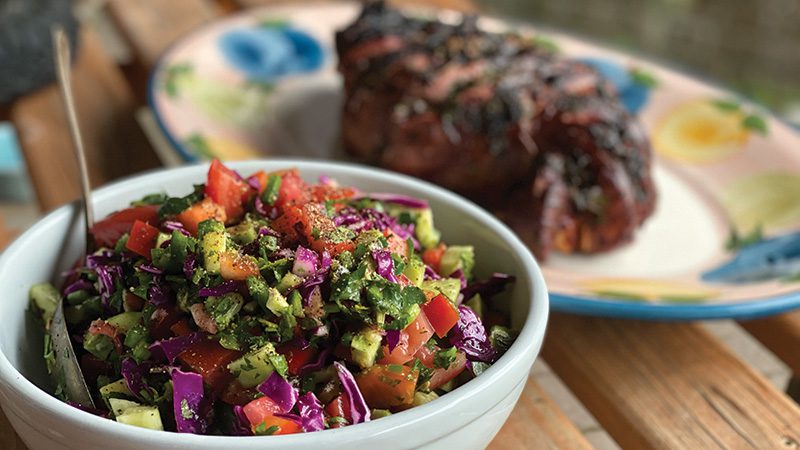 Salata Khadra Mafruma
This brightly colored sensation is a slight variation on a recipe from "The Gaza Kitchen: A Palestinian Culinary Journey" by Laila El-Haddad, and one of my favorites among the multitude of Middle Eastern chopped salads I make throughout the year. Though you may prepare the herbs and vegetables in advance, for best results, chop and dress just before serving. Can't find Persian cucumbers? A small English cucumber will do; you may leave the peel on for added color and crunch. Don't forget to zest the lemon before you juice it, and if the juice is too tart, use less—or do as I do and add a touch of honey.
Serves 4-6
2 firm ripe medium-sized tomatoes, diced
4 Persian cucumbers, diced
1 large red, yellow or orange bell pepper, diced
2 jalapeno peppers, diced
1 cup chopped red cabbage
3 green onions (scallions), coarsely chopped
½ cup coarsely chopped fresh mint
½ cup coarsely chopped fresh Italian parsley
1 garlic clove
½ teaspoon Kosher salt
Rind of 1 lemon, zested
Kosher salt and freshly ground black pepper, to taste
3 tablespoons fresh lemon juice
2 tablespoons extra virgin olive oil
In a large bowl, gently toss the tomatoes, cucumbers, peppers, cabbage, green onion, mint and parsley. Using a sturdy fork (or a mortar and pestle), mash the garlic with ¼ teaspoon salt, then mix in the zest and add that mixture to the salad bowl. Season liberally with salt and black pepper. Drizzle with the lemon juice and olive oil, then gently toss to combine. Taste and correct the seasoning. Serve immediately.