Is breakfast really the most important meal?
By Erin Cazel, guest contributor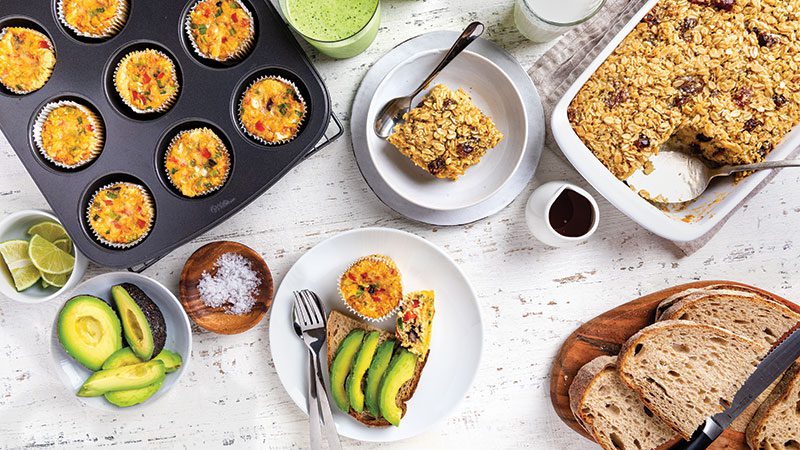 Ahh, fall—crisp air, crunchy leaves, pumpkin-everything—and, for many of us, the return of harried back-to-school schedules. With so much on the to-do list, eating breakfast can seem like just one more thing to stress about. Is eating breakfast really so important? If so, what are some ideal foods for the start of the day, especially for those extra-rushed mornings? And what specific breakfast strategies can best support the little humans living among us, from toddlers to teens?
With what we know about human physiology, it turns out there really is sound science behind those traditional lectures about eating a good breakfast. Fortunately, there are quick and affordable and very appetizing ways to fit it into a morning routine.
Adrenal hormones
Both lifestyle and diet habits make a difference in how the body handles stress, and breakfast is a key player in the process. To set the stage—I mean, table—for breakfast, allow me to first introduce you to your adrenals. These small, triangular-shaped glands sit on top of your kidneys and secrete several hormones that help balance the body's response to stress. When there is a perceived threat, such as a physical or psychological stressor (or perhaps the jarring sound of the morning's alarm), a part of the brain called the hypothalamus initiates the secretion of adrenal hormones. Cortisol is one important adrenal hormone that impacts our energy levels, mental alertness, mood and immune health.
Even without the jolt of the alarm in the morning, cortisol is regulated by the body's circadian rhythm and naturally peaks between 5 a.m. and 6 a.m. Cortisol mobilizes the release of sugar into the blood and channels it toward the brain, contributing to our sense of wakefulness in the morning. Imagine the way a toddler wakes up immediately ready to take on the day—you can thank their well-functioning adrenals for that whirlwind of energy! If, by contrast, you feel like you can't operate without your favorite caffeinated beverage in the morning (caffeine also stimulates cortisol release), this might be a sign that your adrenal glands are working overtime and need some rest and support.
Looking at the typically hectic modern schedule, it's no wonder our adrenals stay so busy. Unfortunately, chronic cortisol secretion has many negative effects throughout the body and is associated with an increased risk for a vast buffet of chronic diseases, including stomach ulcers, GERD, diabetes, cardiovascular disease, immune suppression, thyroid disorders, fertility problems, irritable bowel syndrome and other digestive conditions, depression and anxiety.
Nutrient-dense breakfast
Because our adrenals are the most active at the start of the day, a low-glycemic, nutrient-dense breakfast with high-fiber carbohydrates and protein can go a long way in supporting these busy glands and help restore a balanced stress response. Children especially benefit from a strong, nutritious start to their day. Not only are their bodies growing, but their brains are constantly engaged in discovering the world around them, and they're hard at work adapting to various social situations. Supplying key adrenal nutrients for the children in your life helps them navigate this daily trifecta of physical, mental, and emotional stressors.
To ease up on day-of preparations, consider breaking out your muffin tin and freezing batches of grab-and-go breakfast items packed with some essential adrenal nutrients, such as the chipotle egg bites with black beans and red bell peppers or vanilla baked oatmeal with dates and hemp seeds below. Smoothies are another great way to incorporate many adrenal-supportive foods—throw in a spoonful of your favorite nut butter or Greek yogurt and some chia seeds for a well-rounded smorgasbord of vitamins and minerals.
Because the adrenals are integrated with the brain, they also respond to lifestyle patterns: practicing good sleep hygiene (going to bed early and steering clear of screens before bed), incorporating times of joyful movement, engaging in breathing and mindfulness exercises, and cultivating laughter all do their part in supporting adrenal health. If this all seems daunting, keep in mind that small, consistent steps over time will add up. Take a moment to feel the weight of your body in your chair, breathe deeply and smile: you're on your way, and a sound breakfast helps set the right path.
Chipotle Egg Bites
Preparation time: 30 minutes
Yield: 12 egg bites
6 large eggs
½ cup milk of choice
¼ teaspoon salt
¼ teaspoon ground chipotle pepper or chili powder blend
1 cup shredded cheddar or Mexican blend cheese
½ cup sliced green onion
1 cup diced red bell pepper
¾ cup cooked black beans (about half a can)
Preheat oven to 350 degrees. Line a muffin tin with liners (the "If You Care" parchment paper liners are nonstick lifesavers) or lightly grease with oil. Combine the green onion, bell pepper and black beans. Evenly distribute into the muffin tins. Whisk together the eggs, milk, salt, chipotle pepper and shredded cheese. Pour over the veggies in the muffin tins. Bake for 20-24 minutes, or until the eggs are just set and the top is golden. The egg bites will puff up while cooking but deflate once they're removed from the oven. Serve with whole grain toast and sliced avocado. Once cooled, egg bites can be refrigerated for 4 days or frozen for 2 months.
Copyright 2022, E. Cazel, Original Recipe.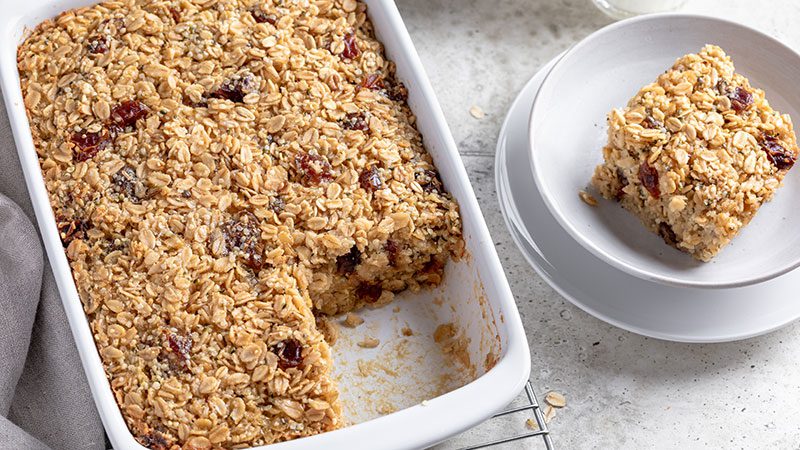 Vanilla Baked Oatmeal with Dates and Hemp Seeds
1½ cups milk of choice
2 eggs
½ cup maple syrup
¼ cup butter or coconut oil, melted
1 teaspoon vanilla extract
2½ cups old-fashioned (thick) rolled oats
½ cup hulled hemp seeds
1 cup chopped dates
1 teaspoon baking powder
¼ teaspoon salt
Preheat oven to 350 degrees. Line a muffin tin with liners. Whisk together the milk, eggs, maple syrup and vanilla extract. In a separate bowl, mix together the oats, hemp seeds, dates, baking powder and salt. Stir into the egg mixture until evenly moist. Distribute into the muffin liners and bake for 20 to 30 minutes.
(Note: Alternately, the oatmeal can be baked in a 9×9 pan as shown above.)
Erin Cazel is pursuing a master's in Nutrition at Bastyr University. Radical hospitality is Erin's life passion—she loves gathering community around a table filled with food and conversation, and cares deeply about using foods to nurture the body, heart and mind. 
Good sources of essential adrenal nutrients
Protein: fish, meats, legumes, nuts and seeds, whole grains
Folate: green leafy vegetables, legumes, nuts and seeds, oranges, fortified cereal grains
Niacin (B3): dairy foods, eggs, nuts and seeds, corn, lean meats and fish
Pantothenic Acid (B5): cremini and shitake mushrooms, cauliflower, avocado, broccoli, sweet potato, corn and many other vegetables
Vitamin C: many fruits and vegetables, citrus fruits, bell peppers, strawberries, melons, spinach, cabbage, rose hips
Magnesium: legumes, green vegetables, quinoa and other whole grains, nuts and seeds
Source: Bastyr Center for Natural Health, Adrenal Support Handout
PCC Cooking Classes
Learn more useful recipes with a PCC breakfast cooking class! 
Family Fall Breakfast
Sign up
Kids Bake Apples for Breakfast
Sign up