Meet Krish Srinivasan, PCC's new CEO
This article was originally published in March 2022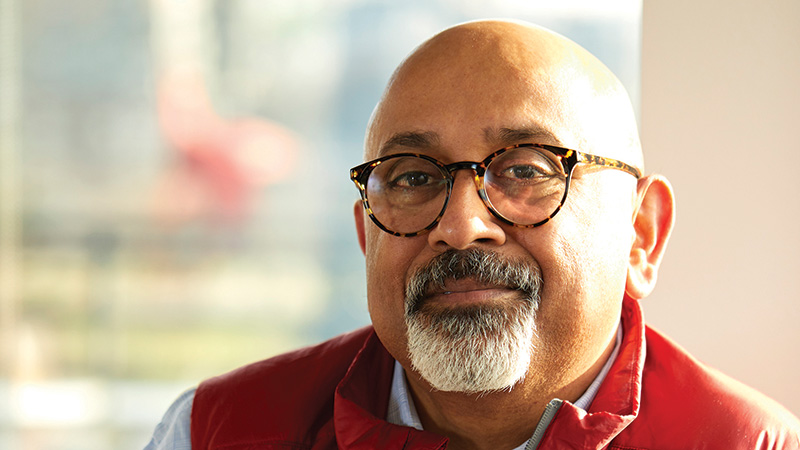 Krishnan Srinivasan (he prefers Krish) was recently named PCC's president and CEO. He's the seventh CEO in the co-op's nearly 70-year history…and a familiar face to staff and shoppers. Srinivasan has been the co-op's chief financial officer since 2018, and a PCC member since 1995. His resume includes positions as chief financial officer of Remitly and vice president of finance for Lyft, as well as chief financial officer for Amazon India and Amazon Japan. He's also served as a board member of National Co-op Grocers, and currently sits on the board of Splash International, a local nonprofit organization. 
He's a fan of PCC's dark coffee beans, chipotle salmon cakes from PCC's deli, and loves that the meat department will grind chicken on request for home recipes like Chicken Keema (an Indian minced meat dish). In moderation, he favors Tony Chocoloney milk chocolate bars. 
Srinivasan spoke with Sound Consumer editor Rebekah Denn; an edited version of their conversation follows.
Q: Tell us a little about yourself and how you got here.
A: My family and I have been in the Puget Sound and Seattle area for nearly three decades. While we have traveled and lived outside of the United States for work during this time…the more we traveled out of Seattle and came back, the more we felt that this was our home. This really came home to roost when I was commuting to San Francisco to work at Lyft, and our community of friends stepped in to ensure that my wife—basically a single working mom with two kids and two geriatric pets during the week—could keep things going during my absences. When I made the decision to come back, that cemented Seattle as our home. Then a lot of other pieces started to fall into place, and when the CFO role at PCC came my way in 2018, it was clear to me that I had found a spot at the intersection of my passion and purpose.
Q: What made you join PCC as members?
A: When we were first married 25 years ago, we lived near downtown Kirkland and used to shop at the Kirkland store. My first memory of PCC is the aromas of the bulk section and the sense of being in a place that felt very inviting. After Kirkland was the Green Lake Aurora store, where my kids would get their free fruit and I just had the sense of feeling happy every time I was done shopping. I just felt like I bought the stuff that I wanted in an environment that resonated with me.
Q: Not everyone wants to be a CEO. I'm curious what made you interested in the job, and what your goals are.
A: I did not come to PCC expecting or wanting to be a CEO.  I came here because I felt it was at that intersection of passion and purpose, (working with) food, community, people and Seattle, and I've been really happy doing just that. At some time in this journey, I realized that if I did want to be CEO of any organization, it would be this one. So, I find myself here today, entrusted with the care of this wonderful institution. It's a big responsibility to ask for, and one that I am humbled to take on. I know what our values are, and I strive to embrace and live those values every day. And what I want is to take us forward.
2022 is a year where, as a co-op, we have four major objectives: We want to operate great stores that reflect who we are. We want to improve the overall organizational health of the co-op and ensure that we have happy employees, and we want to continue to do good in our communities. Lastly, we want to broaden PCC's reach to more members and shoppers. When you look at our financial plan for the year, much of what we've set aside money for and committed to do…aligns with these four priorities. As you take these ideas forward a few years…I would like to see PCC become an essential part of the Seattle community. I would like us to be among the most admired companies in the Pacific Northwest, if not the most. And I'd like us to be synonymous with community impact, and how we think these things speak to our values, to how we live our vision and mission. 
Q: These are challenging times both globally and locally. Did you have to think hard about whether this was the right time to take on the job?
A: I can give you the flippant answer, which is that since PCC represents the majority of my family's food dollars, I have a deeply vested interest in making sure that our co-op thrives and continues to be a meaningful part of this community. I think a broader answer is that one measure of leadership is not necessarily the choices you make when times are good, it's what you do when you've got to navigate delicate, challenging, even treacherous waters. To me there's never a good time or a bad time to take on a meaningful role like this. There's only "Is this a role that means enough to you that you want to do it."
I did think that being the CFO of PCC was the best job that anyone could have in Seattle. And now I feel the same way about being the CEO of PCC, because as a co-op we get to chart our destiny in a way that most other organizations cannot, or only wish they could—without bankers or venture capitalists or the public markets breathing down their backs. We are uniquely positioned to do what we do, and our impact is guided solely by our vision, mission and values.  We answer to the 102,000 members who shop our stores, to have a voice and participate in what we stand for in the community. Building an organization that satisfies them, creates profits and puts more money back into the community? I'd take on a fair number of challenges to be able to spend my time doing that.
Q: I have heard people tell you already that it means a lot to them to have a person of color as CEO. I wondered how you felt hearing that and if it has that kind of meaning for you.
A: I believe that representation matters, because it is a window into a future where we are at our best, both as individuals and as a community. And it gives us a way to share in and empathize with the infinitely diverse life experiences of those around us—which is a critical building block for strong communities.  
Being of Indian heritage, with a family now that is firmly rooted in two cultures, I have developed my own perspective about what it means to be seen as a person of color in this country, especially at this time in history. And I want to use that perspective and sensitivity to guide how PCC addresses inequities and discrimination that has historically persisted in the American food ecosystem.  
So, the fact is that I am extremely energized that people are excited to see me in this role, and for this reason—and frankly, it is when I reflect on questions like this that I feel the true significance of what it means to them.  
Q: Are there people or events that particularly influenced you or shaped who you are?
A: Music plays a big part in my life. I love music in all its forms, and song lyrics, like poetry, tend to find their way into the way I think and communicate…Family tends to be where I find a lot of inspiration, too—my parents and all they were able to give my sister and I as children, especially the chance to travel in countries outside of India and see different cultures, always emphasizing things like the arts and broadening one's horizons. The family that I cherish now with my wife and kids, and especially the things you learn from children. 
Q: Are there quotes that you live by, musical or otherwise?
A: "Once in a while you can get shown the light, in the strangest of places if you look at it right." That has always meant something special to me at different points in my life. 
Q: Are you much of a cook?
A: I love to cook. I usually start thinking about dinner around lunchtime, which probably means that I am going to end up shopping at the PCC on Aurora Avenue on my way home. A love of food is central to my family here and in India, and even in my final (job interview for the CEO role) I shared with the board and leadership team a glimpse of what lives on my phone camera roll, which is an enormous number of food pictures. I have close friends from my college days who are as obsessed with food as I am, and we have a WhatsApp group where all we talk about is what we are going to cook, what we are cooking, what we eat. Whenever I get together with friends it always starts with who's on meal duty for breakfast, lunch and dinner—for breakfast I love making Akuri, a version of scrambled eggs unique to the Persian community in India, and in general I love to try and replicate traditional South Indian dishes.
Q: Is there anything you want to make sure people know?
A: My first and only purpose right now is to listen and to learn, and to do that across our stores and in our office. I'm committed to coming in with a fresh set of ears. Another thing that I believe very strongly in is transparency. Being transparent sometimes means being comfortable with creating discomfort. There are some issues, whether about us or the environment that we operate in, that we should be resilient enough to take an unflinching look at—and it's only through that that we will grow. And…the things that we do and the things that we celebrate, we should do it wholeheartedly with our entire community, because that's why we're here. I see myself sharing a lot more with the community than we may have in the past, and that's going to include the good, the bad, the ugly, it's going to be everything that makes us who we are.