A conversation with United Indians of All Tribes
This article was originally published in March 2022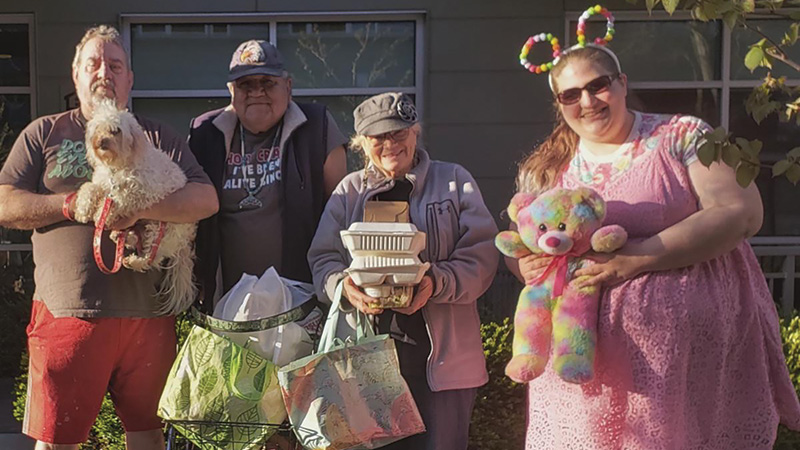 PCC's mission is to ensure that good food nourishes the communities it serves, while cultivating vibrant, local, organic food systems. We're proud to partner with many organizations throughout the region and share their stories. Leslie Haynes and Judy Anderson of United Indians of All Tribes recently spoke with Sound Consumer by email about the longstanding program that supports community elders with nourishing meals and much, much more. The nonprofit is a longtime partner with PCC's Grocery Rescue program through the Ballard store. It also recently received a PCC Downtown grant awarded to local nonprofits focused on cultivating local, organic food systems and supporting diverse communities. 
Q: Tell us a little about the program's history.
A: The Elders program emerged organically and has had many different incarnations over the last 40 years. Originally, the Seattle Indian Health Board referred Elders who needed transportation to access medical support to United Indians. At that time, United Indians had a van and would pick up Elders. Bernie Whitebear, our founder, started to feed them lunch. If an Elder needed something, he would hunt it down for them. He felt it was important to include our Elders in all our programs and honor them. In his biography of his brother, "Bernie Whitebear: An Urban Indian's Quest for Justice," Lawney Reyes (Sin-Aikst) describes this early era: "By the mid-'80s the Daybreak Star was a very busy place. The staff numbered over 120. Each day eight buses and vans transported young and old to the center to attend classes and programs designed for them." In keeping with Indigenous norms of reciprocity, respect, relationships and responsibility, we continue to honor our Elders. 
Q: What makes your program different? 
A: We practice the value of inclusivity. Everyone is welcome at our program, now based at our Labateyah Youth Home. We want our Elders to have good food and socialization, especially these last two years. During this pandemic, we had quality time during lockdown to connect with our people and ask how they were doing and what they needed. We never closed. Instead, we brought food, entertainment and public health messages to their doors. 
Q: What services does the program need, and what challenges do you face? 
A: Our program supports Elders' needs, (including) shopping, housing, and meeting with other Elders to talk about life in general. As we age, our families are busy with their families, so we fill that void. They see someone every day. We have a social worker on loan from Wallingford Community Center. We are grateful for that extra assistance. This work got more complex with this pandemic. How do we connect when Elders are in complete isolation? How do we help with mask-wearing mandates? How do we address vaccine hesitancy and talk with those Elders who are not sure if they want that shot? How can we mitigate memories of past trauma associated with medical malpractice, especially for those who suffered in Indian Boarding Schools? It has been stressful for our folks. We give information about the virus. We discuss moving forward, with uncertainty. We try to dispel myths and answer questions about new variants. Adequate funding is always a challenge. We never have quite enough staff. We are always writing grants. We have been persistent and lucky to get extra funding to help us serve food, deliver food, take Elders to medical appointments, and find opportunities for outings. We all hoped the danger would pass with the rapid development and rollout of vaccines. We anticipated that this would all be over in 2021. Ambiguity and uncertainty abound. With as much grace and patience as we can muster, we face the challenge of opening our center then think we might have to close our doors again. No matter what the situation, we make sure nutritious food gets to our Elders. 
Q: Is there a favorite story you could share?
A: We had a couple who were married for 49 years and never had a celebration. I would see these two caring for each other with so much love and kindness. I wanted to honor them. They were quite excited when we hosted a 50th wedding anniversary party for them this year.
Q: What's next for the Elders program?
A: We will continue to serve as needed. The Elders in our program have not had a single death due to COVID. We have kept them safe. In 2022 we started working with our youth at Labateyah Youth Home. We are excited to teach the youth work ethic and house responsibility when they get housing. We know that it will be a two-way street. We look forward to what we will learn from the youth, going forward, as they help support our Elders with their emerging needs. 
Q: Is there anything else you would like people to know?
A: We would like your readers to know that Elders stand tall, worked hard, and now should rest and enjoy our years left on this earth, doing crafts, outings, bingo; relishing good food and good conversations. Anyone can help by volunteering and donating to the Elders program or visiting to get to know us old people. Just be kind, always.