SUSTAINABILITY REPORT: New possibilities for recycling cork
This article was originally published in November 2021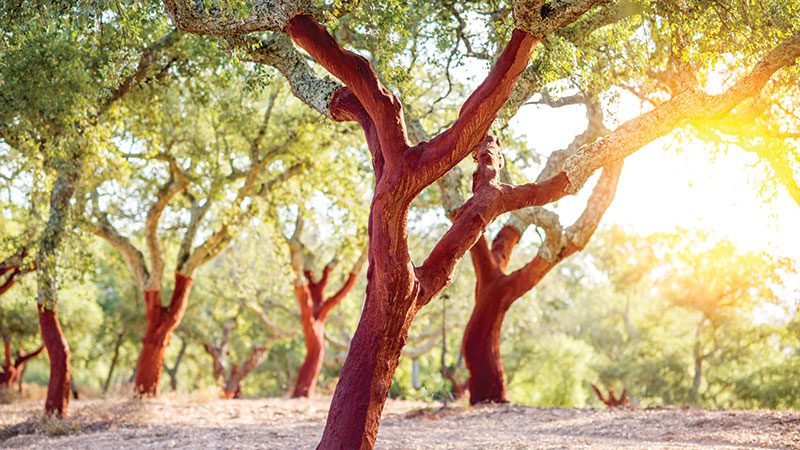 While most municipal recycling programs don't accept wine corks in curbside pickups, cork is a natural, renewable and—under the right conditions—fully recyclable resource. PCC is working with local partners to help keep this highly versatile natural material out of the landfill.
Cork is sustainably harvested from cork oak trees, which can live up to 300 years. It has many standout benefits compared with other resources: Rather than cutting down trees for cork, the bark can be gently removed, by hand, every nine years without damaging the tree, allowing it to regenerate and absorb carbon dioxide (CO2) from the atmosphere. In fact, harvested cork trees absorb three to five times more CO2 than non-harvested trees. Cork oak forests also support one of the world's highest levels of forest diversity, just second to the Amazon rainforest.
Used cork can't be recycled back into wine bottle stoppers, but it can be easily ground up and re-formed into new consumer products, such as shoe insoles and flooring, which would have otherwise been made of less sustainable materials such as petroleum-based plastic. This can't happen at municipal recycling facilities because cork bottle stoppers are too small to be sorted there. The stoppers also aren't accepted in compost pickups due to contamination risks from missorted plastic corks.
PCC recently expanded our partnership with local recycler Ridwell and successfully piloted a four-week cork collection program at our Green Lake Village store. Shoppers dropped off their collected cork at designated bins in our Beer and Wine department, and Ridwell then shipped them to the Cork Forest Conservation Alliance to give them a new purpose. In just four weeks, 174 pounds of cork were collected and recycled through that single store!
Ridwell is a Seattle startup that's making it easy to recycle materials that aren't typically accepted in curbside recycling, such as clothing, batteries, plastic film, and of course, cork. Its mission aligns with PCC's waste-reduction goals, and PCC members get an exclusive 10% off any Ridwell membership (click here).
PCC continues to enhance our zero waste initiatives not only for our store staff but for our members and shoppers as well. Look for more updates in the near future, as we hope to expand this successful cork recycling pilot as a permanent program across more of our stores.