PCC launches downtown Seattle food access grants
This article was originally published in November 2021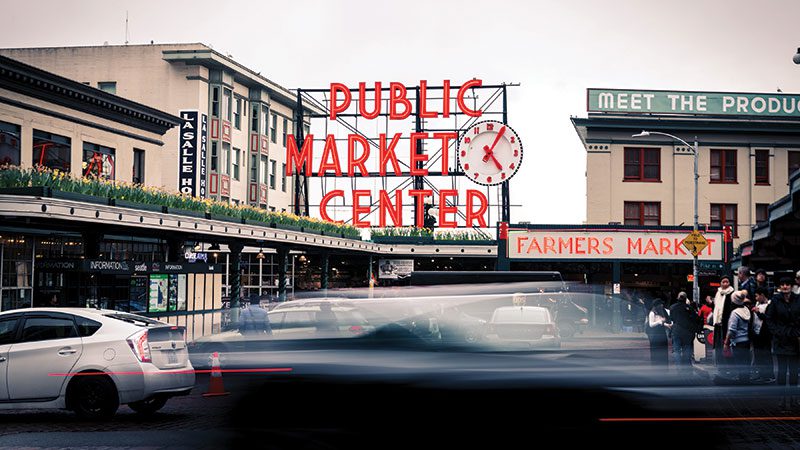 PCC's planned store in downtown Seattle isn't scheduled to open until 2022, but the co-op is establishing connections with the community before the doors are open. The co-op has awarded six grants to nonprofits focused on food insecurity downtown, totaling $30,000, from our shopper-funded Food Bank program.
The six $5,000 grants will provide organic foods to community residents, from orchard fruits and fresh eggs for food bank clients to culturally relevant foods for homebound seniors. The selection process focused on organizations that provide equitable and diverse programs.
As PCC enters new neighborhoods, the co-op extends its food access programming by adding partnerships to support the needs of the communities we serve.
"Last year we provided 1.4 million meals to neighborhood food bank and grocery rescue partners and we know there is still much more work to do this year," said Brenna Davis, PCC's vice president of social and environmental responsibility. "Through our outreach to the Downtown community, we learned that the need for emergency food services has never been greater and it impacts organizations that don't traditionally have access to organic food. Through this program we were able to connect with a range of services for needs that are often overlooked when it comes to food access."
PCC's mission is to ensure good food nourishes the communities we serve, and the grants help to serve that purpose.
Roy McCree, manager of Northwest Harvest's SODO Community Market, noted that "the pandemic is continuing to wreak havoc on our communities here in Washington. So is hunger. Fresh fruit and vegetables are essential to good health, yet can too often be out of reach for people experiencing economic insecurity. This support from PCC will enable us to procure more fresh produce, increasing access to healthy fruits and vegetables for hundreds of people who visit our SODO Community Market each week.
The grants were awarded to:
The Pike Market Senior Center and Food Bank and the Pike Place Market Foundation each received a grant. The food bank's program benefits Market shoppers on low incomes by providing access to high-quality fresh produce and other products from local farmers. With the grant funds, the Foundation will add organic eggs purchased from the Market to a weekly Community Supported Agriculture box that is offered to its community. The food bank will use grant dollars to buy organic produce from Market farmers for its home delivery program.
Northwest Harvest SODO Market will use grant money to buy organic produce. The organization provides nutritious food to all who request it, including outreach to people experiencing homelessness. The grant will be used both for shelf-stable foods and fresh produce.
The Puget Sound Labor Agency, which serves many clients who are senior citizens and have pre-existing health conditions, recently expanded its food distribution services, adding deliveries to several buildings serving low-income residents and to homeless encampments to ensure no one goes to bed hungry. The grant funds will be used for organic meats.
The Asian Counseling and Referral Service, which provides a wide range of services from wellness to job readiness training, also offers culturally relevant foods to help marginalized communities overcome cultural barriers to accessing healthy food. The grant will be used for shelf-stable organic foods.
Seattle Indian Health Board, a community health center, offers many food-related services. This includes sandwiches for clients who are hungry, and working with Northwest Harvest to provide "low-cook" food bags to elders and to families at its Saturday clinics. The grant will help support the Board's Indigenous Farmers Market providing fruits and vegetables for clients.
---
Supporting Afghan families
Jewish Family Services of Seattle, a nonprofit that operates one of PCC's partner food banks, is working to resettle individuals and families from Afghanistan in the region. The agency had helped 61 people, including 41 children, get established here by early September, and was in contact at that point with another 123 people directly affiliated with JFS who were trying to evacuate from Kabul. PCC has donated $5,000 to help purchase food for those individuals, and JFS welcomes support for its work at jfsseattle.org/give-email.