Chef Kristi Brown, Central District legends and culinary "Communion."
By Naomi Tomky, guest contributor
This article was originally published in November 2021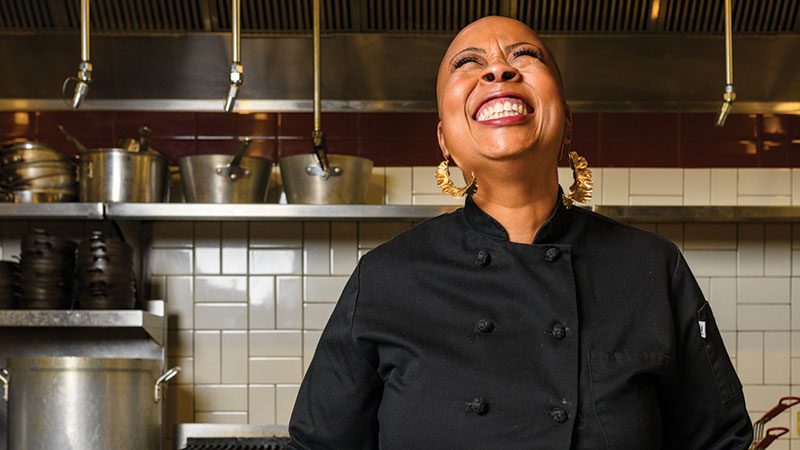 ---
When Community Roots Housing approached Kristi Brown, the organization asked her to do something every chef dreams of: sit down with them and imagine what her own space could look like. Previously, Brown had turned down offers to open a restaurant, but this one, supported by an organization she had worked with for years, in a location brimming with culinary and cultural history, proved irresistible.
Brown named Communion, in the Liberty Bank building at the corner of 24th and Union, to celebrate her grandmother. "She was a minister and so that was just a way to pay tribute to her," says Brown. "To honor her and her sense around bringing people together." But it also makes an apt description of her food, which weaves the threads of traditional dishes with whatever strikes her fancy in the moment. "I'm eating something and I'm like this reminds me of, you know what this would be good with, or I wonder what this would be like grilled, or fried," she says, and she searches for a match in her culinary lexicon of her family's soul food roots, the Filipino grocery stores she bought snacks at as a kid, or the Taiwanese takeout her dad tried to imitate in his kitchen.
That approach is likely no surprise to PCC shoppers already familiar with Brown's early career and first signature dish. For years before she achieved local and national acclaim for Communion, which is located a block from the Central District PCC store, her packaged black-eyed-pea hummus was a hit at the co-op and other markets. She created it while working at Capitol Hill's Kingfish Café shortly after it opened, hoping to impress the chef with a new menu item for their lunch service. "I just wanted something that I knew would be culturally significant," she said. She put together a roasted vegetable sandwich using that newly created black-eyed pea hummus, not knowing how the creamy, garlicky spread would end up driving her career—first as a caterer, and then selling the hummus under her brand That Brown Girl Cooks!
Many Southern Black families cook black-eyed peas to welcome the new year—often in the form of Hoppin' John, a mix of black-eyed peas and rice—to bring good luck for the year to come. Brown never intended it as a holiday-linked dish, though. "Honestly, I found out about that later in life," says Brown, though she ate them often growing up in Kansas City, Missouri.
"My mom loved beans," and she did too, especially how her family cooked them just a little too long, until they burst and created a gravy, seasoning them with onions and garlic. "That was just a part of the things we ate," though, she says, not for any occasion. Only after creating the hummus did she learn that, for many people, the beans held special significance. "I don't know that I remember a lot of food folklore," she says. In her family, they simply ate food based on what different cooks excelled at making. "Not so much any kind of historical perspective around it."
After almost a decade of selling hummus, she recently paused the business. Faced with having to pass production off to a co-packer to focus on opening Communion, she instead chose to put it on hold. In the meantime, she serves the hummus at Communion, in "Oh Gee," and a "Slow Burn" variation, with the Ethiopian spice blend berbere. The menu whirls diverse traditions together with Brown's own soul food style, hints of Creole influence, and a deep love for local ingredients with seamless fluency, while alluding to local history, as epitomized by the fried oyster mushroom po'mi, a mix of sandwich styles from Vietnam and New Orleans, made with local produce.
It sits under the menu heading, "If Miss Helen Was Born in Little Vietnam," one of the many ways Brown pays homage to the cooks who preceded her in the neighborhood. "This is home, and I have a lot of roots here," says Brown. "I went to Seattle Central and Tabernacle Missionary Baptist Church." When she first opened, she says some customers asked if she was Miss Helen—a reference to Helen Coleman, the local soul food legend whose oxtails and corn cakes fed the area until the Nisqually Earthquake in 2001.
"The thing I love about Seattle is that you can go from neighborhood to neighborhood and have these different culinary experiences," Brown says, before mourning the way gentrification chills that community character. "It just muddles all of that, and whoever gets moved out has to then go and reestablish that somewhere else and hopefully find other people that can appreciate what it is that they do."
That awareness keeps her keenly tuned to who her audience is—and who she wants it to be. In May, just six months after Communion opened, Condé Nast Traveler named the restaurant one of the 12 best new restaurants in the world. "We had lines before," Brown says, but the lines after the recognition changed. "The people were different. The expectation was different. The energy was different, and it really felt uncomfortable." People started posting complaints online while they waited, and she found herself constantly shooing folks off the bench reserved for elderly and pregnant guests. "It was super frustrating."
She and her team looked back at their original mission and at the insignia on the floor, which reads "I am home," a twist on "I am a man," the civil rights protest slogan that demands dignity. "That particularly is for people who are from the Central District," says Brown. "To know that this is a place that they can feel welcome."
They reduced online orders to help neighbors have a better chance at getting food. But as the restaurant continues to succeed, she finds new problems: when she agreed to do a dinner with the prestigious James Beard Foundation on Nov. 14, along with fellow star Melissa Miranda of Musang (pccmarkets.com/r/5988), she announced the time tickets would be released. But they hadn't told her it was East Coast time, and the seats quickly sold out. "What if my mom wanted to come," Brown asks. "She wanted to buy tickets," she says, but the event went on sale quickly and sold out in under an hour even at $300/pair.
"Every time, it's like, 'How do we bring that focus back?'" says Brown. "At the end of the day, one of our slogans is 'Everybody gotta eat,' and that slogan is more than about just the fact that people physically need to eat." As Communion gains recognition, she learns to wield the increasingly large megaphone in her hands, how to use her advances to shine a light on the small producers and local food companies, trying to answer her own question of "How do we create this space where we all can create generational wealth?"
She opened the restaurant in partnership with her adult son, Damon Bomar, motivated by the idea of him having something to pass down to his own children. So, while she isn't positive yet how to move the idea forward, she knows it involves looking back and honoring the past, too.
"Wherever you are from, there was always something there before you got there," she says. In Brown's case, that was Liberty Bank, the first Black-owned bank in the Pacific Northwest and original tenant of the building that houses Communion, the restaurant she first drew out on a napkin so many years ago. Asked what was on that scrap, Brown looks around at her crew, preparing the food that speaks of the Central District's history and her son working by her side, and cracks a proud smile. "This is pretty much it."
Naomi Tomky (naomitomky.com), author of "The Pacific Northwest Seafood Cookbook," writes about food and travel.