Sustainable living with The Zero-Waste Chef
This article was originally published in September 2021
Like so many others, Anne-Marie Bonneau was horrified to learn the extent and effects of plastics pollution. She did not, however, feel helpless.
Bonneau embarked on a "zero-waste" journey in 2011 to do what she could to reduce the impact of plastics and other wastes on the ocean, the globe and its inhabitants. The move had the unexpected bonus of improving her overall health, saving money, and making her life more intentional—and happier. Before long, the results also snowballed far beyond her own kitchen and home.
Through a blog and social media feeds, Bonneau quickly found that others were hungry for practical advice, recipes, tips—and shared inspiration.
With 183,000+ followers on Instagram, a website, and now a book ("The Zero-Waste Chef: Plant-Forward Recipes and Tips for a Sustainable Kitchen and Planet," Avery, $25), she's leading a community whose choices add up to significant change.
From ways to "break up with plastic" to directions for sewing simple cloth shopping bags and produce bags to ideas for using up food scraps—(lemon rinds! corn husks!)—she's got ideas to help any interested follower take that first step and then go beyond. Not every tip works for every person or personality. Washington state's food safety laws, for instance, don't allow for some of her recommendations on using reusable containers in grocery stores. And not all household cooks will have the time to make their own soy milk, then make tofu from the soy milk, then find edible uses for the soy byproducts left over from the pressed curd.
Part of Bonneau's success, though, is that she understands that the process is a journey, not a test or a race or even a destination.
The Canadian author, now based in San Francisco, knows that the kitchen presents the biggest opportunity for most people to make changes, between food packaging and food waste. (Get a head start with these Sound Consumer tips.
Fermentation is one of her powerful tools, she said in a recent chat via Zoom, with her kitchen counter lined with bottles and jars.
"Fermentation prevents food waste," she said, and she employs it for everything from sourdough bread to hot pepper sauce to kimchi. When we talked she had just mixed up a batch of sparkling tepache, a fermented soda made from pineapple peels and cores.
Bonneau has some basic principles that help reduce waste. She advises letting the food in your fridge and pantry dictate your meals, rather than the cravings of the day. She suggests making good use of a freezer, with tips on how to avoid using plastic wrap or plastic containers for storage. She has ideas for using every bit of most ingredients, with one use often leading to another, like using apple scraps to make vinegar, putting the vinegar to use in a mustard, adding the mustard to a grain salad.
And, while she's written what's officially a cookbook, one of her biggest pieces of advice is to learn to cook without a recipe, or with what she calls "freestyle" dishes like soups or frittatas or the pancakes (see recipe, below) that accommodate all kinds of miscellaneous scraps and leftovers.
One recipe, one choice, one change in habits—any of those can lead to surprising successes.
"You never actually reach that elusive zero and that's just fine," Bonneau wrote in her book.
"A small number of people doing zero-waste perfectly will have a small impact—millions doing it imperfectly will transform the world."
---
Take a class
Anne-Marie Bonneau will teach a PCC cooking class Sept. 22 on Sourdough Starter from Scratch with the Zero-Waste Chef. Click here for information or to register.
---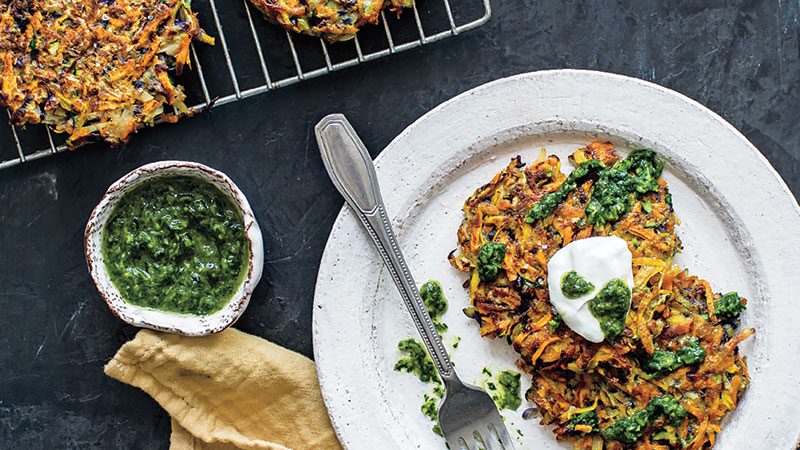 Eat-All-Your-Vegetables Pancakes
While we tell kids constantly to eat all their vegetables, we adults could use that reminder ourselves. These savory vegetable pancakes make both recommendations easy. They satisfy all eaters while clearing a few things out of the refrigerator—half a zucchini, a lone carrot, a pinch of chopped fresh herbs. Have some kale stems left over from a salad? Very finely chop a handful and toss them in. No one will suspect. But almost always include potatoes. You simply cannot go wrong with potatoes, fat and salt.
Makes twelve 3-inch pancakes
4 cups grated vegetables, such as russet potatoes, carrots, zucchini, sweet potatoes, turnips, parsnips or cabbage
¼ cup bread crumbs or flour (all-purpose, whole wheat or rye)
2 large eggs
1 teaspoon coarse salt
Freshly ground black pepper
Olive oil, for frying
If using zucchini or potatoes, place them in the center of a thin dish towel. Roll up the towel and squeeze out the juice. Refrigerate or freeze the liquid for broth. Place the vegetables in a large bowl and fluff with a fork. Stir in the breadcrumbs, eggs, salt, and pepper to taste and combine well. Heat a large skillet over medium heat and add enough oil to coat it. For each pancake, drop ¼ cup of the batter into the hot pan. With a spatula, flatten it down so it's about ¼ inch thick. Flip after the bottom has browned, about 5 minutes. Remove from the pan once the other side has also browned, another 3 to 5 minutes.
Add more oil to the pan as necessary and continue cooking the pancakes. Keep them warm in the oven all together or serve individually at once.
Serve with sour cream, egg white aioli or cilantro chutney, if desired.
— From "The Zero Waste Chef" by Anne-Marie Bonneau