Policy Report: Forward-thinking federal legislation
By Aimee Simpson
This article was originally published in July 2021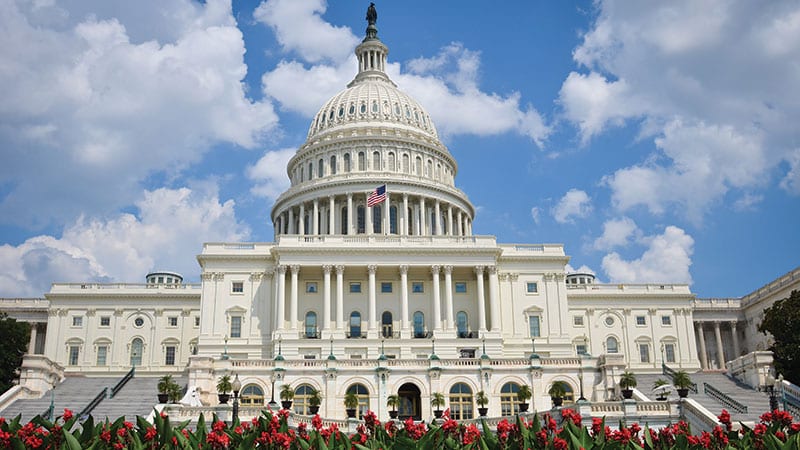 It's an exciting time in our nation's capitol as Congress moves forward with numerous pieces of legislation aimed at addressing everything from increasing equity in the agricultural system to public health protections against toxic heavy metals in baby food. Here is a quick review of legislation PCC is supporting and information on how to help them succeed:
Justice for Black Farmers Act—Introduced last session by Senator Cory Booker (D-N.J.) and reintroduced earlier this year, this legislation was created to address the troubling legacy of discrimination against Black farmers and resulting disparities. (Black farmers now make up only about 1.3% of U.S. agricultural producers, compared with 14% a century ago, despite making up about 12.8% of the population.) The bill proposes a meaningful framework of reforms and programs within the U.S. Department of Agriculture (USDA), including the creation of an independent civil rights oversight board and equity commission as well as funding to establish a new bank providing financing and grants to Black farmers and ranchers. It would also create a new Equitable Land Access Service, a program where USDA can purchase land from willing sellers at market value, establish agricultural conservation easements, and then grant up to 160 acres of land at zero cost to eligible Black individuals. (Justice for Black Farmers Act).
Agricultural Resilience Act—Reintroduced this past Earth Day by the lead sponsor, Congresswoman Chellie Pingree (D-Maine), the Agricultural Resilience Act (ARA) offers a broad-spectrum solution to addressing agricultural impacts on our climate change crises. The ARA seeks to build existing conservation programs and create new incentives, such as increasing USDA research at Regional Climate Hubs, creating new grants and funding for soil health initiatives, increasing funding for the Agricultural Conservation Easement Program, investing in ecosystems services, boosting on-farm energy initiatives, and reducing food waste. (The Agriculture Resilience Act).
The Climate Stewardship Act—Another reintroduced bill sponsored by Senator Cory Booker (D-N.J.), the Climate Stewardship Act aims to plant billions of trees in both rural and urban locations, support voluntary climate stewardship practices on farmland through increased investment in USDA conservation programs emphasizing rotational grazing and cover crops, invest in local and regional food systems to increase resilience, restore and protect over 2 million acres of coastal wetlands by 2030, and reestablish the Civilian Conservation Corps. (Climate Stewardship Act).
Continuous Improvement and Accountability in Organic Standards Act—Endorsed by PCC and sponsored by a bipartisan slate of legislators, including Congressman Peter DeFazio (D-Ore.) and Dan Newhouse (R-Wash.), this legislation hopes to add more urgency and transparency to the unique organic standards development process to ensure that organic integrity remains strong. The bill calls on USDA to create an action plan for clearing the backlog of National Organic Standards Board (NOSB) recommendations and a system of accountability and transparency for ensuring that future NOSB recommendations are prioritized. (Organic Trade Association).
Baby Food Safety Act
With rising concerns over toxic heavy metal contamination in baby foods (think inorganic arsenic, cadmium, lead, and mercury) and demands from consumer protection groups, parents, and food safety experts to set safety standards, Congress introduced a bill mandating the Food and Drug Administration to set specific safety limits for heavy metals in baby foods and manufacturer testing requirements. (The Baby Food Safety Act of 2021).
Remember you can let your federal representatives and senators know what forward-thinking legislation out of this list you want to be forward-moving! Check out this link to identify your congressional district member. Senators Patty Murry and Maria Cantwell can be reached through this link.
And to keep up to date on PCC's advocacy action on these bills and other issues, be sure to sign up for our PCC Advocates email.
Aimee Simpson, J.D., is PCC's director of advocacy & product sustainability.
---
State Legislative Success
PCC helped to pass eight bills in the Washington state Legislature's fast-paced 105-day regular session, all of which were signed into law by Governor Jay Inslee! The new laws will expand environmental justice assessment across state agencies, require transportation fuels to reduce their carbon intensity, eliminate certain polystyrene food service products and more. PCC also helped secure appropriations for critical programs, such as the Washington State University Soil Health Initiative, Sustainable Farms & Fields grant program, Washington Wildlife and Recreation Program, and a Hood Canal Bridge steelhead survival grant.