Q&A with Elizabeth Bragg of Long Hearing Farm
by Rebekah Denn
This article was originally published in September 2020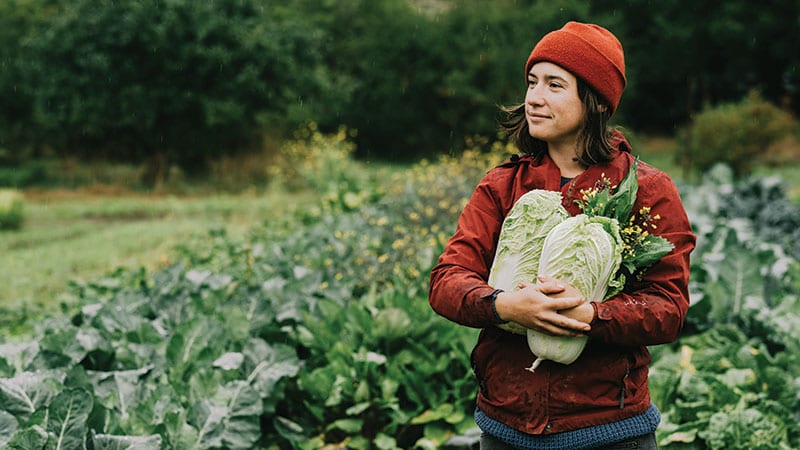 ---
Ask almost anyone about the challenges of farming and you'll hear about its daunting roadblocks, including a shortage of young farmers and the steep price of land. Talk with Elizabeth Bragg of Long Hearing Farm in Rockport to hear how one small farming co-op is navigating a new path—a potential lodestar for others. Bragg, chapter coordinator of the Washington Association of Young Farmers, is working to integrate indigenous growing practices into the three-person co-op farm named for her great-great grandmother. She is a co-op member with friend Kelly Sakura Skillingstead and partner Reed Rankin.
She spoke recently with Sound Consumer editor Rebekah Denn. Here is a condensed, edited version of their conversation.
Q: What drew you to farming?
A: My intention was to become an international human rights lawyer, fighting for indigenous land and food rights all over the world like a superhero. I had taken the LSATs. I went to graduate school and got a degree in law and global development, and I realized that actually the law was created by colonizers in order to colonize other people and that it didn't seem like the right fit for me. I realized I wasn't going to be able to make the impact and create an alternative or create a future where indigenous food practices and land practices were thriving through law. I ended up volunteering at this amazing workers co-op and organic farm where I had gone to grad school, and I was like—Wow, I can enjoy my day every day, being outside with these plant babies and growing food for people and meeting their basic needs—and I can be an activist at the same time? What, I can have my perfect life and also change the world?"
Q: Tell me about Long Hearing Farm and how it was established.
A: In 2018 I was working for Anne Schwartz of Blue Heron Farm, who is an organic agriculture legend in the Northwest and also in the country. She sat us down toward the end of the season—I had been working in organic farms for six years at that point—and said, "I am going to start slowly retiring, and I am an incredibly generous human being (she didn't say that, I'm paraphrasing). I would like to invite you all to take on aspects of the business that I don't want to pursue anymore." I had no intention of starting a farm on my own that year, I had been like, "Some day, when I find land." (But) she has a CSA that has very deep ties in the community, and I had always wanted to do a CSA farm. I went away and thought that if I take on anything, I definitely would want to start a CSA program and invite Anne's members to join it. That is the most linear version of how the farm came to be. Then there's how ancestrally it came to be, how becoming closer and closer to land and being in the right relationship to land has been a very healing and transformative journey for me and also for my family and folks in my extended community. I had been wanting to take my many years of market gardening experience and draw from my Blackfeet, Cherokee and Gros Ventre heritage to integrate indigenous foods and indigenous food practices and land practices into market gardening, because I believe that meeting people's basic needs is just as much an indigenous principal as being in the right relationship with the land.
Q: What do you grow there and why?
A: We grow mixed organic veggies and we grow food that folks want to eat…We are growing some native foods, we have part of the farm that's called the Otaapohkat plot, in Blackfeet that means to bring gifts of food. It's a small part of the farm, but all that food is donated or given to the community.
I like to grow food that my grandma liked to eat, and my grandma loved to eat salad and she loved to eat sweet corn and she loved to eat sweet peas, she loved to eat all these foods that are fresh from the garden. I want us to be inviting folks in as much as we can. If my grandma liked to eat it, a lot of folks are going to like to eat it.
Q: Is your market entirely CSA sales?
A: Our CSA is now officially full at 50 members. Anne, who is our mentor, our goddess—we wouldn't be able to do any of this without her support—grandmothered us in to her Skagit Valley Co-op account, so we also sell to the Skagit Valley Co-op. We have a contract with the Community Action of Skagit Valley food bank, and we are just starting this—I think we're going to call it Feed the People fund, where folks can pay in and we can deliver food to the Darrington Food Bank, to NASU (Native American Student Union) students who are struggling in Bellingham. Hopefully we also have the start of a connection with our local tribal nation for their elders food program.
Q: Tell me about the Washington Young Farmers Coalition.
A: I am so very grateful to be part of that amazing community of folks. We're being invited to the table more and more to represent not only young farmers but also small-scale ecologically minded growers in Washington. There's a lack of representation of small-scale food growers (in government). Often the folks who are at the decision-making table who are "representing farmers," I have not heard them speak in my interests. There are a lot of ag folks out there who are not interested in talking about climate change, who are not interested in talking about labor rights issues, who are not interested in talking about racial justice issues in Washington state, and that has very extreme consequences. A lot of people are shut out of that conversation and feel disenfranchised…
One of the things I think often gets missed when we talk about farmers and mental health is, it's very easy to feel alone. The obstacles can be so overwhelming. One of the things we are most successful at, I would say, is just bringing folks together. We do farmer clubs, we do this annual mixer, just bringing folks together to spend time with each other.
Q: Are there different issues in Eastern Washington?
A: There's definitely tension between Eastern Washington and Western Washington, and I would say there's definitely tension between organic and conventional. One of the biggest elephants in the room, I feel in Washington, is our long history of using Black Indigenous People of Color (BIPOC)'s labor in order for our agricultural system to thrive, and that's been the case ever since Washington state was a thing. It's very difficult to talk about racial justice issues at a table with all these conflicting interests, and talking about climate change is also a very contentious issue when you have stakeholders from all those groups represented.
Q: How did you decide to make Long Hearing certified organic?
A: I don't know any other way to be. I've never worked on a farm that's not been certified, that's the first obvious answer. Then if you get down into the deep layers of it…what it really comes down to is accountability, continuity and rigor. I love that we are accountable to a group of people, that we can be held responsible for the impact that we're making on the land. It's an extra layer, beyond just the day to day of farming. I also love being part of the community of certified farmers. (The land) has been certified for 40 years, that's a huge reason to keep it certified. And I feel organic is where the innovation is.
Q: Do you have favorite foods to grow?
A: I love growing tomatoes, I love eating tomatoes. I think they're just the most spectacular diva plants. They're high maintenance, but they're very delicious and so they deserve the attention and the resources that they require.
Q: What else should people know?
A: Being a part of the food and farming BIPOC community, there is a sense that there is so much more to do, and not just at a food systems level. One of the beautiful things about food, one of the things that attracted me the most to being a food grower and a farmer, is that if you pull on food as a thread, you are quickly going to get to hunger. You are going to quickly get to poverty. You are going to quickly get to inequality and disenfranchisement. It is an incredibly illuminating place to start if you're looking at systemic change.
To learn more or support the farm visit longhearingfarm.org.