PCC Farmland Trust becomes Washington Farmland Trust
By Molly Goren, guest contributor
This article was originally published in September 2020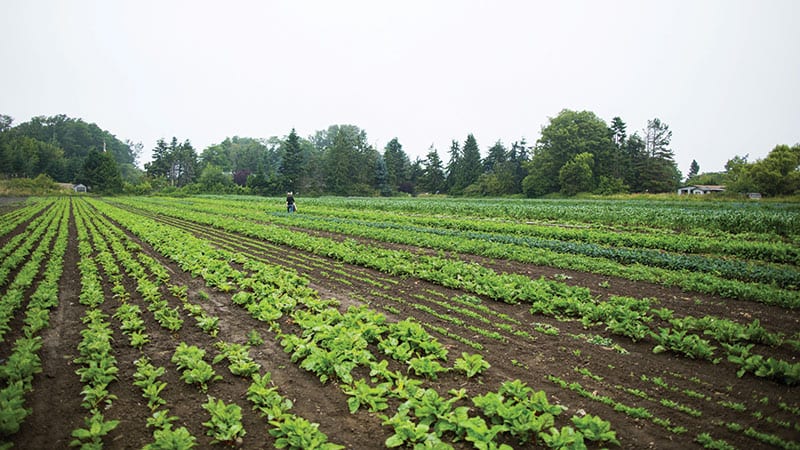 ---
Over the past 20 years, the nonprofit land trust founded by PCC Community Markets has grown and evolved to meet the shifting needs of Washington's farming communities.
After gathering community feedback and reflecting on the most urgent needs of farmers, the Trust is moving forward with strategic shifts that lay the groundwork for its next 20 years and beyond. To mark this new chapter and the expanded impact we hope to have across the state, we are thrilled to announce a new name: Washington Farmland Trust.
With our new name come some other notable changes, including the rollout of our latest strategic plan, providing direction toward our long-term vision: to sustain a future for farming in Washington. Though we've always been a statewide organization, we are reexamining how and where we show up across the state in order to have the most meaningful impact on Washington's land and farmers.
Twenty years ago, our core focus was protecting organic farmland from the threat of urban sprawl. Today, we recognize that farmers face added pressures from the urgency of climate change as well as the historic and current inequities in accessing land. As we look toward the future, we believe it is imperative that we respond to these many threats by forging new partnerships, expanding our service area, growing our programs, and committing to deep learning along the way. Through this process, we are committed to balancing the urgency to act on behalf of Washington's land and farmers with the challenges and realities brought forth by a global pandemic.
We began our learning process last year, when we heard from donors, volunteers, farmers, partners and PCC members like you about your thoughts on our organization's work. In our research, we learned that you were eager to learn more about our vision for the future and our geographic footprint. We also learned that our community sees farmland protection at the nexus of many other important issues—from rural economic development to food security and climate change. And finally, we learned that sharing a name with PCC Community Markets has led to confusion about our relationship and distinctions between our day-to-day work over the years. Our new name aims to add clarity and better reflect where our organization is heading into the future.
After providing two decades of brand recognition and visibility, office space, HR expertise, vendor fundraising, and millions of dollars in cash support to our organization, PCC Community Markets remains our founder and an active supporter of Washington Farmland Trust. Today, PCC plans to support our efforts to ensure the protection of organic farmland, the advancement of organic farming practices, and land access to farmers from underrepresented groups, aligning with PCC's strategic priorities.
The name Washington Farmland Trust is a celebration of this incredible place we call home and our unwavering commitment to the lifeblood of our communities: local farms. Together, with the continued support of PCC Community Markets and members like you, we hope to sustain a future for farming in Washington for generations to come.
Thank you for your partnership over the last two decades—and we hope you'll join us on our next chapter as Washington Farmland Trust. Learn more at wafarmlandtrust.org.
Molly Goren is the senior communications manager at Washington Farmland Trust.