Working together with our community farmers markets
This article was originally published in July 2020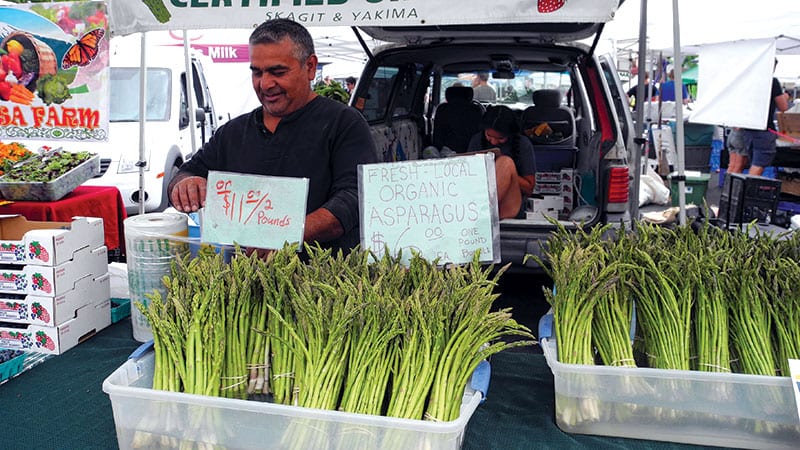 ---
In typical years, every Wednesday between May and October, community members stop by the Columbia City Farmers Market to support neighborhood businesses and Washington's small family farmers. PCC shares a street with the farmers market and is a longtime sponsor.
Some may assume that the farmers market and PCC would consider each other direct competitors. Instead, we support each other and encourage shoppers to freely travel between us. We share a commitment to supporting small-scale farmers and community-led food access work, though we do so in different ways.
As PCC has grown over the years, we rely on medium-scale farmers to provide produce for our 14 stores. Small-scale farmers that grow for farmers markets typically don't provide wholesale produce at the scale we purchase. They still play a special role in the food system. Our support of farmers markets allows us to support small-scale farmers even when we are not directly purchasing their crops.
We also support farmers markets to expand food access in our community. Many food access programs are specifically operated through farmers markets, such as "Helping Harvest" vouchers. These vouchers are distributed to food bank clients and other resource-challenged people to buy fresh fruits and vegetables at farmers markets. PCC is glad to support agencies doing this valuable work.
This year, when the pandemic hit our community, the Neighborhood Farmers Market Alliance reached out to PCC for help. Local farmers markets were closed. Small farmers that sold at the markets needed access to new markets. We looked for new ways we could work together, such as using our shopper-funded food bank program to connect farmers and food banks.
As our community shifts and grows, PCC shifts and grows with it. Our support of local farmers, however, is unwavering. We will continue to walk alongside them as we have for decades.