Green Plate Special serves up food, skills and community
By Rebekah Denn
This article was originally published in September 2019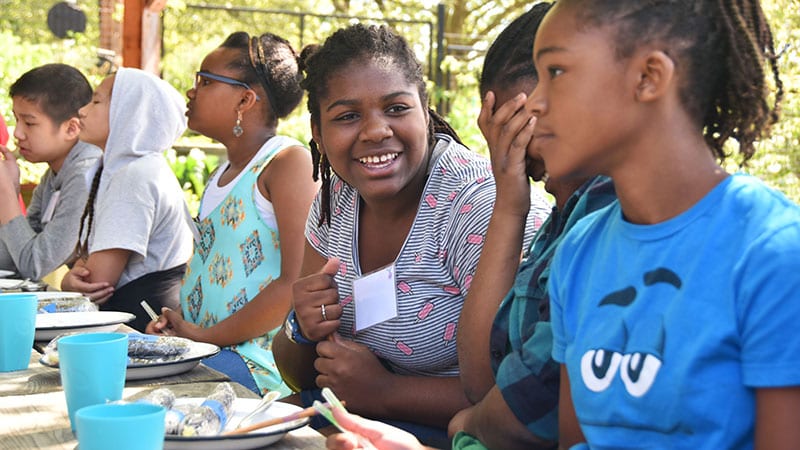 ---
Some elements of food are universal.
At Seattle's Green Plate Special, that lesson takes place in a quarter-acre oasis bordered by twining grapevines. Walking through the gates, students learn gardening, cooking—and deeper life lessons—through a powerful program founded by a chef-restaurateur with a degree in child psychology.
"It's a hidden gem that deserves not to be so hidden," said Alex Virata, the nonprofit's marketing and communications coordinator.
The program, which PCC supports with funding through its bagged apple partnership with Organically Grown Company, offers a regular curriculum in schools in South Seattle and at its Rainier Valley headquarters, plus after-school programs, summer camps and projects like a student-led farmstand. It's aimed at children aged 9-14, with strong outreach to include those who wouldn't necessarily have found the garden on their own or have the resources to attend.
After all, there's nothing like growing food and cooking together to put everyone on an even field, said Laura Dewell, who founded the nonprofit in 2011 after a culinary career that included Seattle's beloved Pirosmani restaurant and Bellingham's Wood Stone Oven corporation.
Maybe due to Dewell's own unusual mix of qualifications, there's also nothing quite like Green Plate Special in the region.
It's an accepting space where kids are encouraged to find common ground. Rather than "yuck someone's yum" with criticisms about people's favorite foods or body shapes, they might brainstorm options for pizza toppings, practice stretching dough, or figure out how to counterbalance the salt in an over-seasoned soup. Educators divert conversations away from topics like pop culture and technology, where not all students have the same reference points.
"What translates to everyone in every culture?" Dewell said.
Food.
Dumplings are pretty universal across different regions of the world, as are various versions of salads and soups and flatbreads. (An outdoor hearth oven is a particular highlight of the program.) And when it all gets boiled down, values like community and friendship can cross borders as easily as main dishes.
On a recent visit, students were preparing fava-bean falafel, working at everything from picking fresh bean pods to stemming dill from the towering fronds outside, operating food processors and frying up the final versions for lunch. That was after working with rustling sheaves of rye that were also harvested from the grounds, threshing the small seeds by hand and preparing to grind them into flour on a tabletop grain mill.
"Their goal is to get 12 cups," program educator Anya Uzo said.
The students nodded.
"To make cookies," one elaborated.
Outside the kitchen building, four varieties of strawberries are thriving along with a volunteer patch of shiso. Loaded tomato plants, hardy kale, green and purple basil, and other annual plants fill the 20 raised beds, while terraced plantings include the "three sisters" of corn, beans and squash.
A coop of friendly hand-fed chickens—silkies, aracunas, and a hodgepodge of other breeds—provides a natural sort of therapy; the kids know the birds don't like yelling or fast motion, so working with them encourages calm and quiet.
Green Plate started out on a leased plot of land in the Central District, then moved to the Rainier Valley property, where a towering century-old walnut tree shades the picnic table and an equally stately fig tree provides fruit for jam.
Dewell's idea for the idyllic place came from raising her own daughter as a single mom, enjoying conversations over their family dinner, seeing her child's tastes change over time, and realizing how disconnected modern kids are from the origins of their food. Other programs exist to reconnect children with nature, from school gardens to summer hikes, but Green Plate Special is unusual in how it's making the connection— and who it prioritizes.
Through grants and steady fundraising, they're able to support pay-as-you-can camps with a majority of students coming from low-income households, including regular participants from Mary's Place shelters for families experiencing homelessness. They try to help with transportation for families without reliable service.
Large groups of middle schoolers can often devolve into chaos, but the kitchen and garden space radiate order and cheer, which organizers attribute to the low ratio of one adult to every 4-5 kids, with educators trained to address common challenges and promote defined goals. Many children have been in the program for years through their schools; the longer they've been involved the more successes they count.
"We get them young and they keep coming back," Dewell said. Middle schoolers are their main target, when children have generally developed fine motor skills and a thirst for independence but still have flexible ideas about their interests and tastes.
By necessity, the program is designed to align with school curriculum requirements, teaching biology and chemistry and a lot of practical math.
When the nonprofit surveys families about what they hope to get from the program, it's "hard skills" that they usually name, such as learning to chop vegetables or design a garden bed. And indeed, parents report back stories like "my child started cooking this evening, without any prompting."
But when families are asked afterwards what they valued most from the experience, Virata said, it's the "soft skills" instead: responsibility, empowerment, interpersonal relationships.
It's "a place to be supported and have a voice and be themselves," Dewell said.
"This is a place where the judgements are taken away."
Information on Green Plate Special is online at greenplatespecial.org. The organization's annual Garden Gala fundraiser is Sept. 21.