Producer Partnerships: PCC Commissary
This article was originally published in March 2019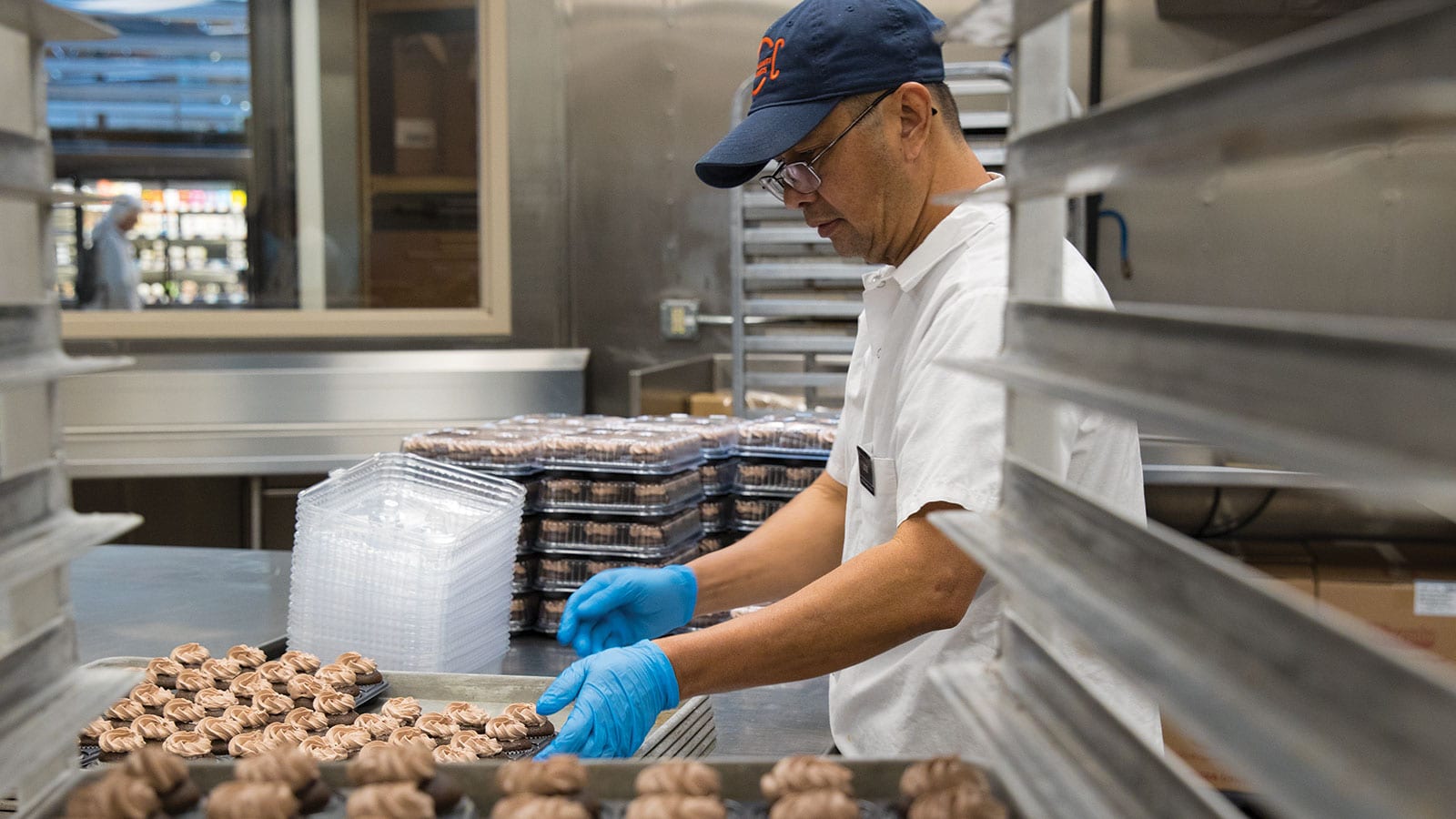 Tucked behind the hustle and bustle of the Edmonds PCC store — past the deli and behind the bulk bins — is the PCC Commissary, one of PCC's true treasures.
Most PCC bakery items and some savory items, such as sauces, dips and dressings, are made in the commissary. The stores bake their own scones and cookies because they're best fresh, so the commissary sends dough to each store daily.
"The chocolate chip cookies are best sellers," explains bakery manager Cortney Bowers-McCoy. "We go through 800 – 1,200 pounds of cookie dough a day, depending on the season."
The commissary opened in 2008, along with the Edmonds store, and expanded in late 2009 due to high demand.
When asked what's special about PCC's Commissary, Bowers-McCoy doesn't miss a beat. "PCC is different because of the high quality of ingredients, higher quality than other bakeries use, and we make everything from scratch," she explains.
Other than the pie crusts and the take-and-bake pizza crusts, every item out of the bakery is scratch-made. "We don't get in buckets of frosting, we make our own frosting. We make it all. We even make our own pizza sauce from scratch."
In addition to using only high-quality ingredients and making nearly everything from scratch, the commissary is creative, adapting to food trends and customer tastes. For example, the honey and nut clusters were developed in 2011 because of a trend toward energy bite products made without sugar.
Instead, the clusters are sweetened with date paste and honey. "We produce about 300 – 600 pounds per week, depending on the season," says Bowers-McCoy, "one or two batches a week."
These days the commissary is expanding into dips, spreads and salad dressings. For new items, PCC Executive Chef, Lynn Vea, develops a recipe and Bowers-McCoy and her team experiment and refine for continual improvement — sometimes in batches as big as 500 pounds.
The other key ingredient? Bowers-McCoy is quick to rave about her strong staff team. "They're so great and I couldn't do this job without them," she says. Having a good team matters since items must be shipped out to PCC stores daily.
"Every store has its own little quirks or customer following," Bowers-McCoy explains. "For example, some store customers want lots of individual sizes while others prefer more family size. Each one has its own personality that we get to know."