Apples from another time: Delectable heirloom fruit
by Bill Thorness
This article was originally published in October 2018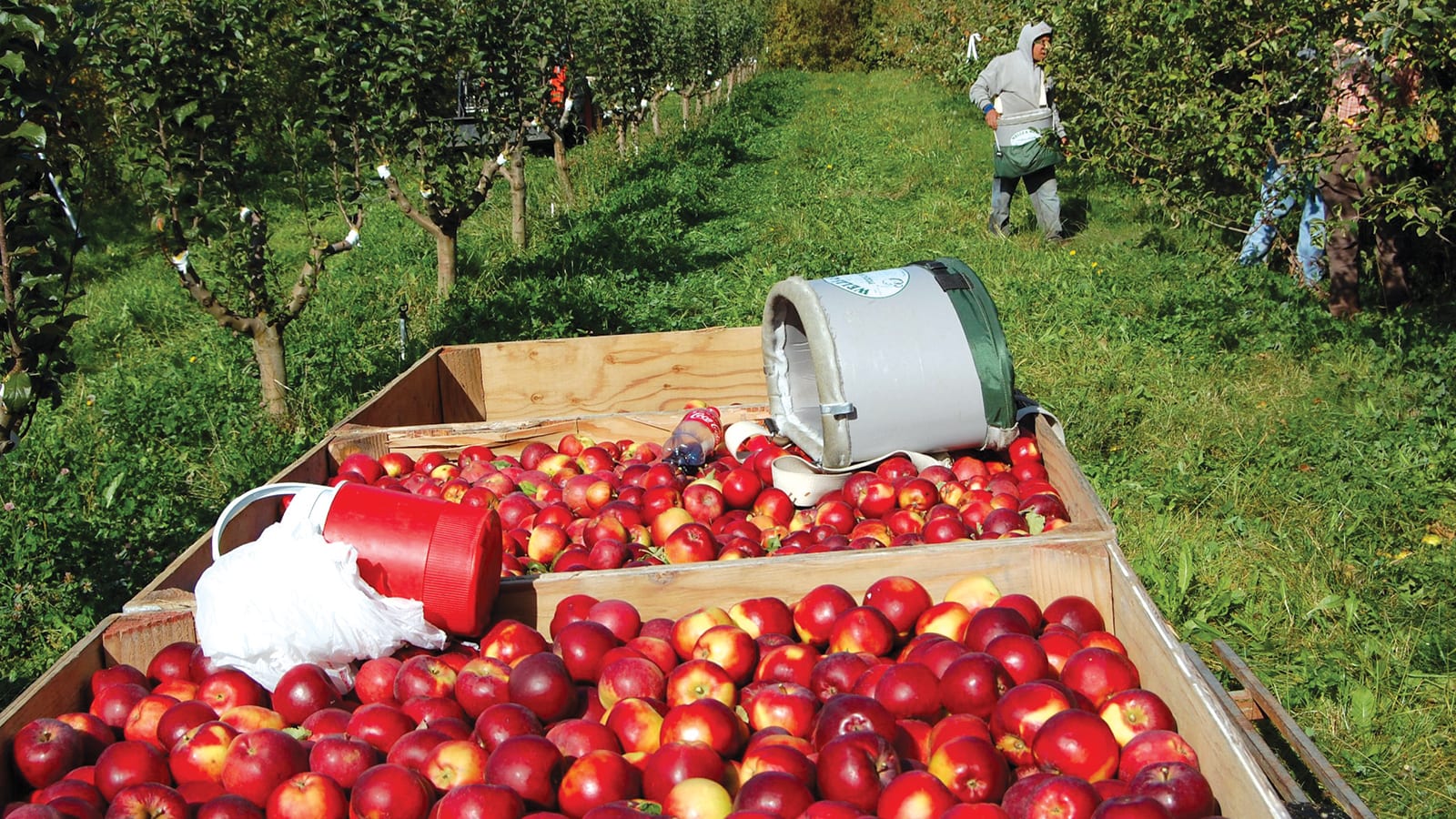 What was it that made Grandma's apple pie so special? Along with the dough made by loving hands, it probably was her secret ingredient: an apron full of unique apples gathered from the gnarly old tree in the backyard. While the house is probably too distant, and the tree itself may have succumbed to development, you can still conjure the aromatic magic of autumn's queen of fruit by seeking out heirloom apples.
"I grew up on a farm where raw, fresh cider was produced from antique apples and a cold, sweet and tart apple from the cooler was a treat you couldn't find at the supermarket," recalls David Evans, cofounder of Heirloom Orchards Farm. From those memories, he was driven to find and cultivate old apple varieties and "preserve these tastes and create seasonal memories."
Fruit from the fertile orchard ground he's been tending with his wife Polly and crew since 1997 comes to PCC each fall. Heirloom Orchards borders the Columbia River outside of Hood River, Oregon.
Revel in flavors
The farm produce bins might yield a Calville Blanc, a "kind of a pumpkin-like fruit, wrinkly, cool-shaped, with almost an effervescent quality to it," says Greta Hein, who handles sales and marketing for the farm. Claude Monet honored this ancient French variety in a painting.
Or Orleans Reinette. Arkansas Black. Roxbury Russet. There are about 20 varieties on Heirloom Orchards' 35-acres, formerly a pear orchard. The Evans' started the operation that Hein believes is now "the most extensive commercial heirloom apple program in the Northwest."
As with tomatoes (the heirloom most people are familiar with), modern apple cultivation has gotten predictably staid, say the growers. "They've gone with visual appeal, shelf life, and storage," says Hein, "and some of those flavor profiles have been lost."
Evans says he feels "it's important to combat the mundane homogeneity of today's commercial world."
People who discover their apples agree, says Hein. "We get emails from consumers who say how happy they are to have found grandma's favorite, or the apple they always used for pies. It's meaningful, enjoyable, brought them good memories."
The Cortland, for instance, might be a favorite of New Yorkers. Red with black streaks and juicy, snowy flesh, it's an heirloom developed in 1898. It's a lovely apple to use in salads because it keeps its color for hours after slicing, without going brown.
One client commented to Hein years ago about a variety that had "too much russet," the net-like rough patches that create a tougher skin. "Well, yeah, Roxbury Russet, hence the name!" says Hein.
Russetting is common on heirloom apples, yet another unique feature of the fruit. But it's one reason Polly Evans recommends slicing their apples for best enjoyment and serving them with cheese. "More delicate flesh and less skin assures full apple flavor in every taste," says the advice on her artistic packaging.
A Golden Russet is "almost like an Asian pear," says Kevin Byers, PCC produce merchandiser. "Try it if you want to be a little bit bold" and you'll be rewarded with crisp, dense, white flesh. Byers likes Mutsu, a variety that's juicy and sweet but also gets pretty large "and kids love that."
Those flavors also come with sometimes surprising histories. Mutsu, for instance, traces its origin to an Indiana school teacher taking a seedling of the variety, Indo, to Japanese apple breeders, who crossed it with the popular Golden Delicious.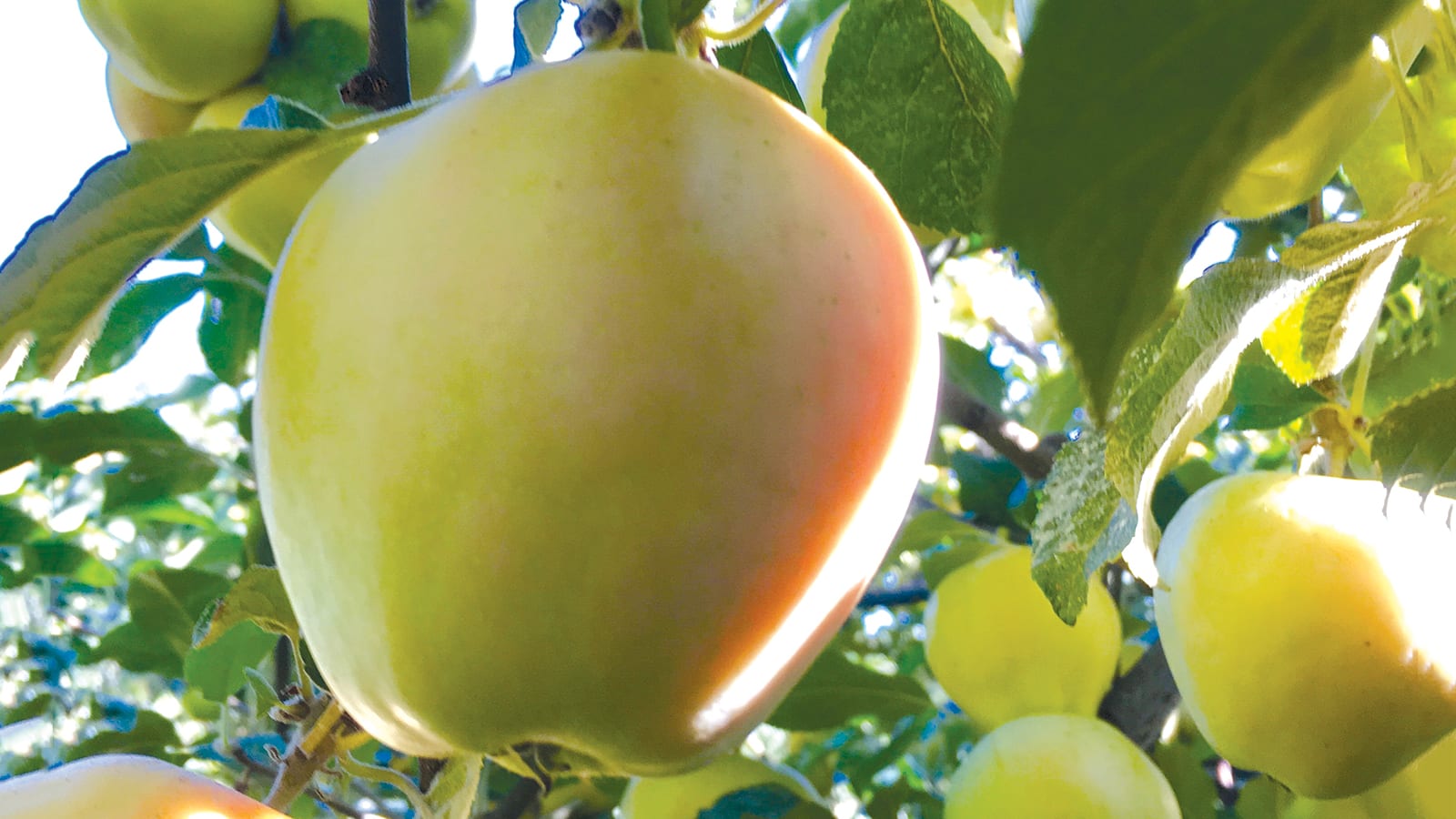 Get them while you can
"These apples are interesting and they're short-lived," says Byers. Heirloom Orchards does not do winter storage of their crop, so its apples come to the market fresh and are pretty much gone within three months, says Hein.
Heirloom apples are challenging to grow but may provide essential genetic qualities as we adapt to a rapidly changing climate.
Evans performed extensive research before planting about two dozen varieties and some of those didn't make the cut. Others have unique needs that the growers just accept, such as trees that alternate heavily bearing years with light years — a quirk so tough on orchardists that it's been bred out of newer varieties. Evans tries to counteract that eccentricity with thinning or other techniques to get a more consistent harvest.
Bringing back the Spitzenberg, another New York fruit called "the apple of connoisseurs," has been another challenge. Said to have been a favorite of Thomas Jefferson, it was the most popular variety grown in the Hood River area in the early 1900s, but a major freeze took out a lot of the trees and the county extension agent advised switching to pears. Evans brought back the variety but you might not see it in markets this year, as fire blight has savaged the trees and ruined much of the crop.
Such problems mean heirloom apples are "not that profitable because they're challenging," says Hein, "so you have to have a passion about it."
Byers says that is one reason PCC stands behind the grower. "We're stewards of saving not only farmland, but also traditional farming," he says. The history of our agrarian nation is evidenced in this fruit. "One of the first things you'd plant on your homestead was an apple tree."
That's why, "when you see a farmer willing to go out on a limb, support them and what they are doing," he says.
Such support might be the difference between having apples and watching them disappear, says renowned ethnobiologist and author Gary Nabhan, a research social scientist at the University of Arizona in Tucson. "With 16,000 named apples once in North American orchards, we not only had a great range of textures and tastes, but also a great range of climate and soil adaptations," he says.
"Now, as climate change reworks what apples do best in the ever-shifting plant hardiness zones, we will need to look southward for hardy old varieties with good qualities that do not need as many cold degree days to bud out in the spring, and don't flower when summer temperatures spike above 100 degrees."
Today, U.S. apple varieties number only to a few thousand and availability is spotty. About 100 varieties are in commercial production but in most stores you will see only a handful of the most popular varieties.
Nabhan say consumers deserve more. Using beer as an analogy, he notes that the few mass-produced brands are "boring and tasteless compared to the remarkable taste range that microbreweries now provide us," he says.
"So," he asks, "why do big Washington growers feel that Americans care just about a few apple varieties?"
Whether you value preserving genetic diversity or desire tantalizing old-world flavors, branch out into heirloom apples this fall. "Eat your way down the aisle" and try them all, says Byers.
What are the favorites of the Heirloom Orchards founders? "Well," says Hein, "what's ready to pick next?"
Bill Thorness is a Seattle freelance writer and author of Cool Season Gardener and Edible Heirlooms, both from Skipstone Press.
---
Apple counts1
3-5: Number of years' growth before a dwarf apple tree produces fruit.
5: Number of seeds in an average apple.
10-12: Billions of apples harvested each year in Washington.
14: Percent of Washington apple production that is organic.
20: Percent of the recommended daily value (RDV) of dietary fiber in one large apple.
25: Percent of an apple's volume that is air (this is why they float).
50: Number of leaves needed to produce one apple.
3,076: Number of apple varieties.
175,000: Acres of apple orchards in Washington.
---