Our co-op community, September 2018
This article was originally published in September 2018
PCC supports our communities through donations, sponsorships, partnerships and event participation. For more information, please visit pccmarkets.com/socially-responsible.
Party in the Park
Sunday, September 9
2 to 5 p.m.
View Ridge Playfield
4408 NE 70th St., Seattle
Join PCC View Ridge staff for the View Ridge Neighborhood's Party in the Park. PCC will serve up delicious and healthy snacks to keep all ages fueled. Come join us for some fun and bring the whole family!
Washington Artisan Cheesemakers Festival
Saturday, September 15
1 to 5 p.m.
Seattle Design Center
PCC is sponsoring the Washington Artisan Cheesemakers Festival, a benefit for the Washington State Cheesemakers Association (WASCA). WASCA supports the growing Washington cheese industry and helps those practicing their craft thrive in the marketplace. The festival will feature local artisan cheesemakers, providing a chance to learn about their products and philosophies and sample some of their goods. Beer and wine also is available to pair with cheese and other food samples.
PCC staff will be serving pairings of Washington cheese and ciders found at PCC. This event is 21+ only. Tickets are $40 and can be purchased at washingtonartisancheese.com.
Cycle the WAVE
Sunday, September 16
Bellevue College
3000 Landerholm Circle SE, Bellevue
Cycle the WAVE (Women Against Violence Everywhere) is an event to increase awareness of domestic violence and raise money for programs that combat domestic violence. PCC Issaquah staff will welcome riders at the finish line with a sampling of our deli favorites.
For details on registration, schedule and route please visit ridewithgps.com/events/2511-cycle-the-wave-women-against-violence-ev.
Annual Salmon Homecoming Celebration
Friday, September 14, 3 to 10 p.m.
Saturday, September 15, 10 a.m. to 10 p.m.
Seattle's Waterfront Park
PCC is sponsoring the 26th Annual Salmon Homecoming Celebration. Hosted by the nonprofit organization Salmon Homecoming Alliance, the Homecoming celebrates the return of Puget Sound salmon, bringing tribal and nontribal communities together to join in the appreciation of our local salmon and to engage on ways to support salmon restoration and protection.
There will be arts and crafts, vendors and cultural performances at Seattle's Waterfront Park all weekend long. For more information on the activities schedule visit salmonhomecoming.org/.
Thor Hanson's "Buzz — The Nature and Necessity of Bees"
Wednesday, September 26, 7:30 p.m.
The Summit on Pike (Capitol Hill)
420 E. Pike Street, Seattle,
PCC joins with Town Hall to bring author and biologist Thor Hanson to the stage to discuss his new book. "Buzz – The Nature and Necessity of Bees" reviews the history of bees and their importance in agriculture and culture, warns of their disappearance, and emphasizes the importance of protecting them. For tickets and more information visit townhallseattle.org/event/thor-hanson-2018/.
Edmonds 10-year anniversary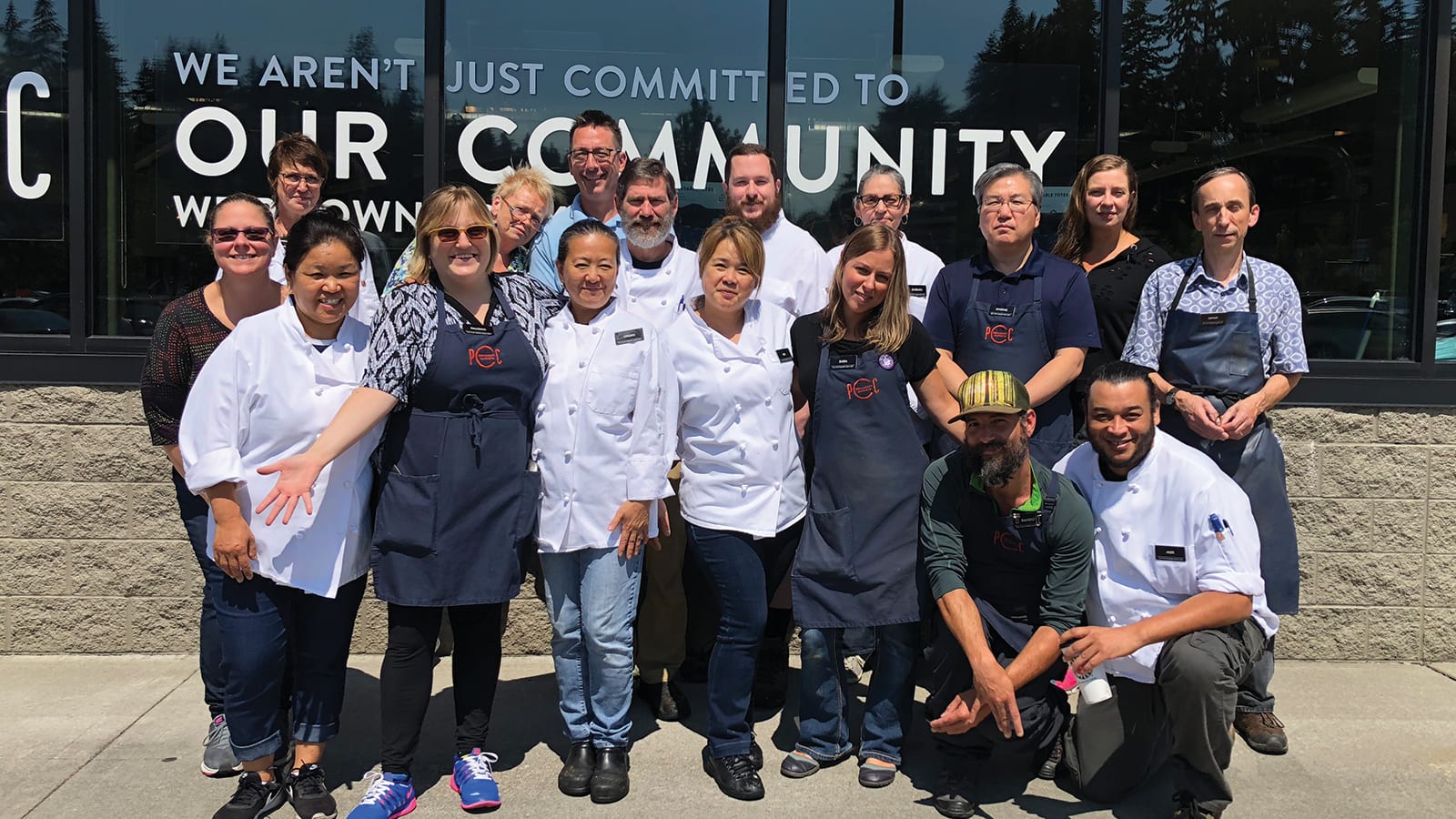 PCC Edmonds is celebrating its 10-year anniversary this month! Stop in and say hello to the staff who have been there since day one and for whom PCC Edmonds has a special place in their hearts.
In reflecting on her time at PCC, Courtesy Clerk Paloma Contreras said, "these 10 years I've worked at PCC have been some of the best years of my life. I am part of a family that supports each other as well as the entire Edmonds community. I've cherished the relationships I've made with the young families and having watched little babies grow into young adults. I hear stories and share stories everyday with our customers and coworkers. Stories that connect us with our community. My life has been forever enriched."
September customer service star
Natalie Tyson,
Courtesy Clerk, Burien PCC
Natalie is an unsung hero at Burien — always quick to help and a boost to all departments with her thoroughness — whether it's keeping the Meat Department tidy, keeping the staff breakroom from descending into chaos, or keeping the sales floor beautiful for customers. Natalie's work ethic, organization and training reinforces our store's sense of community as she is so present for each person, task and department. Her positivity is a boon to morale on early mornings when the rest of the crew are surviving on coffee!
PCC Cooks
While September brings us closer to autumn weather, the produce jubilee in our lush Pacific Northwest region is not yet waning! We still are reveling in the wide variety of local produce options available. PCC Cooks classes have the recipes and tips to help you make the most of September's variety. Local produce takes us around the world in "Vietnamese Kitchen" and "Late Summer in Italy," where familiar foods are offered in foreign flavors. Help us recite the "Ode to Apples," a quintessential fruit flavor that really shines this month. Then prepare for the start of soup weather in "September Soups," where seasonal produce is highlighted, with skills to transition you into the next season. We love sharing new ways to experience our local bounty.
For more information visit pccmarkets.com/classes.