The story of PCC Farmland Trust
by Molly Goren
This article was originally published in May 2018
"You have to be able to offer a future to the next generation. You can't do that without land." – Nash Huber, organic farmer, Sequim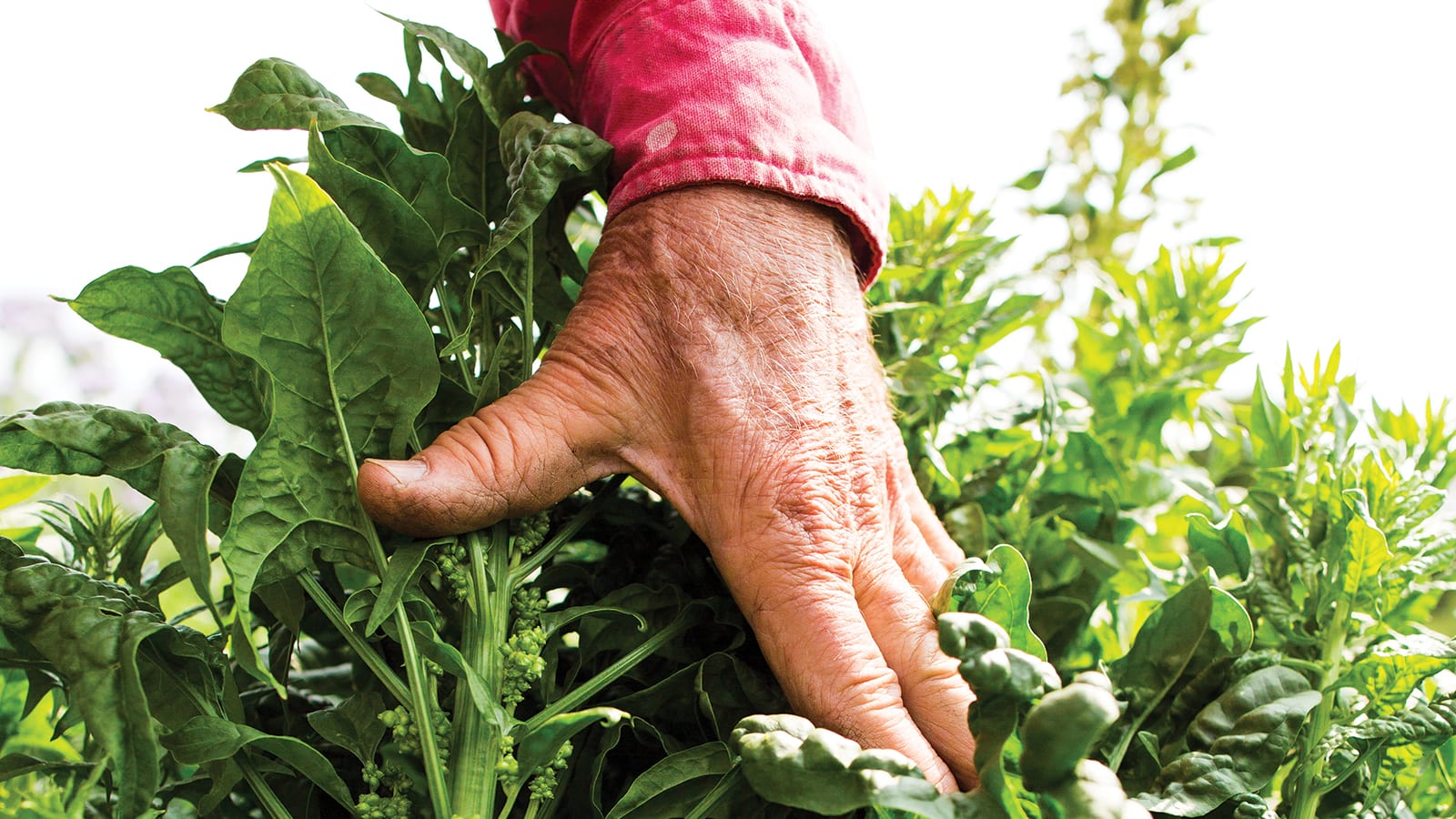 At PCC Farmland Trust, we have taken great joy in growing up alongside PCC Community Markets over the last two decades.
As PCC celebrates co-op power this month, we, too, are called to reflect on our founding and history. After all, this co-op is at the heart of who we are.
The beginning: Nash's farm
Our story began with one farmer you might be familiar with: Nash Huber. Nash and his wife, Patty, were some of the first organic farmers in Washington. They have been farming Nash's Organic Produce in the fertile Dungeness Valley on the Olympic Peninsula for more than 30 years.
Nash and Patty built a strong following across the Puget Sound region, thanks to their cream-of-the-crop carrots and other delicious organic products. In 1999, when Nash learned the farm adjacent to his own was in immediate danger of being sold and developed into small housing parcels, the first people he thought to call were his friends at PCC — the beloved local retailer who had supported his business for so many years.
While PCC had a strong and active member base at the time, it never had considered leading a farmland conservation effort as complex as the one Nash was proposing. No cooperative had.
Yet, PCC took on the challenge with fervor. PCC leaders Joe Hardiman, Jody Aliesen and Randy Lee spearheaded a first-of-its-kind effort, calling on its community of members, vendors and shoppers to help raise the $600,000 necessary to purchase Nash's threatened land. In only a few weeks and with the help of a loan, they succeeded in their goals.
Not only was Nash able to continue farming in the Dungeness Valley, but he also was able to expand his operations and ensure his surrounding land would remain farmland forever. Nash and Patty still farm on the Peninsula today, producing some of the best organic fruits, vegetables, grains, seeds, eggs and pork anywhere. Nash's organic vegetables and flour continue to stock the produce department and grocery aisles at PCC.
Ongoing organizing
This story doesn't end with Nash. With one farmland conservation effort under its belt, PCC created a new nonprofit organization, the PCC Farmland Fund. Jody Aliesan became the new organization's president, working to protect one Washington farm after the next with help from the PCC community.
As more stories like Nash's made their way to the Farmland Fund, the organization knew it needed more resources and a focused strategy to continue to make an impact. In 2005, the Farmland Fund changed its name to PCC Farmland Trust and became an independent 501(c)(3) nonprofit organization with a separate staff, board and mission.
Two decades later, the trust has grown to a 14-person organization that has protected 2,290 acres across Washington. By removing development potential from farmland, the Trust is helping to make land more affordable for a new generation of farmers. Our end goal is to ensure that all the land we protect is farmed productively.
PCC Farmland Trust today
Since our founding in 1999, the Puget Sound landscape has changed drastically. Many are feeling the pressures of the growing urban core and farmers are no exception.
As the housing market swells and development sprawls, the price of our near-urban farmland has skyrocketed. Last year, The Seattle Times reported that more people were moving to Pierce and Snohomish counties than anywhere else in the nation. At the same time, the average price per acre of Washington farmland has increased by 50 percent. To make matters worse, many farmers will retire in the next decade without leaving a successor in place.
This critical window for farmland protection has inspired PCC Farmland Trust to focus our efforts in the Puget Sound region, protecting the best and largest parcels before it's too late. We are buying up farmland actively as a way to get it off the market quickly, bridging the gap for farmers, and making the land more affordable for them in the long run.
In order to keep the farmland we protect in production, we are helping to connect farmers with available land through our new digital and in-person land-matching program, Farm to Farmer. In order to support producers in their pursuit of sustainable practices, we provide microgrants to farmers on our conserved properties, funding projects that improve water, soil, air or on-farm habitat.
This acceleration and expansion of our programs would not be possible without the support of PCC Community Markets. As an independent organization, however, the majority of our funding still comes from individuals, like you.
Today, PCC is the leading business sponsor of PCC Farmland Trust's work, providing support through in-store education and awareness events, special vendor promotions, and annual cash donations. Our vendor relationship with Powers Winery alone has raised more than $200,000 for farmland conservation over the last decade — all thanks to the partnership with PCC.
While some products from trust-protected farms are sold at PCC stores, each farm's relationship with PCC is an independent business decision made between the co-op and producers. As both of our organizations grow, our hope is to help strengthen connections between local farmers and consumers through our ever-expanding network of relationships and resources.
As the first retailer to participate in Monterey Bay Aquarium's Seafood Watch Program, the first co-op to build a store to LEED Gold standards, and one of the first local businesses to eliminate plastic shopping bags, it is no surprise that PCC has also been a pioneer in farmland conservation.
We would not be where we are today without the vision and dedication of our founder, PCC. We are honored to have experienced the power of a community co-op firsthand and are excited to continue working together toward a vibrant food and farming future for many years to come.
Molly Goren is the communications manager for PCC Farmland Trust.
---
Support PCC Farmland Trust at your local PCC store and beyond.
Shop at PCC Community Markets. It continues to provide financial and in-kind support to the Trust.
Contribute to our capital campaign during the Farmland Forever Drive in PCC stores May 1-31. Look for donation tags at the register.
Buy a bottle of Powers Winery Cabernet or Chardonnay at any PCC store. For each bottle, $2 goes directly to PCC Farmland Trust — look for the name right on the label!
Reuse a shopping bag, coffee bag, or egg carton at any PCC store and 5 cents will be donated to PCC Farmland Trust.
Make a tax-deductible donation either online at pccfarmlandtrust.org, by calling 206-547-9855, or by mailing a check to 1402 3rd Ave, Suite 709, Seattle, WA 98101.
Sign up to become a volunteer at pccfarmlandtrust.org/volunteer.
Join us for an "On the Farm" event. Find all the details at pccfarmlandtrust.org/events.
Sign up for The Crop, our monthly e-newsletter, to stay up to date on the latest PCC Farmland Trust news and information at pccfarmlandtrust.org/e-newsletter.