Producer Partnerships
This article was originally published in January 2018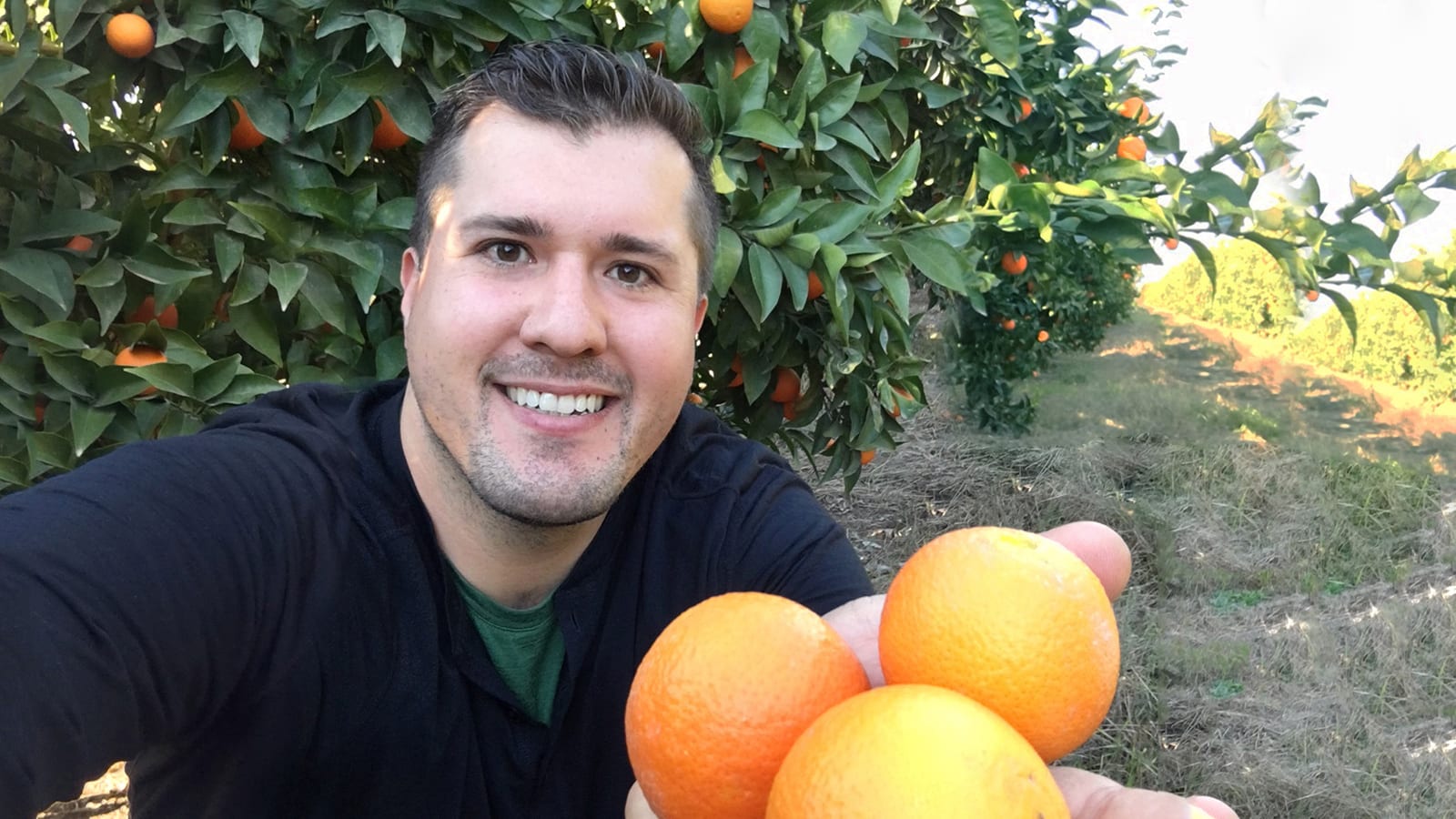 CJ Buxman – World Fruit Co.
CJ Buxman grew up on a conventional family farm in California growing peaches, plums and nectarines. CJ's mother did not want him to stay in farming. "It's too hard and too risky," she told him. So, CJ left the family farm for a career in tech and finance in nearby Sacramento. "But my wife kept pointing out to me that my eyes would just light up whenever I talked about farming," CJ says, "and my eyes would light up for a reason."
Seven years ago CJ moved his family back to his hometown, taking a leap of faith with a small 15-acre orange farm lease, and relying on the knowledge and skills that he grew up with to plant and sell citrus. For the first 1.5 years it was all conventional, "because that's what I knew," explains CJ, "but my family wouldn't eat it. And in the end, I just didn't want to grow something that I wouldn't feed to my kids." So, he underwent a full-on organic transition.
Today CJ operates a 150-acre certified organic farm, growing citrus as well as apricots, peaches and pomegranates. In many ways he's thoughtful about his approach to soil, pests and his trees.
CJ is careful to minimize sprays. In conventional practice trees are sprayed consistently for five months a year. Instead, CJ and an entomologist go through each orchard together to check for specific pests, and then carefully control and monitor any area of concern. He's also creative. Red scale, an armored insect, is a major pest to California citrus growers. To deal with red scale CJ introduces a parasitic wasp, aphytis melinus, that consumes the pest organically.
CJ introduces compost once or twice a year to ensure healthy soil and adds in a mineral called leonardite that provides additional soil nutrition. He also adds mycorrhiza to the soil, a fungus that connects to the roots of trees and provides increased water and nutrient absorption, along with increased pathogen protection, through a symbiotic relationship.
All together CJ's practices use less water, maximize minerals for the soil, and require fewer fertilizers and sprays. "The conventional approach wipes out everything, the good with the bad," explains CJ. "Organic practice is much more about finding the right balance of it all." The key, says CJ, is in the soil. "Good farmers take care of the trees, but the very best farmers take care of the soil."
The other outcome of CJ's methods? Amazing flavor. "Soil health impacts the flavor of food, because flavor comes from nutrients and minerals. Higher mineralized soil will give you great-tasting citrus," notes CJ with pride, "otherwise the fruit just tastes flat."