Gathering around the holiday table
by Marilyn Walls, M.S.
This article was originally published in December 2017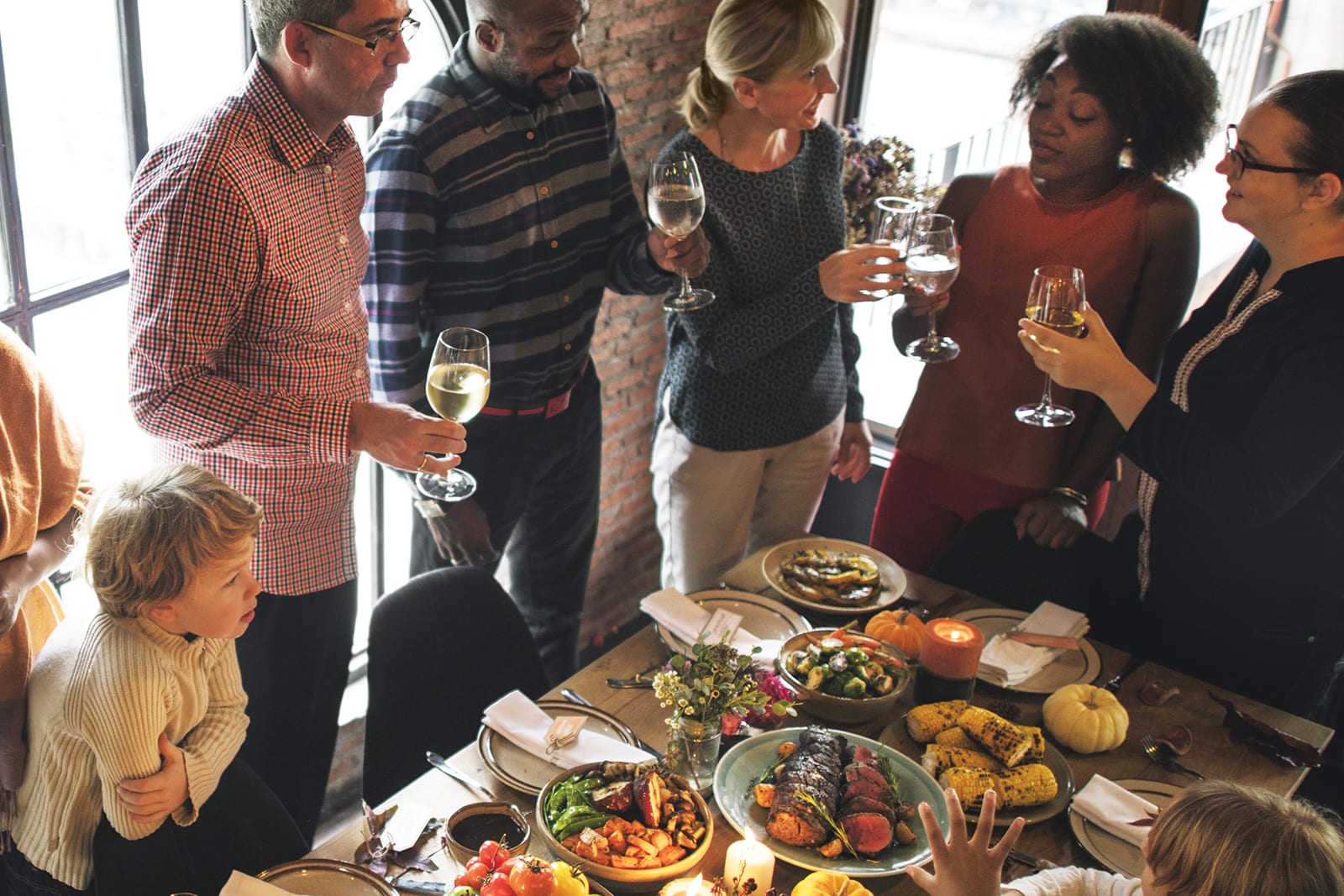 Diversity hath many forms, including what we eat. Seated around your holiday table may be a meat-lover, a committed vegan, someone with nut allergies, and another avoiding gluten. This mixture of food contradictions can be a recipe for a festive holiday meal, bringing together food preferences that are reflective of a diversity of religious, cultural and dietary dedications.
Planning ahead
There are many ways to bridge the food gaps. The solution starts long before the actual gathering. For the most success, it's best for both guests and hosts to participate in creating the festive repast. Collecting information about food limitations and allergies is the first step to commingling an assortment of palates.
As a host, to avoid surprises and disappointments, ask in advance what your guests cannot eat. Be sure and find out if more serious allergies are involved. No one wants a trip to the emergency room because of nuts or shellfish in the holiday spread!
As a guest, be proactive. Gently communicate your sensitivities to the hosts. With planning, the gathering can mirror what we desire: the joy of the season.
Vegetarian vs. omnivore
The traditional holiday feasts in our country generally are very meat-centric. Kitchens are redolent with roasting turkey, ham is honey-glazed and sliced thick or thin, and gravies shimmer with animal fats. The deep aromas alone can start the party. Photos are built around the golden bird, and proteins from local farms are arranged artfully on large platters that anchor the table.
We may love meat because it's deeply rooted in family history, or maybe we're vegetarian because of concern for our environmental footprint or unease about animal welfare issues. Health can be a factor in these choices. Your community may be able to participate in a lively, friendly discussion about food, without recriminations. If that's so, your family is better than mine.
Recently, a 10-year-old at our Southern dinner table fairly hissed at me, "Why would anyone be a vegetarian?" She didn't actually want my reply; perhaps, like someone at your table, she just thought I was strange. I spared her my reasons. It seemed important that she wasn't made to feel defensive about the splendid carnivorous meal that her father and grandfather had prepared lovingly.
Whatever the reasons for what we put on our plates, discussions of food politics are likely best avoided at these lush banquets. There are better, less fraught conversations for such a holiday celebration. If everyone enjoys their food domains, without justifications or repercussions, peace might reign in your merry kingdom.
Something for everyone
If you are a guest with food limitations, it's always a good idea to bring something you like to eat. This not only protects you from food dilemmas driven by hunger or an empty plate, but it also gives you a chance to show off your cooking talents (or your skills in shopping at the PCC deli). By adding to the holiday table, you become an appreciated participant rather than a problem to be solved. When you offer up a vegan or vegetarian option, you might even introduce new food ideas to this holiday community.
For the host there are simple ways to include everyone in the holiday feast. Appetizers easily can include meat or no meat. Vegetarian soups make a lovely beginning and generally are enjoyed by meat lovers. Bean spreads, elegant vegetable dips, baked brie, goat cheese and figs, stuffed mushrooms, salmon cakes or polenta entice a variety of taste buds, proffering alternatives along with those luscious appetizers wrapped in nitrate-free bacon. This is also a good place to include gluten-free crackers and chips for your gluten-sensitive guests.
Depending on the size of your holiday gathering, your guests may be comforted if your appetizer or buffet table includes cards with each dish's ingredients. Another simple solution is to group the vegetarian, vegan or gluten-free dishes together.
Often, providing for food-sensitive guests requires only one extra step. Consider salads: if your house salad features croutons, shrimp or cheese, first make the version without the restricted ingredients (e.g., wheat/gluten, shellfish, dairy) and set part of it aside in a bowl of its own. The final version, replete with toppings, is finished in its own serving bowl. Alternatively, if there's an issue with one particular ingredient, that item can be left in its own bowl to be added as each guest prefers.
This can apply to vegetable dishes, too. My mother and I had a similar agreement about green beans. She liked her beans cooked all day (in bacon grease and with a piece of fatback), while I liked mine less soft. I would blanche or sauté the beans to start and, soon enough, she would say in her endearing Southern drawl, "Your plastic beans are ready." I removed my beans and she took the rest to create a dish much esteemed by the others enjoying her holiday table.
Everyone can enjoy a meat-free main dish in addition to an animal protein. Many holiday basics fit into a plant-based diet. Think cranberries, Brussels sprouts, green beans and yams.
Stuffing is a relatively simple fix. In consideration of gluten-sensitive guests, quinoa or wild rice makes a delicious stuffing. Set aside a portion of the vegetarian stuffing in its own pan for cooking. Then add the gravies, sauces and other ingredients for the rest of the clan into the remaining stuffing that goes into the turkey.
You may need more than one gravy for your disparate guests. Nothing compares to a gravy created from scratch. For turkey gravy, you can use turkey pan drippings, or, like my Southern roots, you can add giblets.
As that high-maintenance guest, I chose to bring a hearty side dish with mushroom gravy to a traditional Christmas Eve dinner. I stuffed a baked squash with a wild rice concoction of onion, fennel root, mushrooms and cranberries. The gravy has since become a holiday favorite that I bring every year. My secret to gluten-free mushroom gravy: port. This lush red wine comes in dry, semi-dry or sweet, and you can select the taste profile you favor.
It's important when guests have food allergies to avoid cross-contact. Use separate cutting boards, knives and other utensils for different food groups. Wash your hands often. Remember also to have enough serving utensils and platters to protect against contamination.
Happy holidays
Nothing stays the same, and that includes what we serve at our holiday gathering. As Trudy Bialic, PCC Director of Public Affairs & Quality Standards, explains, "No one's diet remains the same over a lifetime. Our food choices evolve and change. We learn and grow with new information and experiences." May our holiday gatherings reflect this lovely truth, as we respond to the variations of community.
In my own evolution, I'll be retiring this year. It has been my privilege to work for PCC and to be a part of this vibrant community. What I've learned from customers and staff is immeasurable.
I'll take the lessons with me into this glorious season and for the rest of my life. Wherever my table, whatever the mélange of tastes and commitments, I'll be grateful for PCC: what it has meant to me, to our community and to the larger world.
May our meals honor our heritage with recipes passed from our elders and may we look to the future by choosing foods that respect the evolution of those we love. To preserve this beautiful diversity that is our planet, may we choose foods that are grown with concern for the earth by people who care. May we continue to be those attentive people, the guardians of our children's and grandchildren's holiday delights.
Marilyn Walls, M.S., started working with PCC Community Markets in 2000. She got her master's in nutrition at Bastyr University and also taught there. Her recently published book, "Mother's Secret: A Nutritionist's View of Family and Alzheimer's Disease", is available at PCC stores.