Create your best Thanksgiving table
This article was originally published in November 2017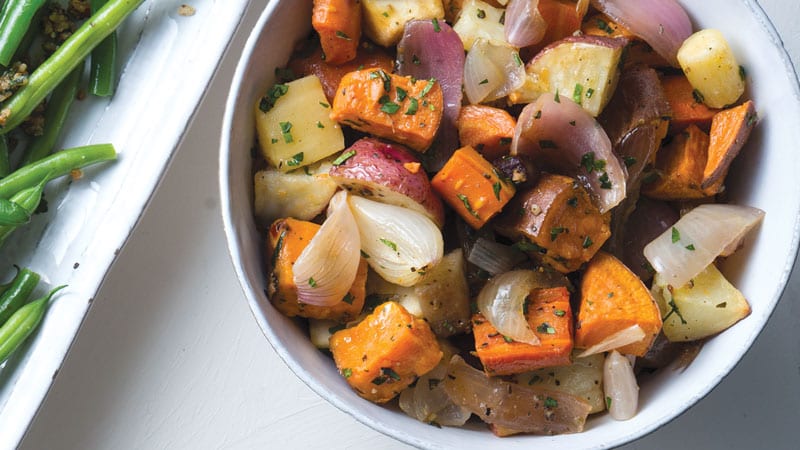 You can make your Thanksgiving feast from scratch, the PCC deli can make it from scratch for you, or you can create a combination that perfectly suits you and your holiday table.
In the PCC deli we produce an assortment of traditional holiday favorites, made in-store with the great PCC ingredients that we trust.
Instead of the one-size-fits-all holiday dinner box found at most conventional grocery stores, you have choices at PCC. We're excited to be a part of your Thanksgiving meal.
Dishes at traditional stores are generally produced off-site, shipped frozen and then thawed for retail. Instead, you can fill your house with dishes made from the PCC ingredients you've come to know and love. You can create an entire meal made from scratch in the deli, or you can mix and match for your own preferences and tastes.
For home cooking, PCC has everything you need from organic cranberries and potatoes to heirloom turkey, from organic canned pumpkin to locally pastured organic cream.
In our delis, you'll find mashed vegan parsnips and classic sage stuffing, decadent garlic parmesan mashed potatoes, and rich chorizo apple cornbread dressing.
You can choose from scratch turkey gravy or mushroom gravy, home style cranberry sauce and relish. We also offer fun and inventive signature takes on holiday green beans, Brussels sprouts, yams, beets, squash and winter vegetables. Holidays are for celebrating! Celebrate your love of cooking with ingredients raised and selected with care, or celebrate your love of the family by letting the deli help out and provide as much of the meal as you want.
Don't forget the wine.
We're highlighting three wine specials this holiday season.
Lini "910" Lambrusco: A wine made for a feast. This gorgeous red marries fresh, racy berry fruit with savory hints and a veil of bubbles. Sustainably farmed!
Buty "Beast" Riesling "Sphinx": From a biodynamically farmed vineyard at Wallula Gap, near the confluence of the Snake and Columbia rivers, this wine is an ode to classic German rieslings. It offers incredible balance and complexity in its profound expression of Washington terroir.
Cooper Hill pinot noir: We love this wine. It marries the balance and grace of its Burgundian cousins with a vibrant accent of pure Willamette Valley character. Biodynamically farmed!
The farmers, ranchers, chefs in the kitchen, folks who stock the shelves, and you — we're all one community working together to put out the best Thanksgiving table ever.
Of course, the most important part of Thanksgiving is sharing a meal with people you love and feeling thankful. But it always helps to have delicious food and drinks!