Will we see nutrition info on menus?
Nick Rose, M.S.
This article was originally published in September 2017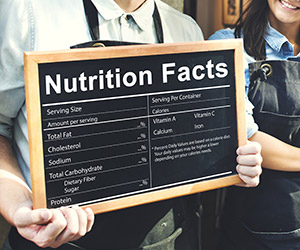 Curious how many calories are in your favorite restaurant meals and snacks? You'll have to wait.
PCC recently submitted comments to the Food and Drug Administration (FDA) regarding the delay of rules that would require restaurants to provide nutrition information for consumers. The rules were part of the Affordable Care Act passed in 2010 and would require restaurants and similar food establishments (with 20+ locations) to post calorie counts on menus, with full nutrition facts upon request.
On the eve of the compliance date (May 5), the FDA filed notice that it planned to delay the menu-labeling deadline and allow an additional year for industry to comment. "Menu labeling must work," says food policy expert and nutritionist Marion Nestle. "How else to explain industry's ferocious and unrelenting opposition to it?"
The Center for Science in the Public Interest (CSPI) is suing the Trump administration over the delay of this menu labeling rule. CSPI states that the delay is illegal and jeopardizes public health.
At PCC, we frequently get requests from shoppers for nutrition information (calories, sodium, sugar, etc.) for our deli items and many shoppers rely on this information to make informed choices. That's why we decided to comment to FDA on behalf of consumers, asking the agency not to delay the rule. Here's a summary of what we said.
PCC's comments to FDA
PCC's commitment to honest and transparent labeling is fundamental to our mission and values. We oppose any further delay or weakening of the menu labeling rule and urge FDA to revoke the one-year delay for compliance.
Each year, Americans eat more and more meals prepared outside the home — at restaurants, supermarkets, movie theaters, sporting events, convenience stores, and other food establishments. Recent data suggest that almost half of all calories consumed in the United States come from foods prepared outside the home, and that frequent consumption of foods prepared outside the home is associated with an increased risk for chronic disease.
When Americans eat out they choose foods that contain more saturated fat and sodium and fewer vitamins, minerals and fiber. It's not surprising that researchers consistently find that "frequent consumption of away-from-home foods contributes to obesity, hypertension, diabetes, heart disease and cancer."
PCC believes that the FDA should require nutrition information to be disclosed immediately. Industry had eight years to plan for the 2017 implementation. Delaying nutrition labeling only ensures that Americans will remain in the dark when eating meals outside the home.
It is essential that nutrition information be easily accessible to help consumers make more informed food purchasing decisions. Increased transparency will empower consumers to make healthier choices for themselves and their families.
At PCC, we frequently hear from shoppers who tell us they eat half or more of their meals outside the home. Without FDA requiring calorie and nutrition information, these shoppers are unable to make informed decisions about what to eat to support their health.
Americans want calorie labeling and have been waiting long enough. Given the high rates of diet-related diseases, such as obesity, diabetes, heart disease and cancer, the FDA should act quickly to move forward with implementing the menu labeling regulations as finalized.
Nick Rose, M.S., is a nutrition educator at PCC.