Hydration for health
This article was originally published in August 2017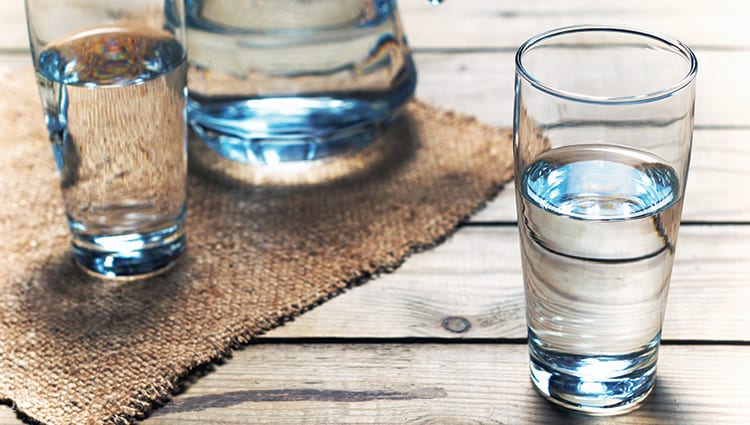 Feeling thirsty? Water is so important for good health that our bodies require more water than any nutrient. We need nine to 13 cups of water daily (depending on our body weight), but at least two to three of those cups can come from fruits, vegetables, soups and other foods that are naturally full of water.
Hydration is critical for so many functions — flushing toxins from our bodies, carrying nutrients to our cells, and cushioning and lubricating our joints, organs and tissues. New research suggests that dehydration even contributes to moodiness and impaired cognitive function.
Essential electrolytes
Don't rely on thirst as your only reminder that it's time to take a sip. By the time you feel thirsty, your body is already 2 percent dehydrated. In the summertime, when we sweat a little more, hydration becomes even more important.
Electrolytes (potassium, magnesium, sodium) are lost through sweat and need to be replenished to help prevent and alleviate cramps, help muscles function and burn energy efficiently. Under normal circumstances, we get adequate electrolytes from normal dietary variety. You may only need to supplement with electrolytes if you engage in extreme physical activity for longer than 90 minutes.
The PCC advantage
PCC doesn't carry conventional sports drinks such as Gatorade, which are full of artificial sweeteners and colors. Instead, we offer more natural ways to get a boost of electrolytes — in addition to vitamins and other health-promoting ingredients. Here are a few great products at PCC. You can use them to make replenishing sports drinks in your own water bottles, so you can avoid wasteful plastic bottles. Added bonus: they're on sale this month!
Ultima Replenisher
Get your hydration on the go with these handy single-serving sticks, in packs of 20. Ultima Replenisher contains zero calories and a balance of six electrolytes plus support minerals that work together to provide complete hydration. Ultima is sweetened with stevia and comes in a variety of flavors, including Cherry Pomegranate, Grape, Lemonade and Orange.
Nuun
Nuun is a Seattle-based company that makes lightly flavored electrolyte-enhanced drink tablets you can dissolve in your water bottle before or after a workout. Gluten-free, dairy-free and soy-free, each Nuun active tablet contains only 10 calories and is lightly sweetened with plant-based sweetener monk fruit and a touch of stevia leaf extract. In fun flavors including Tri-Berry and Strawberry Lemonade.
Garden of Life SPORT Organic Plant-Based Energy + Focus
Before a workout, mix a scoop of this powder into your water bottle to get a fast burst of energy with caffeine from organic coffeeberry plus a boost of nitric oxide from organic kale, spinach and beets. Made only with clean, plant-based organic ingredients, including organic cane sugar for fuel and vitamin B-12 to optimize energy production, this is a great pre-workout drink for people seeking pure, organic ingredients.
Garden of Life SPORT Organic Plant-Based Recovery
Mix this powder into water immediately after a workout to replenish your body. Made with organic cane sugar to help support protein synthesis and muscle repair. Whole-food magnesium and organic B vitamins provide energy on the cellular level to help jump-start muscle repair. Organic tart cherries, turmeric, gogi berries, blueberries, apples and rooibos help reduce muscle soreness and support muscle recovery.
Vega Sport Electrolyte Hydrator
If you're looking for a big hit of electrolytes but without sugar or calories, this is one hydration powder you'll love. Vega's tubs of berry-flavored plant-based hydration powders are rich in Vitamin C and lightly sweetened with stevia.
The best bottles
At PCC, we believe that the vessel that holds our drinks is as important as the drink itself. That's why we offer truly exceptional glass water bottles that are functional, beautiful and good for the planet.
Love Bottle: Made of recycled glass in the USA and adorned with a variety of fun designs, Love Bottles are BPA-free, dishwasher safe, and look right at home on a long hike or on an elegantly set table. Five percent of profits are donated to Global Water.
LifeFactory: Excellent for water drinkers on the go, these glass bottles have protective sleeves that offer superior grip and keep them from breaking. These BPA-free, dishwasher-safe bottles have wide mouths that make it easy to add ice cubes, citrus slices, tea bags, or hydration powders or tablets.