Liquid gold: Choosing a good olive oil at PCC
This article was originally published in May 2017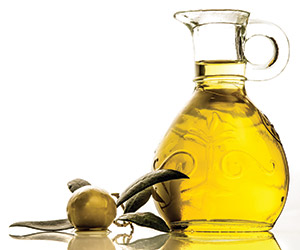 Extra virgin olive oils, like wine or coffee, have complex tastes and textures that reflect the type of olives, where they're grown, and the care with which they're pressed. At PCC we source with care, seeking out olive oil producers who vouch for the quality and authenticity of their oils. Here are some we love.
Bionaturae Organic Olive Oil
Why we love it: This organic oil is made from a blend of traditional Italian olive varieties: Frantoio, Leccino, Leccio del Corno, Favarol and Nostrano. The olives are grown on small, certified organic, local family farms in the Veneto region of Northern Italy. Olives are pressed the same day that they're hand-harvested to avoid oxidation.
Tasting notes: Classic Italian olive oil flavor profile — complex balance of fruity and mellow flavors, with a subtle artichoke bite.
California Olive Ranch Olive Oil
Why we love it: All California Olive Ranch oils are pressed from olives grown on Northern California family ranches. Each bottle can be traced back to the fields where the olives were grown. The oils are certified extra virgin by the California Olive Oil Council (COOC), passing rigid chemical and sensory evaluations. The bottles label the harvest date, which is unusual and a good marker of quality and authenticity.
Tasting notes: These oils consistently get good reviews for taste and flavor by PCC shoppers. The Everyday Olive Oil has a floral, buttery and fruity aroma, and a smooth flavor with hints of green apple.
Far North New Zealand Olive Oil
Why we love it: Washingtonians Charlie and Gayle Pancerzewski retired to New Zealand to realize their dream of producing premium, single-varietal olive oils. They produce the oil on their olive ranch, so it's 100-percent traceable. Bottles include the pressed date.
Tasting notes: The NZJ5 varietal produces an oil with a fresh, green, fruity flavor and slight peppery finish. The Leccino varietal has a more robust flavor with a peppery finish.
Organic olive oil in bulk
We sell organic extra virgin olive oil from Napa Valley Naturals in bulk, so you can get as little or as much as you need.
Napa Valley olive oil is sourced from Spain and Tunisia and meets IOC (International Olive Council) standards.
Extra virgin: delicious by definition
The definition of extra virgin olive oil according to the U.S. Department of Agriculture is olive oil with "excellent flavor and odor" containing less than 0.8 percent free fatty acids. To be labeled extra virgin, the olive oil must pass both sensory and chemical analyses.
The flavors in extra virgin olive oil are a reflection of the antioxidants in the olives, which often carry pungent, bitter or astringent flavors. Certain varieties of olives can be sweet and floral, while other varieties can be pungent and bitter. Poor-quality extra virgin olive oil might taste fusty, rancid or sour — indications that the oil has not been stored or processed properly.
The peppery finish you notice when tasting extra virgin olive oil comes from the presence of spicy phytonutrients and can be a useful indicator in identifying authentic extra virgin olive oil.
Tips for finding good olive oil
On the label, look for:
Extra virgin

Place of origin

Date of harvest (or date of pressing)

Specific varieties (cultivars) of olives

Seal of authenticity: DOP (Europe), COOC (United States)
Note not all quality olive oils will list these features, but they can be good markers of authenticity.
Storing olive oil
It's important to store your oil with care to ensure maximum freshness.
Store olive oil in a cool, dark place away from light and heat.
Always reseal your bottles tightly after use to ensure limited exposure to oxygen.
After opening a bottle of oil, use it up quickly and replace it with a fresh bottle every couple of months.
Taste it!
From 4 to 6 p.m., come taste a variety of different olive oils at PCC and learn about the health benefits with PCC Nutrition Educator Nick Rose.
Tuesday, May 9 at Greenlake Village PCC
Friday, May 12 at Issaquah PCC
Saturday, May 13 at Columbia City PCC
Tuesday, May 16 at Edmonds PCC
Wednesday, May 17 at Bothell PCC
Saturday, May 20 at Redmond PCC