Tender local, organic asparagus
This article was originally published in April 2017
Few vegetables herald spring better than slender, bright spears of fresh asparagus. And it's tough to find better asparagus than the harvest from these three local farms, longtime PCC partners whose devotion to organics is unparalleled.
Andersen Organics — Othello, Wash.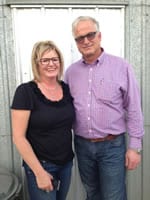 Denise and Brian Andersen have farming in their blood. Both were raised on farms, and the couple has farmed Washington's beautiful Columbia Basin since 1984. As they worked the land over the years and their appreciation for the power of clean, healthy soil to produce healthy crops grew, they decided to pursue organic certification in 2003. The Andersens' organic produce has been gracing the tables of PCC shoppers ever since.
"Organic farming has become a rewarding way to farm," Brian says. "We enjoy the challenge of producing a healthy crop, and it never ceases to amaze us just how good a crop can be when it's grown in healthy soil."
The Andersens now partner with other area growers, the Johnson and Freihe families, to source the asparagus they pack and ship. Get their organic asparagus before the oh-so-short season ends, and be sure to enjoy other Andersen crops throughout the year — a rainbow of organic onions (Cipollini, red, sweet, yellow and white) and several varieties of potatoes and winter squash.
Inaba Produce Farm — Wapato, Wash.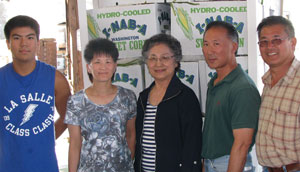 Much of PCC's local, organic asparagus is grown on this third-generation family farm, nestled amid the rich and fertile volcanic soil of the Yakima Valley. The current generation of the Inaba family employs many sustainable practices that began in the early 1900s when Shukichi Inaba and his brother, Tomoji, emigrated from Japan and established the farm. Shukichi's son, Ken, eventually took over the farm and now Ken's three sons — Lon, Wayne and Norm — manage it along with their Mom, Shiz.
The Inabas' sustainability efforts truly set them apart. They conserve water with drip irrigation systems. They recycle thousands of tons of waste each year. They use composting and cover crops to improve soil health. They've diversified the crop mix to extend the growing season to provide a longer term of steady employment for workers. Their farm is one of the few places that provides housing for their seasonal employees. "People are amazed at how nice it is," says Lon Inaba, the operations manager.
At 1,200 acres, the farm is a big spread. Yet, it's a good example of how environmentally friendly and socially responsible practices are commercially viable values in food production, even on a large scale.
When the season for bright stalks of asparagus comes to an end and summer rolls around, we can look forward to the Inabas' other crisp, fresh delights: green beans and watermelon!
Schreiber & Sons Farm — Eltopia, Wash.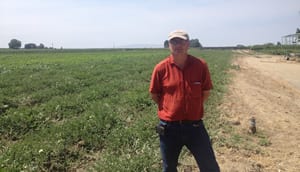 Just north of Pasco, the 55-acre organic Schreiber & Sons Farm grows a variety of specialty crops including asparagus.
The farm is an extension of an agricultural research company started by Alan Schreiber, an agricultural researcher and former professor at WSU-Tri Cities with a Ph.D. in entomology, and his wife, Tanya Wojtowych. They started commercial production on the farm to address an unmet demand for locally grown specialty produce in the Pacific Northwest.
They began with okra and eggplant — most went to upscale restaurants and retailers in Western Washington and Oregon — but when a group of local consumers asked the couple to grow a wider array of produce, Alan and Tanya rose to the challenge and added about 40 crops to their repertoire, including a variety of organic melons PCC shoppers will enjoy this summer. Their farm functions as a natural laboratory, where they experiment with different techniques for producing the best organic produce. You're the beneficiary of their trials!