Aquaculture awash in controversy
by Anne Mosness
This article was originally published in April 2017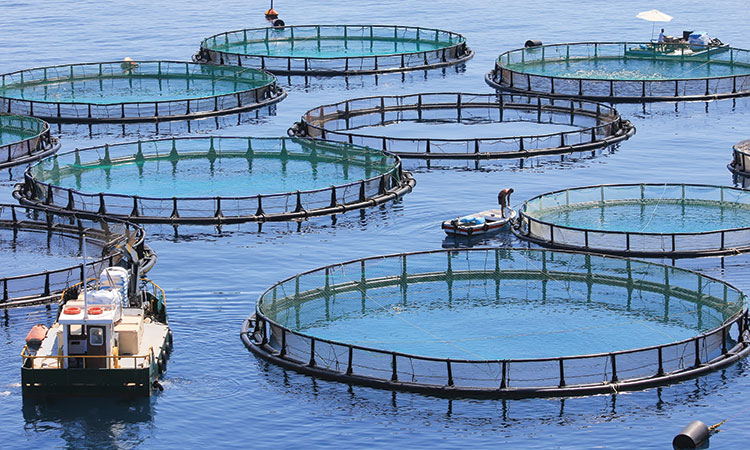 Policies are on the chopping block that protect streams, water quality, wild fish and other aquatic gifts of nature so deeply valued by residents in the Pacific Northwest. Pronouncements from Washington, D.C. about abolishing regulatory agencies or reviving dirty industries cause concern. Significant cuts could impact research and services that benefit the public good, yet not all proposed changes are because of the new presidential administration.
For decades, state and offshore waters have been targeted for expansion of industrial aquaculture. These plans have a greater chance of being pushed through in this new era, unless the public remains vigilant and vocal.
Plans for expansion
Washington has supported salmon-rearing operations in public waters for decades. In the early 1970s, the Union Carbide Corporation and the National Oceanic and Atmospheric Administration (NOAA) operated an experimental farm near Manchester. Larger privately owned operations are now located near Port Angeles, and Bainbridge, Cypress and Hope islands. According to the Washington Department of Ecology, our state has "the largest marine finfish aquaculture industry in the United States with eight marine farms producing approximately 17 million pounds of Atlantic salmon."
Last year, Washington's salmon farms were sold by a private equity firm based in New York and San Francisco to a Canadian corporation located in New Brunswick. Cooke Aquaculture, Inc. also owns fish farm operations in Eastern Canada, Spain, Scotland, Chile and Maine and projects it will produce more than 275,000 metric tons of seafood annually and generate $1.8 billion in annual sales.
NOAA has stated a goal of "expanding sustainable U.S. marine aquaculture production by at least 50 percent by the year 2020." Early last year, NOAA permitted aquaculture in federal waters — from 3 to 200 miles offshore — in the Gulf of Mexico. This past fall, the agency began the process of assessing the potential environmental impacts for a similar program in the Pacific Islands Region.
NOAA's report, "Washington Aquaculture Opportunities for Growth," describes open-ocean aquaculture planned in the Strait of Juan de Fuca. Dam removal and restoration of wild salmon habitat has widespread support, so ongoing pressure to allow huge fish farms along the migratory highway has alarmed wild fish advocates.
NOAA's funding of offshore aquaculture is estimated at $100 million. Futuristic cage designs and feed and site studies have created a sense of inevitability. Yet Michael Rubino, NOAA's director of the Office of Aquaculture, acknowledged in 2016 that "… production of marine species in the U.S. is … a relatively unproven business proposition."
One widely acclaimed company planning to rear bigeye and yellowfin tuna in 12 "oceanspheres" in state waters of Hawaii just folded. The company met NOAA's criteria of locating "in deep ocean waters where constant currents and large volumes of clean water assure fish health and rapid mineralization of effluents," but its board voted in December to end a 10-year project and cancel leases with the state.
A sea of problems
Rearing seafood in crowded, open-ocean net pens is touted by industry as having minimal environmental impacts, but there are similarities with land-based concentrated animal feedlot operations (CAFOs). Unlike land-based CAFOs monitored for appropriate manure management, marine fish farms depend upon nature for free sewage disposal.
Mesh-sided net pens often function as reservoirs, amplifying parasites and diseases that can't be confined in a fluid environment. Outbreaks of infectious hematopoietic necrosis virus and viral hemorrhagic septicemia have been found in Washington's salmon farms.
Farmed salmon escape, too, competing with wild species for food and territory. In the mid-1990s, more than 613,000 Atlantic salmon escaped from Washington salmon farms.
The Washington Invasive Species Council describes Atlantic salmon as an invasive species. Our neighbor to the south lists these nonnative salmon as one of the "100 Most Dangerous Invaders to Keep Out of Oregon." California bans open-ocean salmon farming and Alaska bans all finfish farming.
The feed issue
About a third of the world's commercially caught wild fish is directed away from feeding people every year and an estimated 70 percent of that is used to feed farmed fish, with the rest going to feed pigs and poultry. Three pounds or more of wild fish are required to produce one pound of farmed salmon — resulting in a net loss of protein.
Much of the fish turned into fish meal is considered "food grade" and could be eaten by people. It could be an important source of nutrition for populations at risk of food insecurity.
NOAA and the U.S. Department of Agriculture (USDA) are funding an "Alternative Feeds Initiative" with Midwest commodity producers targeting aquaculture as a prime market for their genetically engineered (GE) corn and soybeans. Fish reared on GE crops, with altered taste, texture and omega-3 and omega-6 composition, likely would be objectionable to true fish lovers.
GE salmon
Despite more than 2 million comments in opposition, GE salmon was approved for consumption by the U.S. Food and Drug Administration (FDA) in 2015. Cooke Aquaculture stated its agreement with the position of the International Salmon Farmers Association and other industry groups that it would "not support the commercial production of transgenic fish unless it had been declared safe by all relevant regulatory bodies and consumers demand such fish."
In 2002, through efforts of conservationists, fishing organizations and safe food advocates, a ban on production of GE fish was passed by Washington's Fish and Wildlife Commission. But as protective regulations are gutted, GE salmon and other species may someday be raised in marine waters.
What can we do?
Supporters of wholesome wild seafood, healthy marine ecosystems, and traditional and tribal fisheries know we must work hard to protect them. Our elected officials and agencies such as the Department of Ecology, Washington Department of Fish and Wildlife, and Department of Agriculture need to hear from Washington residents as they propose and implement aquaculture policies. Instead of marine feedlots in our state and offshore waters, growing fish on land may be the wave of the future. We'll keep you posted on ways to take action.
Stay informed
Washington's Department of Ecology is updating 30-year old "interim" guidelines for commercial net pens in saltwater. PCC and many other social and environmental organizations recently submitted comments opposing expansion of open-ocean aquaculture in Puget Sound.
NOAA plans to publish a draft environmental impact statement this spring on its 2017 NOAA Sea Grant Marine, Coastal and Great Lakes National Aquaculture Initiative. It will release a final assessment in the fall after comments are received from the public.
For updates on these projects and ways to take action, sign up for PCC's e-newsletter, PCC Advocates: pccmarkets.com/enews.
Eat wild salmon
Wild salmon fisheries in Alaska are sustainable and carefully regulated, supporting thousands of small family fishing businesses and coastal communities. You'll find wild Alaskan salmon at PCC year-round.
Anne Mosness has fished commercially, worked for the Institute for Agriculture and Trade Policy, and received a Kellogg Leadership/Food and Community Fellowship, King Neptune award and other recognitions for enviaronmental and wild fish research and advocacy.