Soil & Sea: reports from our producers
This article was originally published in April 2017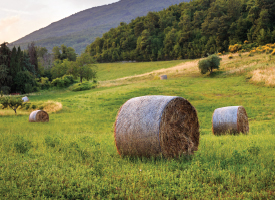 PCC is delighted to now sell the first certified organic, U.S.-grown quinoa from Lundberg Family Farms. Lundberg's Antique White Quinoa is grown in Washington and is the result of a partnership between Lundberg and Dr. Kevin Murphy at Washington State University, who ran field trials and conducted agronomics research on the crop for several years, and farmers in the Northwest who already were doing their own breeding experiments with the crop but who didn't necessarily have access to larger retail opportunities. Together they worked to identify varieties that could offer both strong yields and high quality.
A local source of quinoa is a big deal — until recently, quinoa wasn't often grown outside the mountains and coastal valley regions of Bolivia, Peru, Chile and Ecuador. The high protein content made quinoa's popularity soar in recent years, causing price spikes and shortages of an essential food in its native regions. You'll find Lundberg's local quinoa in bulk at PCC!
Washington state's booming wine industry produced a record harvest of wine grapes in 2016 after cooler weather lengthened the growing season. Last year's harvest in Washington, the second-largest producer of premium wines in the U.S., tallied 270,000 tons, beating the state's previous record of 227,000 tons in 2014.
Cattle rustling is a huge problem worldwide. But now a team of scientists from Australia and New Zealand have devised an animal sensing platform with GPS location that can detect any unusual livestock behavior patterns or movements and send the information to a smartphone, alerting ranchers and law enforcement officers that a theft is taking place.
Six Washington salmon and crab fisheries received a fisheries disaster designation from the U.S. Secretary of Commerce in February after unusual ocean and climate conditions caused a severe drop in the amount of fish American Indian tribes and commercial fleets were able to catch. The designation means the fisheries now can seek disaster relief money to help provide economic assistance to fishing communities.
Purple sprouting broccoli is ready, after years of collaborative breeding and testing by Organically Grown Company, breeders and Northwest farmers. The crop bridges the traditional winter gap in Pacific Northwest broccoli and broccolini production, providing much-needed early season income for farmers while offering eaters a taste of spring.