Soil & Sea: reports from our producers
This article was originally published in January 2017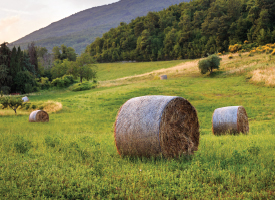 PCC Farmland Trust has more than 20 farms in its project pipeline. It recently purchased the $2.8-million Mountain View Dairy — the largest farm ever protected in Pierce County. The trust's conservation work is ever more important as farm acreage prices in Washington have increased by nearly 50 percent in the last four years.
Can the Perigord black truffle be farmed in the United States? The elusive mushrooms, which can sell for $600 to $1,200 per pound, grow underground among the roots of certain trees and require trained animals to find them by scent. A startup, the American Truffle Company, says it has created a proprietary technique to inoculate the roots to more reliably grow the fungus. So far success is proving costly.
Two University of Washington professors are leading an effort to help U.S. fisheries consider the larger marine environment, rather than just a single species, when managing a fishery. They recently released a blueprint for a "next generation" of fisheries ecosystem plans.
U.S. organic farmland reached 4.1 million acres in 2016, a new record and an 11-percent increase compared to 2014, according to a new report. As of June 2016, the number of certified organic farms in the U.S. reached 14,979, a 6.2 percent increase of 1,000 farms compared to 2014 survey data. The top five states in organic cropland are California, Montana, Wisconsin, New York and North Dakota.
The Canadian government approved a crude-oil pipeline project much larger than the one generating protests in North Dakota and could bring a seven-fold increase in tanker traffic to the Salish Sea. Canadian Prime Minister Justin Trudeau approved the Kinder-Morgan Transmountain pipeline expansion project, which could mean an increase in the number of oil tankers traveling through the Strait of Juan de Fuca and northern Puget Sound from one tanker per week to more than one per day.