Soil & Sea: reports from our producers
This article was originally published in December 2016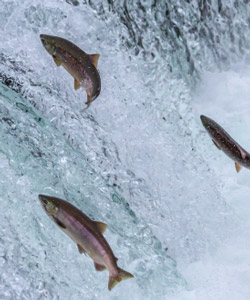 The "gluten-free" label was on 23.6 percent of menus this year, beating out "organic" (21 percent), "locally" (14.2 percent) and "all natural" (8.9 percent), according to DataSsential Menu Trends. That's a big jump from 2014 when it was on 15 percent of menus and organic was still the health term to beat, appearing on about 19 percent of U.S. menus.
AquaBounty officially withdrew its Securities & exchange commission (SEC) registration forms to join NASDAQ. The company, which produces genetically engineered (GE) salmon approved by the Food and Drug Administration but not yet commercially available, leaves open the possibility of re-filing. But the withdrawl is a victory for opponents of the GE fish, including PCC, who pressured the SEC to scrutinize AquaBounty's regulatory filings and shed new light on AquaBounty's sketchy operations.
Unilever has agreed to purchase Seventh Generation, a privately held maker of eco-friendly household products. A source familiar with the deal said the purchase price is between $600 million and $700 million.
More than half of all households in the United States now purchase organic produce. The sale of organic bananas alone — now a $165 million market — soared by more than 30 percent last year. Organic "value-added" vegetables (think chopped kale, peeled carrots and ready-to-cook squash) grew by a whopping 54 percent in 2015 to almost $150 million.
Americans increased their seafood consumption to 15.5 pounds of fish and shellfish per person in 2015, up nearly a pound from the previous year — making it the biggest leap in seafood consumption in 20 years.
Earth's Best is introducing a new infant formula without Martek Biosciences' artificial DHA/ARA, a controversial artificial additive that PCC protested in 2011 when Martek petitioned for its use in organics. Look for the front label, "No Added DHA/ARA" on baby formula PCC will stock this month.