Raise a glass to organic and biodynamic wine
by Jeff Cox, PCC's Wine Guy
This article was originally published in November 2016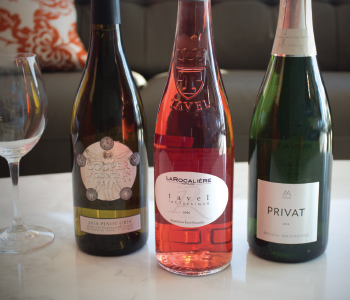 Given your druthers, you'd likely prefer that adult beverages be just as pristine as the foods you eat. But we're often willing to compromise when it comes to things alcoholic, believing that we either need to trade quality or spend more cash to slake our thirst with responsibly farmed drinks. Fortunately, it just isn't so.
Like the blueberries that sweeten your summer, or the grassfed beef on your grill, wine, beer and cider are agricultural products. They were grown organically long before technology offered chemical shortcuts to farming challenges. Meanwhile, even after the advent of chemistry-aided farming, producers of many of the world's most sought-after wines went right on farming organically, simply because that's how to grow the best grapes.
Good grapes equal great wines — wines that are especially expressive of the dirt and place they're grown. Better yet, good dirt and a sense of place are entirely democratic, exclusive only to farmers willing to do hard, humble work — and to winemakers who think like farmers. Here are a few of our current favorites. They're proof that the good earth is the source of the world's most delicious things.
Cooper Mountain Pinot Noir or Pinot Gris
Great people, great vineyards, great wines. From one of Oregon's first biodynamically farmed vineyards, these are among our perennial "go-to" wines. Pinot gris that marries the generous fruit and depth of Alsatian gris with the racy, sleek, minerality of Northeast Italy's grigio; chardonnay that evokes the elegance of fine white Burgundy in its purely Oregon character; and pinot noir that sings distinct Willamette Valley notes of ripe wild cherries, berries, spice and forest floor with the elegance of its French cousins. Pair with salmon, chanterelles or local cheeses.
Idiot's Grace "Brioso"
Idiot's Grace is Memaloose winery's small-production label, featuring wines that are special expressions of a variety of vineyard sites. Meaning "vibrant" in Italian, Brioso is a blend of barbera and primitivo, from a vineyard on cobbly, agate-strewn land several hundred feet above the Columbia River. Barbera's juicy, dark fruit complexity provides the foundation and sleek texture, with primitivo, supplying dusty tannins and notes of fresh raspberries. Pair with roasted poultry, savory sausages or sturdy pasta dishes.
Casa Viola "Bianco d'Allegre"
Inspired by the wines of northern Italy's Piedmont region, Darryl Joannides' urban Portland winery sources grapes from the Columbia Gorge appellation that are fermented on native yeasts. Composed of organically farmed grapes from the Oregon side of the river, this wine is made primarily of sauvignon blanc, with moscato giallo and pinot grigio adding enchanting harmonies. Bright, sleek citrus notes are the main theme, framed by layers of floral-tinged stone fruit. It's dry, racy and vibrant, with mouthwatering freshness.
Alta Alella Cava Brut Privat
Alta Alella is a family domain that specializes in organically farmed wines, using traditional Catalonian grapes. A blend of classic Cava grapes pansa blanca (commonly known as xarel-lo), macabeu and parellada, this gorgeous wine is an incitement to drink more sparkling wine — especially Cava! Light and fresh, with focused aromas and flavors of white fruit, citrus and almond, it's vibrant and beautifully nuanced and is an elegant example of the character and elegance of well-made, passionately farmed Spanish sparkling wines. From a site where wine has been produced since Roman times, this is a refreshing taste of Catalonian sunshine and soul.
Domaine la Rocalière Tavel Rosé
A rosé is a rosé, but a great bottle of Tavel is a whole different flower. Up the ante and you have this striking alliance of grenache, syrah and cinsault — not merely great, but superb. Sisters Sévérine Lemoine and Mélanie Borrelly manage this family domain with special focus on the environment, treating their vineyards as a heritage. You can taste the fruits of their efforts in this gorgeous wine. It's lustrous and complex, with flavors and aromas that suggest everything from red fruit to rainier cherries, with a racy streak of tangy blood orange. A fabulous year-round rosé, perfect with an amazing range of dishes.
BONUS BEER: Plough Monday Organic Brewery Brown Ale
The Plough Monday farm is named after the traditional start of the English agricultural season. From beginnings as a small-scale organic hop farm to now include a brewhouse, Plough Monday is realizing a long-held dream. Using organic hops and malt energized by pure passion, the aim is to brew assertively hopped beers based on sturdy malts. As evidenced by this substantial, but refreshingly crisp, complex brown ale, they're well on their way to success.