Bothell PCC opens with warm community welcome
This article was originally published in September 2016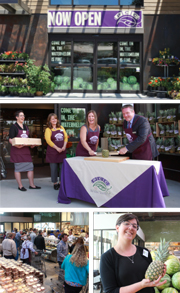 PCC was delighted to add our 11th location and increase our presence northeast of Seattle by opening our Bothell store on Tuesday, July 12.
The grand opening was a grand success. Shoppers lined up down the street prior to the opening. The Mayor of Bothell, Andy Rheaume, attended the store's grand opening. Rather than a ribbon-cutting, he and PCC CEO Cate Hardy used a giant cleaver to cut open a pineapple at 9 a.m., officially opening Bothell PCC. PCC then handed out organic pineapples to the first 111 customers. Pineapples long have been a symbol of welcome.
Store features
The new store — the first co-op in the area — is located conveniently in the Canyon Park neighborhood, just off I-405. It's large and beautiful with skylights, wide aisles and a layout emphasizing fresh foods.
The Bothell store boasts the largest PCC kitchen, where soups, entrées and salads are made from scratch daily.
It is the first PCC to feature a rotisserie department. Brined, seasoned, rubbed and roasted every day in our kitchen, the meats in the rotisserie are sustainably raised and always include organic chicken and Non-GMO Project Verified porchetta. Our rotating menu of other succulent meats, such as asado beef and Mediterranean lamb, also includes sides, such as braised greens cooked with pork drippings and seasonal roasted potatoes. Rotisserie meats are available by the pound or in a sandwich.
Debuting at Columbia City PCC and now also located at Bothell PCC, our Mexican-style Taqueria features traditional, slow-cooked fillings such as pork adobado, beef barbacoa, roasted squash and garbanzos, and chicken verde made with Non-GMO Project Verified chicken. Rice and beans, freshly prepared salsas and toppings — including avocado tomatillo and jicama slaw — and aguas frescas round out the menu.
Bothell features full-service meat and seafood counters, with only sustainably raised and caught meat and fish. The store's local, organic produce department is 95-percent certified organic, like in all other stores.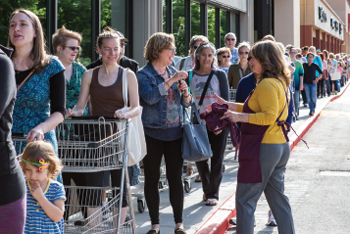 Community partnerships
PCC partners with local food banks in each of the neighborhoods it serves to provide nutritious bulk food to local residents in need. With the opening of Bothell PCC, we're happy to announce Maltby Food Bank as our 13th partner in the PCC Food Bank Program. This entirely volunteer-based organization serves on average 110 to 120 families per week.
Additionally, PCC will introduce a pilot program at the Bothell PCC where it will team up with the Northshore Nourishing Network. While the co-op does its best to prepare the right amount of food each day, sometimes there are leftovers. To make sure these extras go where they're most needed, PCC will donate prepared dishes from its hot foods bar, which will be stored safely and then shared during daily free meal programs. This new initiative allows the co-op to reduce food waste, while helping those in need of a hot meal.