Hot days, cool melons
This article was originally published in August 2016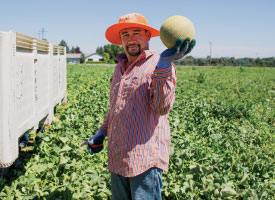 It's a summer tradition: Bite into a succulent melon and let its sweet juice drip down your face. With vitamin C, vitamin A and potassium, a cool, fat slice of melon is as healthy as it is irresistible.
PCC sources organic melons from two Washington farms that provide us with variety: black-rind watermelons, honeydew, cantaloupe, Piel de Sapo, Magenta and Snow Leopard, to name a few. Get them while they're in season — they don't last long!
Inaba Produce Farms
Inaba Produce Farms is a third-generation family farm dug into the rich volcanic soil of the Yakima Valley. At 1,200 acres, it's a big spread — a good example of how environmentally friendly and socially responsible practices are commercially viable values in food production, even on a large scale.
Many of the sustainable farming practices used today were started in 1907 when Shukichi Inaba and his brother came from Japan, cleared the land of sagebrush, and began cultivating crops. Shukichi's son, Ken, eventually took over the farm and now Ken's three sons, Lon, Wayne and Norm, manage it along with their Mom, Shiz.
The Inabas conserve water with drip irrigation systems. They use composting and cover crops to improve soil health. They recycle thousands of tons of waste each year.
Schreiber & Sons Farm
Just north of Pasco, in Eltopia, Wash., the 55-acre organic Schreiber & Sons Farm grows a variety of specialty crops including several varieties of melons.
The farm is an extension of an agricultural research company started by Alan Schreiber, an agricultural researcher and former professor at WSU-Tri Cities with a Ph.D. in entomology, and his wife, Tanya Wojtowych. They started commercial production on the farm to address an unmet demand for locally grown specialty produce in the Pacific Northwest. They began with okra and eggplant — most went to upscale restaurants and retailers in Western Washington and Oregon — but when a group of local consumers asked the couple to grow a wider array of produce, Alan and Tanya rose to the challenge and added about 40 crops to their repertoire. Their farm functions as a natural laboratory, where they experiment with different techniques for producing the best organic produce. You're the beneficiary of their trials!
Melon varieties
Galia
A hybrid cross of cantaloupe and honeydew. While it has the appearance of a cantaloupe on the outside, inside it contains light-green, smooth-textured flesh. Its flavor is subtler than honeydew but still very sweet.
Charentais
A French cantaloupe, grapefruit-sized and incredibly aromatic. Its deep orange flesh is firmer and richer than the everyday cantaloupe while its flavor is sweet and less musky, pairing well with savory foods.
Black-rind seedless watermelon
This melon's rind is solid dark green with no stripes. It has sweet, deep red flesh and a crispy texture.
Piel de Sapo
The name translates as "toad skin" — fitting for these large, football-shaped melons with a ridged, green-speckled exterior . They have creamy, slightly crisp white flesh, are intensely sweet and juicy, and keep for weeks.
Tuscan cantaloupe
Known for their rich, full flavor and brilliant orange color, these melons have a vanilla aroma and are sweet from the time they're picked.
Magenta
Extra-sweet melons with firm, distinctively bright red-orange flesh. Great for dessert or fruit salads.
Snow Leopard
Petite honeydew melons with white skin with green, blotchy stripes. Listen for seeds to rattle inside when ripe. The firm, sweet white flesh pairs well with a squeeze of lime juice.
Selecting your melon
Watch our video on how to choose a perfectly ripe melon every time.