Clean cosmetics
by Marilyn Walls, M.S.
This article was originally published in August 2016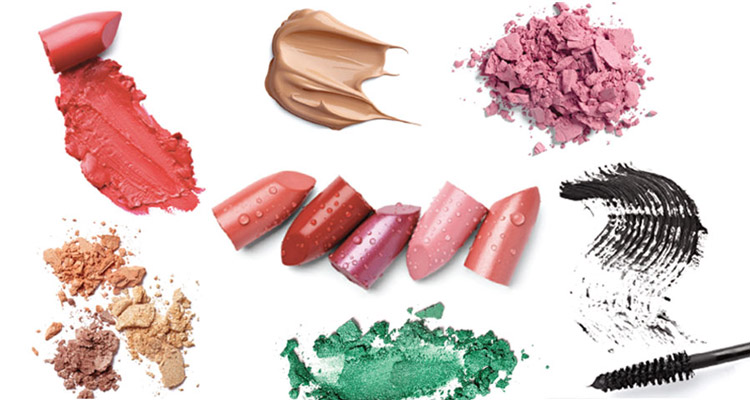 Your face is a reflection of you, a visible image to the world. Like it or not, your emotions, diet, stress and perhaps illness are evident there.
Facial skin is softer, more delicate and more vulnerable to environmental stress. So why do those who are conscientious about food choices sometimes not give the same consideration to cosmetics?
Facial skin needs extra care, so we might think cosmetics would be especially gentle. Makeup, however, is one of the worst offenders when it comes to ingredients. Look at your makeup labels: you may find petroleum-based ingredients, mineral oil, FD&C artificial colors, formaldehyde, talc, parabens, phthalates, quaterniums or diethanolamine (DEA).
PCC's new Health and Body Care (HBC) standards do not allow for such synthetic, harsh or irritating ingredients. Yet PCC understands that even the ingredient purist might want to have fun with makeup, so we offer cosmetics to nurture skin, while providing the color palette for creating a face to launch a thousand ships.
Why natural matters
Physically, the face is thin-skinned. Like a person described as thin-skinned, the face can be sensitive to insults, easily hurt and fragile. Facial skin cells are smaller than the cells of the rest of the body, leaving the face with less of a protective barrier to keep moisture in and chemicals out. These smaller cells have less fat, which makes wrinkles more visible.
The neck has even thinner skin than the face, and eyelids have the thinnest skin. Such thin skin makes our necks subject to wrinkles and our eyelids susceptible to absorbing the ingredients of eyeshadow. With less natural protection and more pores than the rest of the body, toxins easily create blemishes on the face.
Lips especially are sensitive. Sebaceous (oil) glands are most abundant in the face and scalp — except for the lips. Lips have no oil glands and they have little innate ability to manage dead skin cells. This accounts for dry, flaky lips, which can chap easily.
Makeup tips
Makeup can boost confidence or provide a signature look. With makeup you get so much for so little! Cosmetic sales always have increased in economic downturns — either as a symbol of resistance in tough times or as an affordable comfort when large purchases were unattainable. During the Great Depression red lipstick was the #1 seller — a small, inexpensive pleasure. Whatever your reasons for sprucing up your features, here are some ideas to enhance your beautiful face.
Ask PCC HBC staff for advice choosing colors or products. Look for in-store demos by our cosmetic vendors.
Update your colors
"Makeup needs to be reevaluated every five years," says local beauty consultant Alicia Uyeda, "You can't wear the same dark colors as you age; instead you need to soften and lighten your cosmetics with the years. Any age can wear makeup that shimmers, however. Shimmer reflects light and flatters the face with a soft glow."
Mist and moisturize
First mist and moisturize before putting on makeup. A mist or toner hydrates your skin and decreases the amount of moisturizer needed. (Visit our website for a selection of mists and toners sold at PCC.) Be sure to use a moisturizer formulated specifically for the face since it will have oils suited for facial pores, which are smaller.
In addition to a moisturizer suitable for face, neck and décolletage, choose a cream specific for the eye area and use it for the thin skin of both eyelids and lips. Eye cream has the smallest particles of oil for enhanced absorption with those smallest of skin cells, which have no oil glands. Remember to include lips in all facial treatments, even exfoliation.
Concealer and foundation
Start your routine with concealer. If the shade of the concealer is too light for your skin, it will call attention to what you're attempting to conceal. Gently cover blemishes, brown spots and the under-eye area. Smooth concealer on the eyelid to create a canvas to ornament with color.
Foundation evens out skin tone and provides a small amount of UV protection, but conventional foundations can feel heavy and pore-clogging because they're petroleum-based. Zuzu Luxe Oil Free Liquid is a glycerin-based foundation at PCC with aloe, good for oily skin and inflammatory conditions, such as rosacea. It provides lightweight coverage for a natural finish.
Other ingredients in PCC foundations include jojoba oil, botanicals and vitamins that provide health benefits as well as coverage for your skin. When choosing a foundation shade, test on your jawline, not on your hand, for a better match.
Blush
Brandy Leigh, Health and Body Care Coordinator at Columbia City PCC, recommends creating a wholesome flush with a pink or apricot-toned blush on the cheek, two fingers-width from your nose. Enhance bone structure by blending a bronzer or brown-toned blush in the hollow of your cheek. As well as a powder blush, both Mineral Fusion and Gabriel offer a cream that can go on cheeks, eyelids and lips: a cosmetic that multitasks and is an easy travel companion.
Lips and eyes
Alicia Uyeda explains the current makeup trend of emphasizing the eyes or the lips, not both. If you like the look of smoky eyes, select a lighter lip color. With red lipstick, choose more subtle eye hues. Use pale colors as a base on your lid, layering darker shades in the creases to accentuate eye shape and color.
For a natural look, apply eyeshadow as an eyeliner and on your brows with a small, angled makeup brush. For a dramatic look, choose pencil or liquid eyeliners in a variety of colors. Alicia suggests brown mascara for a softer look. For more intensity, simply add more coats of mascara. Although the U.S. Food and Drug Administration (FDA) loosely regulates cosmetics, mascara is even less regulated. Mascara sold at PCC has no mercury compounds, which the FDA allows in eye makeup.
Whether choosing quiet or bright shades, your lips are the piece de resistance, where eating, talking, smiling and kissing happen. Softened by exfoliation, moisturizer or lip balm, your lips are ready for the final touches of your cosmetic routine.
Start with a neutral lip liner. Outline your lips, then fill in the whole lip area with the edge of a lip pencil, not the tip. This becomes the long-lasting base for your lip color. Next apply lipstick. "Darker and opaque colors of lipstick absorb moisture so leave lips drier," says Brandy, adding, "lighter and sheerer shades typically are more emollient." Gloss adds the final shine. Blot lips together to avoid smearing off the gloss.
A quick routine
Perhaps you prefer a basic approach to makeup. No matter your time restraints, you quickly can make use of a pressed powder compact; a sheer color pot for a tint on your lips, cheeks and eyes; and mascara. Fingers will give you the smoothest application and control, especially for liquid foundation. Alicia's favorite brush is a small or medium angled brush because it's multifunctional, especially for applying eyeshadow to lids, brows or as eyeliner.
You can keep it simple or play extensively with color. Then voila! That lovely reflection you see in the mirror is ready to face the world.
Makeup brands at PCC
PCC offers mineral makeup made of micronized (non-nano) minerals, so makeup sits on the surface of the skin and isn't absorbed, allowing skin to function normally. Mineral makeup won't clog pores or get a cakey look in lines or creases.
Gabriel Cosmetics/ZuZu Luxe
Gabriel De Santino designed his Redmond-based line after learning about sea extracts from his grandmother and working for Christian Dior.
Watch Gabriel's YouTube video tutorials.
Mineral Fusion
Makes cosmetics that are "a fusion of color and skin care. For color, we use pure mineral pigments. We include skin-soothing, nourishing botanicals to treat the skin."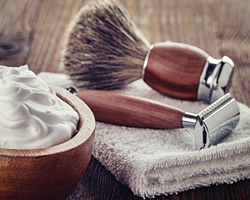 Men's skin care
Tips collected from PCC Health and Body Care (HBC) staff.
"Men are looking for simplicity in products and ingredients. Their skin may react to drugstore products, and they're looking for alternatives. Keep favorites on hand for hydrating the skin once or twice a day to reduce inflammation."
— Connie McLaughlin, HBC coordinator, Fremont
Connie's picks:
Acure Shave Foam — Reduces redness, great scent.
Big Dipper Honey Cocoa Butter Lip Balm — Mild flavor, works and doesn't need to be reapplied often.
Camamu Sea Buckthorn Oil Soap or Turmeric Tonic Soap — Soothing, nondrying facial soaps.
Badger Beard Oil — One of the few beard-grooming products without fragrance.
Badger Hair Pomade — Won't make a Mohawk but will tame flyaways and style hair well.
Andalou Naturals Clarifying line — Great for acne-prone skin.
"Men are looking for moisturizers that don't leave skin feeling greasy. We suggest a skin care regimen including cleanser, toner and moisturizer. This provides better support, especially if they're having beard or skin issues. Sometimes a moisturizer is not enough to settle the skin, and they need to consider changing their shaving cream. Using the same soap for both body and facial skin can cause facial dryness."
— Dorie Holden, HBC coordinator, Greenlake Aurora
Dorie's picks:
Dr. Hauschka Clarifying Oil — For skin rashes from shaving.
Avalon Organics Intense Defense with Vitamin C — Acceptable scent to men.
Weleda Evening Primrose Day Cream — Acceptable scent to men.
"Men don't ask enough questions about their skin. Men can learn about their skin type by talking to PCC HBC staff about their concerns. Often men simply use their partner's skin care products. This may not be what's needed."
— Steven Jamieson, HBC coordinator, Issaquah
Steven's picks:
MyChelle Pumpkin Renew Cream — Lightly scented, great basic face cream.
Weleda Skin Food — Great for rougher skin on hands, elbows and knees. Very moisturizing with a scent men like.
Mad Hippie Face Cream — Created by a surfer to combat sun damage.