More pasture-raised eggs
This article was originally published in May 2016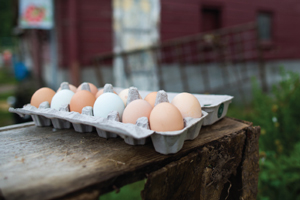 Animal welfare advocates heralded 2015 as a victory for "cage-free" eggs. More than 35 major food companies pledged to use 100-percent cage-free eggs in the next five to 10 years, including McDonald's, General Mills and Nestlé.
The shift to cage-free is part of a larger public conscientiousness about animal welfare issues: Civil Eats reports that nearly 70 percent of companies globally now have published animal welfare policies on their websites, up from 46 percent in 2012.
Conspicuously declining to make a cage-free commitment, however, are major grocery retailers, including Safeway and Kroger. It makes PCC really stand out from the pack. We sell cage-free eggs, but they represent the lowest standard of eggs allowed in our stores.
We believe certified organic and pastured eggs — from hens that roam outdoors, as nature intended — represent the future of sustainable egg production. That's why we've worked hard over the past few years to make sure we have pastured eggs in every one of our 10 stores.
You, as shoppers, are showing support by buying pastured eggs in droves. Sales of cage-free and organic eggs are relatively steady but sales of pastured eggs are soaring. We continue to seek out producers of pastured eggs, mostly from small family farms. Collectively, we're pushing the egg industry to higher standards.
In 2013 we reported that for the first time we could source enough pasture-raised eggs to meet demand in all our stores. Since then, we've doubled the number of pastured egg vendors to raise awareness and market availability.
Pasture-raised eggs at PCC
Little Eorthe Farm
Little Eorthe Farm In the Orting Valley near Tacoma sits Carrie and Ken Little's diverse 35-acre, certified organic farm with pigs, sheep, alpacas, ducks, turkeys and crops. The farm is part of the larger Orting Valley Farms, a PCC Farmland Trust project since 2009. Little Eorthe's 600 hens are free to roam acres of healthy pasture.
Vital Farms
Vital Farms is the largest national distributor of pasture-raised eggs in the United States, with nearly 100 family farms across the country. Each farm provides hens with 108 square feet of pasture never treated with herbicides, pesticides or artificial fertilizers. The production process is Certified Humane. Vital Farms' Pasture Verde eggs are certified organic. Its Alfresco eggs are non-organic.
Misty Meadows Farm
Melissa and Mark Moeller's farm in Everson, Wash., provides certified organic eggs from hens that spend their entire lives on pasture. They have shelter but spend most of their time outside. They eat a certified organic, locally milled grain ration and all the bugs they can catch.
Palouse Pastured Poultry
"Our birds roam, graze and socialize on green grass in their very large, open and protective pen and drink fresh, clean water from our artesian well," say Allen and Emmy Widman of their fifth-generation small farm in Spokane County. "They eat a corn-free, soy-free, non-GMO ration made from grains we raise ourselves or local grains that we mill."
Stiebrs
This Yelm, Wash. farm provides certified organic eggs from hens raised on organic pastures, where the hens enjoy grass, legumes, grains and insects. Their feed is supplemented with an organic mixture of corn, wheat, barley and soy.
Helen the Hen
Baron Farms in Wapato, Wash., is a 90-acre farm with 2,500 chickens that live in a giant, covered coop similar to a greenhouse, with access to pasture on both sides. The chickens mostly are out in the pasture first thing in the morning and at night, and inside mid-morning laying eggs. All the eggs are from hens fed a corn-free, soy-free, non-GMO feed.
Sky Valley Farm
Sky Valley is a fourth-generation family farm just northeast of Seattle. Its hens are moved weekly through certified organic fields to fresh pasture most of the year. Sky Valley also provides PCC with duck eggs from ducks led daily to fresh certified organic pasture year-round. The hens and the ducks are offered organic grains or non-GMO grains, depending on the flock.
Nelli Farms
Nelli Farms' flock began with 50 chicks raised in Charles Goudy's Capitol Hill apartment. Today, it has grown to about 2,000 birds. Half live on pasture at a century-old former dairy farm at the end of Snoqualmie River Road. The other half live at Local Roots Farm between Carnation and Duvall. The chickens' pasture-based diet is supplemented with certified organic feed and vegetable discards from local organic farms.
Mission Mountain Organic Eggs
This certified organic farm in the Flathead River Valley in Montana received the highest rating for a truly pastured egg farm from The Cornucopia Institute. Chickens forage in the organic pastures surrounding their barns and are provided a ration of barley, green barley sprouts, peas and wheat.