Your co-op community, May 2016
This article was originally published in May 2016
Families Helping Families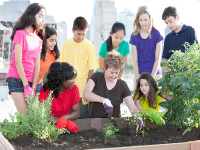 May 1 to May 31
Support Seattle Children's Organic Garden program
Purchase Kid Picks products throughout May
PCC Healthy Kids is excited to once again join efforts with Seattle Children's Hospital for the Families Helping Families program. Support Seattle Children's by purchasing Kid Picks products at PCC throughout May. We'll be donating a percentage of PCC Kid Picks product sales to Seattle Children's programs that educate youth and families about nutrition.

Your purchase of Kid Picks products this month directly benefits the Children's Hospital Organic Garden program, which provides a hands-on learning environment for teaching patients and their families how to develop and sustain healthy habits. Hundreds of pounds of tomatoes, squash and other garden items are utilized to feed many of the kids who are in the hospital.
---
Tilth Edible May Plant Sale
Saturday, April 30 and Sunday, May 1
9 a.m. to 3 p.m., Meridian Park
4649 Sunnyside Ave. N., Seattle
Come take advantage of the largest selection of organically, sustainably and locally grown vegetable plant starts in the region. You'll find an amazing selection of vegetables to choose from, with heirloom varieties, culinary herbs, edible flowers, drought-tolerant perennials, and "warm season" crops such as tomatoes, peppers, squash and corn. PCC is a proud sponsor of this event. Free event.
---
Mom & Me at the Zoo
Saturday, May 7, 9:30 a.m. to 3 p.m.
Woodland Park Zoo
5500 Phinney Ave. N., Seattle
Celebrate Mother's Day with the 26th annual Mom & Me at the Zoo. Moms and families enjoy lots of fun activities on the North Meadow and moms receive half-price admission to the zoo on the day of the event. The PCC TasteMobile will be there doing a Kid Picks taste test. Find us near the penguins!
---
Food bank packaging parties
Help our partnering food banks by helping pack bulk foods into family-sized portions.
Wednesday, May 4, 7 p.m., FamilyWorks Food Bank
Thursday, May 5, 7 p.m., Rainier Valley Food Bank
Monday, May 9, 6:30 p.m., Kirkland Hopelink Food Bank
Wednesday, May 11, 7 p.m., North Helpline Food Bank
Monday, May 16, 7 p.m., Issaquah Food & Clothing Bank
Monday, May 23, 7 p.m., Westgate Chapel Food Bank
Wednesday, May 25, 7 p.m., University District Food Bank
For more information, including addresses and future dates, visit pccmarkets.com/foodbank.
---
Edmonds Health & Fitness Expo
Saturday, May 14, 9 a.m. to noon
Edmonds School District Stadium
7600 212th St. SW, Edmonds
Get free health screenings, get moving in the active zone, and don't miss the bike rodeo! The PCC TasteMobile will be there doing a Kid Picks taste test.
---
Bike works Bicycle drive to support local kids
Saturday, May 21 at Redmond PCC, 10 a.m. to 4 p.m.
Sunday, May 22 at Kirkland PCC, 10 a.m. to 4 p.m.
Bike Works and PCC are partnering to bring bikes to the kids in our communities.
We're accepting all types of bikes, bike parts and bike accessories — especially bikes in good condition! We'd especially like 20-inch-wheel BMX-style bikes, 24-inch- and 26-inch-wheel mountain bikes, and road bikes.
We're happy to do the heavy lifting. Just pull on up and we'll take care of the rest. Donate and then enter to win a PCC gift card!
---
Blood drives
Bloodworks Northwest will be visiting two store locations this month. Stop by:
Tuesday, May 24
PCC Fremont, 11 a.m. to 1:30 p.m.
PCC View Ridge, 3 to 6 p.m.
Your donation can save up to three lives! Walk-ins welcome, remember to bring your ID. Learn more about donating at bloodworksnw.org.
---
PCC Cooks
Whether you're looking to grasp a tricky technique, expand your weeknight repertoire, or just spend an evening with your fellow culinary enthusiasts, May brings a fresh batch of classes to whet your appetite. Let PCC Cooks be a stepping stone on the path to delicious, homemade food shared with family and friends this spring.
Join us this month for The Art of Thai Cuisine, as Pranee Halvorsen demonstrates a new menu of flavorful and accessible Thai dishes that soon will become your favorites. Tomato Whisperer Sarah Cassidy will be your guide to all things tomato in Tomaticus Galoricus: Growing Healthy Tomatoes from Start to Harvest, and Darin Gagner will share restaurant secrets to successful sauce creation in Sauces – Classic and Contemporary. You'll also find classes on Refreshing Raw Foods; How to Bake a Cake 101; Elegant Vegan Dining and more at PccCooks.com.