Local bee-lovers protect pollinators
by Martha Baskin
This article was originally published in May 2016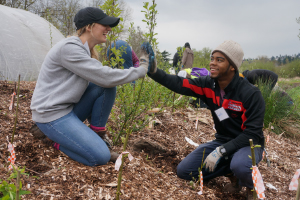 The queen is buzzing and vibrating. She'll need to find a suitable nesting spot, then store and collect pollen. She has come to the right place: a pesticide-free, restored urban landscape with flowers and fruit trees, native plants and trees, crops and wetlands. It's perfect for pollinators including honey bees, bumble bees, native bees and butterflies. Like patches of urban refuge everywhere, the Rainier Beach Urban Farm and Wetlands in South Seattle is doing its part to stop a disturbing trend of continued bee die-offs around the world, which research suggests is due largely to pesticides and loss of habitat.
Among the pollinators Rainier Beach Urban Farm and Wetlands wants to attract are native bees — the wild bees that nest on the ground, under logs, in rocky crevices, and in the hollows of trees and eaves. They do the most pollination and are important especially for pollinating berries, says Chris Hoffer, education manager for the farm and its parent organization, Seattle Tilth. Hoffer says the best way to attract bees is with native plants.
In North Seattle, Picardo Farm, a neighborhood P-patch, is adding Pollinator Power Patches to the mix of things it does to please pollinators. The name was coined by a University of Washington grad student, Cameron Newell, who studied Picardo's resident bees and concluded that a mix of wildflowers, crops and herbs that bloom from early spring to late fall would serve them best. Master gardener Laura Matter, who has a plot at Picardo, says the Power Patches will have as many as seven different species to attract pollinators.
Organic is important
Restoring wild bees in Washington also is on the radar of the Northwest Pollinator Initiative, a partnership between Washington State University (WSU), farmers, urban gardeners and others. Eli Bloom, a Ph.D. candidate in entomology at WSU, is researching the effects of urbanization and organic farming on bees. He's concerned about what massive losses in global biodiversity will do to the food supply. He notes that some results from studies around the world show that organic farming is one way to conserve bee biodiversity.
Preliminary findings indicate equal diversity in the types of bees around urban Puget Sound as in rural areas, although less abundant numbers in urban areas. Bloom is engaging bee-lovers in a unique housing project called the Pollinator Post Project.
Bright-blue, mailbox-size containers are attached to posts and placed in bee-friendly gardens to be monitored from April to September. Each box holds cylinders for bees to store pollen and lay eggs. Bloom says providing habitat for many different species of bees can help "get an honest measure of the biodiversity of the different species that would use this habitat."
Meanwhile, Environment Washington, in conjunction with Environment America in seven other states, has rolled out a new campaign, the Bee Friendly Food Alliance. The campaign invites restaurants to call on the U.S. Environmental Protection Agency to declare a moratorium on neonicotinoid pesticides — increasingly linked to Colony Collapse Disorder — by displaying a special logo on menus and educational materials. So far Seattle's Chaco Canyon Café and Ethan Stowell restaurants have agreed to participate.
Grant Gutierrez, Environment Washington's field director for the campaign, which has been collecting signatures for five months, says public awareness is higher than any campaign he has worked on in the past. "People get this," he says. "Reception and awareness are creating a real buzz."
Pollinator havens at home
Native trees and plants create a wonderland for pollinators. Spirea, Red Twig Dogwood, Thimbleberry, Willow, Flowering Currant, Indian Plum, Vine Maple, Alder and Serviceberry trees are rich in pollen and nectar, providing the food pollinators rely on.
Even without native trees or shrubs, any bee-lover's home garden can provide:
rosemary
sunflowers
purple borage
cilantro
squash
comfrey
oregano
lavender
tomatoes
clover
Plant now! Spring is the time to create nourishing, pesticide-free habitat for bees.