From veggies to panels: solar energy from farms
by Laura Brady
This article was originally published in April 2016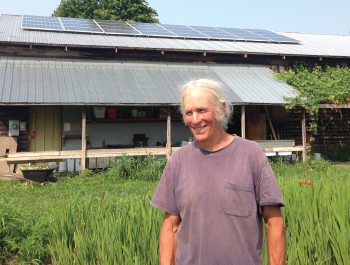 Farmers always have been acquainted intimately with the power of the sun.
"As far as clean energy, we are in the solar business ourselves," says Mike Shriver of Rent's Due Ranch in Snohomish County. "We're farmers."
While he once may have been referring to photosynthesis, where plants convert light energy from the sun into chemical energy, solar processes have taken on new meaning for farmers in recent years.
In response to decreased solar panel prices and increased incentives across the state and nation, local farms are beginning to expand into the "business" of sustainable energy.
For many organic farms, installing solar or wind power has long been a goal in line with their sustainability ethos. Dan and Kim Hulse of Tahoma Farms — a PCC Farmland Trust farm that supplies carrots, cabbage and greens to the Columbia City PCC — have 25 percent of their barn roof in panels, supplying one-third of their energy needs.
"It's in line with our broader mission of trying to have as little impact as possible on the environment in our farming activities," says Dan Hulse. "If we're able to replace an energy source with a renewable option, we'd love to do that." Savings from the solar panels will help fund their newest project: conversion of an old tractor with a bad engine from petrol to battery-powered electric.
According to Mia Devine, project manager at Northwest SEED, up until about seven years ago, prices for the new technologies were prohibitive for most farms. While some farms invested, they rarely could afford to power a significant portion of their activities with sustainable energy.
This was the case for Shriver, who says he looked into installing solar panels at various times. In addition to the sustainability benefits of panels, he explains that "[farming] is not a real lucrative business and there are high costs in running refrigeration. So we're always looking for ways to offset that overhead." At the time, panels were out of reach.
Making it affordable
Then the technology changed. The newer systems didn't require batteries or the level of maintenance of prior models, "a big factor" in Shriver's decision to install 88 solar panels on the barn this December.
Equally important to Shriver are the government subsidies. While the average homeowner can expect to wait six to eight years to see payback from installing solar panels, grants and subsidies can reduce the wait for farmers to as few as three to four years.
At Rent's Due Ranch — a PCC supplier of organic produce and plant starts since 1988 — Shriver says the newly installed panels on the dairy farm should "get close" to eliminating their electrical bill after the five years it will take to pay off the investment.
The two main funding sources for farmers are the U.S. Department of Agriculture Renewable Energy for America Project (REAP), established in the 2014 Farm Bill, and the Washington state incentive program, which rewards individuals and businesses that install solar panels using Washington state manufacturers. Local utilities pay these customers for every unit of electricity they produce, starting from whenever the panels go online until June of 2020. In return, the utilities receive a state tax credit. So far more than 7,000 residents and businesses have taken advantage of the program.
While this number is encouraging and reflecting growth across the industry (statewide the industry employs 2,400 people), program costs are approaching the incentive/tax credit cap for some utilities. This makes farmers, such as Shriver, nervous, since it could reduce the return on investment down the road.
Proposed legislation by Washington state representatives Jeff Morris and Norma Smith would combat this problem by expanding program funding. This could encourage more farmers to transition to solar.
Northwest SEED provides support to farmers looking to convert, and farmers who have made the transition to solar are doing their best to spread the word. Says Shriver, "We're the first: the biggest system in Snohomish County. But we're trying to get other ones on."
The growth in the solar industry marks an exciting new direction in the "local" movement. Consumers can buy not just local produce but also produce grown or refrigerated with local energy. Solar energy reduces petroleum use that exacerbates climate change and keeps more money in the pockets of hardworking farmers — the original solar energy extractors.
Learn more
Northwest SEED works with communities in Washington to assist with renewable energy development and efficiency upgrades. In collaboration with Tilth Producers, Northwest Seed also hosts public farm-walks that explore renewable energy solutions. Upcoming farm walks are:
April 4: Wind Energy on the Farm – Bassetti Farm & Ranch, Klickitat County
April 25: Solar Energy on the Vineyard – Badger Mountain Vineyard, Benton County
For more information, visit Northwest SEED.