Your co-op community, September 2015
This article was originally published in September 2015
CHOMP!

Marymoor Park, Redmond Saturday, September 12 and Sunday, September 13
Get ready to sink your teeth into CHOMP! — King County's first local food and sustainable living festival.
PCC is the title sponsor of this event that celebrates two things that people in King County are famous for: enjoying locally sourced food and drink, and caring for the natural environment. The festival will gather the community to support local farming and strengthen farm-to-table connections.
It begins with a ticketed farm-to-table dinner on September 12 and is followed by a full day of free programming on September 13. Attendees will have the opportunity to participate in hands-on activities and demonstrations from local farmers and sustainable businesses; taste local, sustainable cuisine; and enjoy live music and entertainment throughout the day. CHOMP! also will feature a selection of local craft beer and wine.
CHOMP! supports King County's Local Food Initiative by celebrating local farmers, chefs and restaurants using locally sourced food, and local organizations specializing in healthy food, sustainability and social justice. The festival is among King County Executive Dow Constantine's Top 20 priority actions over the next two years to help strengthen the local food economy and improve access to healthful, affordable food in underserved communities. For more info visit chomplocal.org.
---
Food bank packaging work parties
Help out our partnering food banks by donating your time to pack our bulk foods into family-sized portions. Join us:
Tuesday, September 8 at 7:00 p.m., North Helpline Food Bank
Monday, September 14 at 6:30 p.m., Kirkland Hopelink Food Bank
Tuesday, September 15 at 7 p.m., Rainier Valley Food Bank
Wednesday, September 16 at 7 p.m., Family Works Food Bank
Monday, September 21 at 7 p.m., Issaquah Food & Clothing Bank
Monday, September 21 at 7 p.m., Westgate Chapel Food Bank
Wednesday, September 23 at 7 p.m., University District Food Bank
For more information, including addresses and future dates, visit pccmarkets.com/foodbank.
---
Blood drive
Thursday, September 10, 10 a.m. to 4 p.m.
West Seattle PCC
Help save lives by donating blood at this Bloodworks Northwest blood drive. Walk-ins are welcome. Remember to bring your ID. Learn more at bloodworksnw.org.
---
Tilth Harvest Fair
Saturday, September 12, 10 a.m. to 4 p.m.
Meridian Park, 4649 Sunnyside Ave. N.
Participate in this fun, hands-on community festival with workshops, cooking demonstrations and fun activities for all ages. There will be tasty food and live music to enjoy with friends and family. Join in the seed swap, cider pressing and DIY herb crowns. Kids can stop by for crafts in the Kid's Garden. Make sure to stop by the PCC TasteMobile, where we'll be sampling in-season produce and grilling corn on the cob. Seattle Tilth's Harvest Fair is free and open to the public, with voluntary donations accepted at the entrances. For more information, visit seattletilth.org.
---
Families Helping Families for Seattle Children's Hospital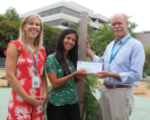 In May PCC shoppers helped raise funds for our Families Helping Families program. The proceeds from Kid Picks products raised $10,000, which is being used for the Seattle Children's Hospital garden program.
Photo caption: (l-r) Kirsten Thompson, Children's Hospital clinical dietician; Lamai Cox, PCC community relations specialist; Jeff Hughes, project consultant for sustainability and manager of grounds maintenance.
---
Women of Wonder Run
Sunday, September 13 7201 E. Green Lake Drive N.
The third annual Women of Wonder Run will take place at Green Lake Park. This women-only event involves a 10K run/walk, a 5K run/walk and the free PCC Healthy Kids Little Wonders Run (for girls and boys age 10 and younger). There'll be great food and fun at the finish-line festival area, including free fruit and a chocolate brownie for the participants. The finish-line festival area also will have a wine and mimosa garden for those 21 and older.
Kids participating in the PCC Healthy Kids Little Wonders Run will receive a bib number to wear, a finisher ribbon at the finish line and a special treat provided by PCC. For more info and registration visit promotionevents.com.
---
Washington Artisan Cheesemakers Festival
Saturday, September 26
Seattle Design Center, 5701 Sixth Ave. S.
Washington Artisan Cheesemakers Festival is a premier cheese festival that celebrates artisan and farmstead cheeses made in Washington. The festival is a benefit for the Cascade Harvest Coalition. More than 20 Washington cheesemakers plus local breweries, wineries and other artisan producers will show their wares. PCC will share suggestions for pairing cheese with some local hard ciders. The event is 21+. To purchase tickets go to washingtonartisancheese.com.
---
PCC Cooks
September heralds the approach of autumn and all the good food and cozying up that goes with it. In preparation for the fall season, join PCC Cooks this month for hearty international menus such as Popular Indian Vegetarian Recipes, prepare for your holiday meals with Perfect Poultry and Meat, or wow your friends and family with perfect baklava in Jewish Turkish Baking. We're also offering Go with Your Gut, an in-depth lesson in maintaining gut health.
Registration also begins this month for our fall 2015 class catalog, featuring classes from October through December. You'll find plenty of holiday inspirations, including hands-on treats classes for little ones; global topics such as A Latin Affair, Portuguese Table and Easy Italian Dinner; nutrition-oriented classes in our new To Your Health section; and a variety of culinary skill-building classes such as Soups and Stocks, Gluten-free Tarts and Cultured Foods. Visit PccCooks.com to view the full schedule.