PCC's "Quite the Find" wines
This article was originally published in December 2014
"Quite the Find" wines are only available at PCC and celebrate unique flavors that tell the story of where they were grown.
We think that the world's most soulful, expressive wines aren't necessarily the most expensive or exclusive. "Quite the Find" was born from a desire to bring great wines, loaded with unabashed local character, to our customers ­— at the best prices possible.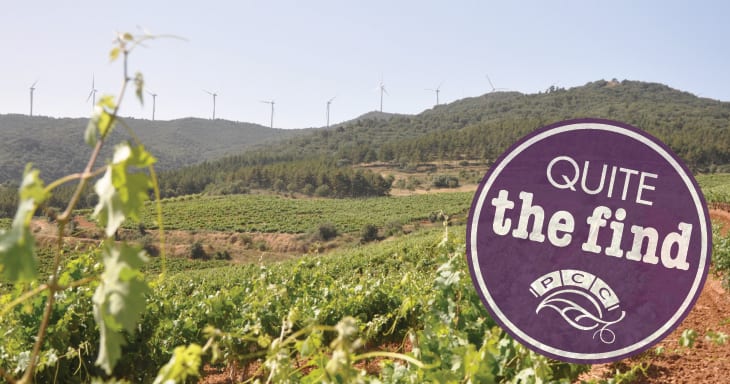 Champagne Florence Duchêne
Who would've thought that such delicious Champagne wouldn't already be on the market somewhere in the U.S.? Astounding, but true. So we're incredibly fortunate to have the opportunity to be the first in the country to represent such enchanting, complex, harmonious wines. Vigneronne Florence Duchêne farms three hectares on parcels in three villages in the Marne Valley, France, growing wines that are expressive of the soul of the vineyard. "Early on, I realized that hard work is its own reward for a vigneron," Duchêne says of her labor of love.
Naches Heights Vineyard "Ahtanum Ridge" Tempranillo
We first encountered Phil Cline's wines about five years ago at Taste Washington and were instantly on the Naches Heights bandwagon. The wines stand out for their remarkable balance and lovely expression of both varietal character and sense of place — as well as for the incredible value they offer. So we didn't have to think twice when Phil suggested working together on a project — and we were pretty close to ecstatic when we got to taste tank samples of the tempranillo and monastrell that make up this wine. We love the way this wine is developing and are looking forward to introducing new varietals in the Ahtanum Ridge series.
Château Mirausse Minervois "l'Azerolles"
Our good friend Murielle Claudel introduced us to Raymond Julien, whose vineyards are near the village of Félines — Minervois, deep in the Languedoc region's storied "Cathar country." Raymond's wines are classic Minervois: sturdy, yet graceful, and marked with the heady perfume of local garrigues, the wild herbs and brush that cover the region's hills. We love this wine for its easy drinkability, depth of character and its capacity to transport us to the southern French countryside — for a song.
Domaine Cécile Chassagne Gigondas
This whole QTF business pretty much started when we met Cécile. Back in the day, she produced the Image du Sud Côtes du Rhône wines from purchased grapes. We tasted those wines in Gigondas and were impressed with the super quality but dismayed to learn they weren't being imported to Washington state. Problem, solution: we got someone to import them for us. Meanwhile, Cécile was setting up her own domain, using grapes from her family's vineyards and offered us the opportunity to work with them. One taste was all we needed. This beguiling wine carries its considerable power and structure with a graceful, feminine elegance and is one of our perpetual favorites.
Way Out West
We've always liked Keith Pilgrim's Terra Blanca and Arch Terrace wines for their super balance and to-the-point style. Not glitzy, not over-the-top, not overdone in any respect, they're quite simply great wines that deliver great character and a fine translation of Keith's Red Mountain vineyards. With such great base wines to work with, putting together the WOW wines is a pleasure and a breeze, allowing us to zero in on harmonious flavors that deliver well beyond the sum of their parts. Roosevelt Red is a merlot-driven exposition of bold red fruits; the chardonnay is sleek, clean and bright; and the brand-new "VRM" (viognier-rousanne-marsanne) blend is lush but bright and crisp.
Ontañon Rioja "Ecologico" (Tinto & Blanco)
Great wines tell the story of their origins in their flavors and aromas. Just as there's no place on earth like Rioja, there's nothing that can sing the song of Rioja's mosaic of unique places like its wines. Raquel and Rubén Pérez Cuevas are part of the fifth generation of their family to carry on the tradition of growing wines near the town of Quel. We're proud and pleased to work with Rubén and Raquel to offer a taste of Rioja Baja in these special cuvées. The tinto is a profusion of perfectly ripe, bold cherry flavors, tinged with dusty, savory notes, while the blanco delivers racy, bright citrus flavors, with cool mineral undertones.