Soil & Sea: reports from our producers
This article was originally published in December 2014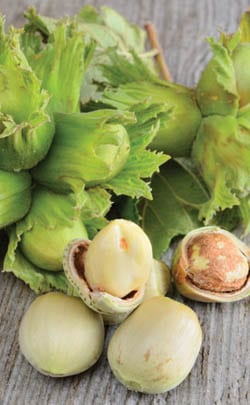 Oregon's hazelnut industry is growing rapidly. The state went from 29,000 acres in 2009 to 47,000 this year. Oregon State University's hazelnut program developed a series of blight-resistant varieties that are credited with the industry's growing success.
Yogurt giant Chobani has announced it will explore non-GMO feed for cows. It's partnering with Green America, an environmental advocacy group, "in an effort to improve cattle feed in the U.S., including options for non-genetically modified and organic grains." The company has not set any mandates or deadlines. 
California's severe drought isn't hurting the nutrient content of fruit, preliminary data on pomegranates suggest. The fruit may be smaller, but tests show they're packed with more antioxidants.
California Governor Jerry Brown signed three bills regulating the use of groundwater statewide, an effort that many hope will stifle the effects of the state's ongoing drought. Never before has California passed legislation to manage its underground water reserves.
Global warming is driving fish from the equator and toward the poles, damaging ecosystems and robbing communities of crucial fisheries. Scores of the planet's most vibrantly colorful and sought-after fish species may disappear from the tropics as soon as 2050, a new study finds.
Washington ranks first in the country for aquaculture sales. The state sold $233 million of farmed fish and shellfish products in 2013, more than double its sales in 2005.
Cranberry farmers in Southwest Washington are suffering due to a global glut in cranberries. It's so severe that local farmers have asked USDA to impose volume controls, to no avail. Compared to other states, Washington cranberry farmers already are at a disadvantage because of the cool climate and limited acreage.