Going with the grain
by Jill Lightner
This article was originally published in November 2014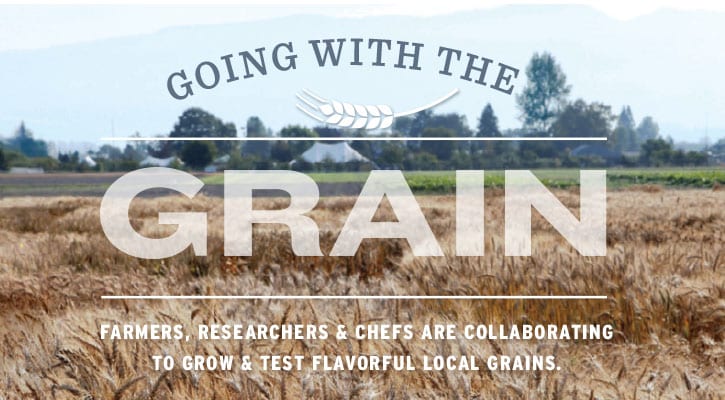 Farmers, researchers and chefs are collaborating to grow and test flavorful local grains.
There's a way that Western Washington farms are expected to look. Ideally, the portrait involves a fairly small number of acres, tidy rows of vegetables, a picturesque scattering of livestock, gnarled orchards and a mountain rising up in the background like a postcard dropped down from the sky. "Amber waves of grain" sounds fundamentally Midwestern to Seattle ears.
Except there's no reason it should. All the way through the Great Depression, wheat was a very local business. It was grown on Whidbey Island, home to a famous record-breaking yield of 120 bushels per acre; in the Dungeness River Valley, where you still can see the Clallam Co-op grain elevator; and outside of Fort Vancouver, where it was ground into flour at a water-powered mill built 12 years before Washington became a state.
It wasn't unusual for farms to grow small amounts of several kinds of grain, to keep some as flour, animal feed and next year's seed for planting, selling anything extra at the nearest mill. "Our daily bread" was quite literal: approximately 30 percent of the average American's caloric intake came from bread over the last century, spiking up to 40 percent in the 1940s and 1950s (and compared to today's 7 percent).
Aside from fueling bodies, growing grain helped fuel soil. Wheat, barley, rye and triticale all can play an important role in breaking the disease cycles that can occur in vegetable row crops.
Commoditization over generations
Post-World War II, wheat became increasingly commoditized, and mills stopped being the locally owned family businesses they had been. Flour was degerminated, enriched and blended to create an identical product year to year, produced for a system that valued almost everything more than flavor or the relationships between the farmer and his final customer.
Wheat and its fellow grains remained beneficial to the land and, because of that, they retained a small importance to the farms of Western Washington. But they rarely made it to the retail market.
Through the '90s, the majority of Washington's farmers typically planted a type known as soft white wheat, which was shipped to Japan and Korea where it was made into noodles and steamed breads.
Eastern Washington grows approximately 2.5 million acres of wheat, and it's almost all soft white. In comparison, the 15,000 acres of hard red wheat and barley grown in the Skagit Valley don't add up to much more than a few breadsticks and bowls of soup. But because the region's smaller farmers are investing in a reinvented business model rather than going the commodity route, these relatively few acres can add up to a surprising impact.
The Bread Lab
Much of the credit for the increased presence of Puget Sound grain fields goes to Washington State University (WSU), home to wheat breeding projects since 1894. WSU has a small but mighty research and extension center in Mount Vernon, Wash., where agricultural projects focus on topics that relate directly to the climate and soil of our immediate region. The outdoor facility contains an 8-acre research field, home to an astonishing 40,000 experimental lines of hybridized wheat.
Indoors, the Bread Lab is home to a different kind of science. Dr. Stephen Jones is the center's director (working alongside Steve Lyon and a small crop of Ph.D. students in the plant breeding lab) and Jonathan McDowell is the resident baker. This combination allows for doctoral research projects with topics such as the connections between soil quality and bread nutrition, relationships between grain varietals and sourdough microbes, and the development of wheat hybrids that might offer improved baking qualities.
In his recent book, "The Third Plate," chef and author Dan Barber described Stephen Jones' work as, "He embraces classical breeding but marries it with genome mapping, marker-assisted selection, chromosome painting and other technologies that enable him to 'look inside the guts of the plant' and understand how traits will express themselves, without waiting several generations to see it play out in the field." For farmers, an ideal variety would have natural disease resistance, be suited to a specific set of climate conditions, and have a high yield.
While longtime PCC Farmland Trust farmer Nash Huber and the team at Dungeness Farm in Sequim had been planting barley and rye as cover crops, they began working with WSU in 2007 to plant trial plots of dozens of red and white wheat varieties. After much evaluation to determine what grains worked best for their land, as well as what varieties had good flavor and nutrition, the first crop for human consumption was planted in 2009. One specific benefit to adding these to their crop rotation is that the two wheat varieties, plus rye and triticale, interrupt the cycle of carrot rust that can cause supply problems with Nash's famous carrots.
No two years are precisely alike when it comes to what varieties are planted, what fields get used, and the date when the seed goes into the ground. It's thoughtful, informed, flexible farming with the goal of having a reliable, delicious supply of flour for Nash's customers. The four varieties (see sidebar) now typically are available year-round.
Farm to loaf
Grain needs to have good flavor and texture for eating, along with the qualities that make it appeal to farmers. That's where WSU's Bread Lab comes into the picture. While Barber wrote extensively about his visits to the lab and sits on the advisory panel, he's not the only chef making the trek to Mount Vernon. Bakers from Essential Baking Company, Macrina, Tom Douglas Restaurants, Tartine, Ponsford's Place and King Arthur Flour have visited, along with numerous food writers.
The lab hosts the annual Grain Gathering conference, connecting professional and amateur bakers with farmers and millers over the course of several days of workshops. (There are also individual presentations over the course of the year; learn more at thegraingathering.com.)
This kitchen laboratory space helps connect key research points. A farmer might grow the most disease-resistant wheat in existence, but if it's terribly bitter when baked into bread, clearly it's not the right crop for financial sustainability. And along with the flavor profiles and baking qualities of the grains, there are also a range of nutritional differences to explore across varieties, which can be influenced by farming practices and climate.
Technique itself is a key area of exploration for the Bread Lab. Just as each farm can have a different set of qualities that combine to make their perfect plants, so bakeries (and eaters) have their perfect bread in mind. Some like richly flavored, crusty loaves with generous air pockets; others want dense, tender sandwich bread. Too often, the home baker's results are nothing like either example — instead, they're tough, heavy and sour, enough bad qualities to turn a person off from whole-grain baking forever. The more McDowell learns about what makes great flour, the more the researchers and farmers can continue to hybridize a healthy variety of cereal grains for changing climates.
The Bread Lab's mission to create good loaves of bread has a grander purpose, according to McDowell: to counteract the rising gluten-free craze.
"What has been the staff of life now is perceived as the spirit of disease," McDowell told food policy writer Tom Philpott in Mother Jones.
"According to Jones and McDowell, low-quality industrial white flours and fast-rising commercial yeasts, along with additives such as vital wheat gluten — a wheat product added to give bread structure despite superfast rises — have generated a backlash against bread," Philpott writes.
McDowell says the public's increasing rejection of bread as it's made commonly today is a "wake-up call" and "opportunity" for bakers, both at home and in commercial bakeries, to reestablish bread as a healthy, delicious staple.
Jill Lightner is a food writer at PCC.