Favorite crackers at PCC
This article was originally published in March 2014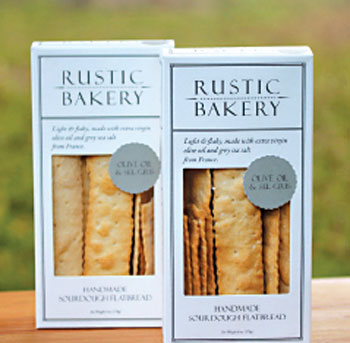 At PCC we carry crackers to suit every taste, diet and budget. Whether you're looking for something simple and hearty to serve along a steaming bowl of soup (see soup recipes) or something artisan to fill out a fancy cheese plate, we've got you covered. Need gluten-free? We've got those, too. Here are some of our favorites, broken down by category.
The basic
Late July Classic Rich — If you love buttery, Ritz-like crackers, try these. They're certified organic and great in place of breadcrumbs in recipes. They're also available as mini sandwich crackers, filled with creamy peanut butter or white cheddar cheese.
Ak-mak sesame crackers — A longstanding favorite at PCC, ak-mak's appeal is that it's simple and basic — so it doesn't detract from the cheese or other toppings you may like to pile on top. These sesame crackers are made with organic whole wheat and contain no preservatives.
Wasa Light Rye Crispbread — Wasa is the prototype for a hearty, nutritious, no-frills cracker. The Light Rye contains only whole-grain rye flour and salt, and is a great host for any number of toppings, from thinly sliced deli meats or smoked salmon to a creamy Gruyere cheese.
Back to Nature Harvest Whole Wheat — These Triscuit-like crackers contain nothing but whole wheat, safflower oil and sea salt.
Suzie's 100% Organic Crackers — Love saltines? Try these. They're made with organic wheat flour, organic extra virgin olive oil, salt and water. Try the Sesame and Rosemary, too.
The fancy
Rustic Bakery Crostini — Delicious with cheese or on their own, crostinis are thin crisp toasts full of fiber and protein and sweetened with agave nectar. They contain no added fat or sugar, and are 60 calories and 4 grams of fiber per ounce. Try the Tart Cherry, Cacao Nib and Almond.
Rustic Bakery Flatbread — This Marin County, California bakery turns out delicious handmade crackers. Try the most-popular, Olive Oil and Sel Gris flatbread, which compliments all cheese and spreads. The Rosemary and Olive Oil Sourdough and the Wild Mushroom White Truffle are available in some stores.
La Panzanella Rosemary Croccantini — These critically acclaimed, Seattle-made, wonderfully crunchy, Italian-style sheet crackers marry well with just about any type of cheese. Crack each crisp sheet into the size you need or top with tapenade, cheese or spreads. They're available in mini size as well.
The specialty
Mary's Gone Crackers — Favorites among the gluten-free set. They're certified organic and contain no grains or added fats — the Original flavor contains just brown rice, quinoa, brown flax seeds, brown sesame seeds, filtered water, wheat-free tamari and sea salt. Other flavors include Caraway, Onion, Herb and Black Pepper.
Edward & Sons Brown Rice Snaps — Gluten-free crackers made with just organic brown and organic white rice.
Nairn's organic oatcakes — These traditional Scottish oatcakes are made with organic oats grown in the Scottish Borders. They contain organic wholegrain oats, organic sunflower oil, organic palm fruit oil and sea salt.Top them with your favorite cheese, use in place of graham crackers in cheesecake recipes, or pile them with sandwich fixings.