Sustainable palm oil?
by Sido DeCassis
This article was originally published in March 2014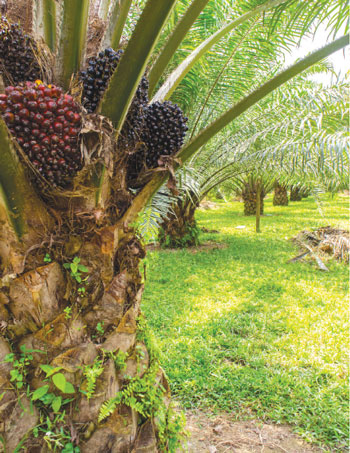 You can find palm oil and its derivatives in thousands of products, from pastry to chocolate, detergent and biofuel. Meanwhile, palm oil production is under attack for clear-cutting rainforests, destroying wildlife habitat and peat swamps in Indonesia and Malaysia, displacement of people, forced and child labor, debt slavery and pesticide exposure.
The most recognized standard for sustainable palm oil sourcing is the Roundtable on Sustainable Palm Oil (RSPO), which came out of a United Nations mandate in 2001 and was designed to bring deforestation under control. The RSPO is the only international body that maintains sustainability standards for the palm oil sector as a whole. The RSPO is criticized, however, for loopholes and abuses.
Greenpeace, Friends of the Earth and other environmental groups say RSPO members are allowed to clear-cut and burn pristine forests, and use of forced labor and child labor has been documented by international labor rights organizations. A 2013 study by the International Labor Rights Forum uncovered "flagrant disregard for human rights at some of the very plantations the RSPO certifies as 'sustainable.'" (Empty Assurances, 11/14/2013, International Labor Rights Forum)
Nonetheless, the RSPO was a starting point and, without it, sustainable palm oil would not exist. There are signs the U.S. food industry is poised to shift to sourcing mostly sustainable palm oil. Conscientious manufacturers aren't waiting.
Leading manufacturers
Several companies have chosen proactively to exceed the RSPO's ethical and ecological guidelines. To improve the sourcing of its palm oil at the earliest stage, Dr. Bronner's Magic Soap established its own facility in Ghana, where no rainforest land had to be cleared.
The cleaning product company Ecover was named a global leader for its commitment to sustainable palm oil sourcing and efforts to minimize greenhouse gas emissions, per the World Wildlife Fund's 2013 Palm Oil Buyers Scorecard.
Spectrum Naturals, Nutiva, Justin's Nut Butter and Earth Balance also source palm oil directly from farmers in South America.
"There are a number of sustainable palm oil producers in South America that implement organic and sustainable growing practices in conjunction with rainforest protection programs, as well as social programs for all workers," said Adriane Little, marketing manager at Boulder Brands, parent company of Nutiva and Earth Balance.
Even Unilever is beginning to prove that palm oil production need not spell disaster for rainforests and laborers. Unilever is among the world's largest buyers of palm oil, purchasing some 1.5 million tons annually — 3 percent of global production — for cosmetics and foods including Ben & Jerry's ice cream. (None of the Ben & Jerry's flavors at PCC contain palm oil.)
Unilever announced last fall it will be able to trace all its palm oil and will use only sustainable palm oil in products by the end of 2014.
Even more indicative of an industry-wide effort to curb the deforestation and human rights abuses associated with palm oil production, Wilmar International, one of the world's biggest palm oil companies, reportedly committed in December to sustainable sourcing. The Financial Times says the Singapore-based company controls 45 percent of global production and trade in palm oil and said it would ensure its own plantations and companies would provide only products that are "free from links to deforestation or abuse of human rights and local communities."
Sustainable supply outstrips demand
Why aren't more vendors committing to sustainable sourcing? One reason may be that demand for sustainable palm oil lags behind supply. A segregated supply chain for sustainable palm oil has yet to be established. Since it is a bulk commodity, palm oil from both certified and uncertified sources often is mixed during the journey from grower to consumer. The vast number of suppliers creates difficulty tracking the origin of each batch of oil.
Worldwide, palm oil consumption is expected to double by 2020.
"The use of palm oil has increased significantly in recent years due to the desire to eliminate trans-fat from food. Because of the characteristics of palm oil, such as semi-solid at room temperature and less saturated fat than other oils, it is a great alternative to trans-fat," said Walter Czapran, national sales manager at Justin's Nut Butter.
The U.S. Food and Drug Administration's recent ban on trans-fat in food likely will contribute to an upswing in palm oil use as food companies seek suitable alternatives to trans-fats. Strengthening RSPO standards and a global, industry-wide commitment to sourcing sustainable, ethical palm oil will be even more important.