Soil & Sea: Reports from our producers
This article was originally published in February 2014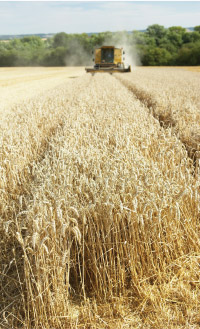 Northwest farmers can expect a higher bottom line in 2014 due to lower fuel and feed costs. Farm economists say farm incomes will be down nationally this year, but farm incomes should be good for Northwest crops including wheat, pulse crops, apples and pears.
Researchers at WSU will use a $750,000 U.S. Department of Agriculture grant to study whether organic management improves natural pest control. The grant was one of five disbursed nationally to improve the competitiveness of organic livestock and crop producers.
More wheat may be grown again in Western Washington, Oregon and British Columbia. Investors, policymakers and farmers are leading an effort to bring wheat-growing back because artisan bakeries, breweries and local-food operations reportedly say wheat grown west of the Cascades has its own unique flavor. Some of the challenges have included linking producers and buyers and reviving the infrastructure to store, transport and market the grain.
You might think BPA would lose popularity as evidence piles up of the likely harm it causes. But the global market for BPA will boom over the next six years, according to a report from the consultancy Transparency Market Research. The group expects global BPA sales to reach $18.8 billion by 2019, from $13.1 billion in 2012 — about a 44 percent jump.
West coast cherry farmers are turning to high-tech sorters to stay competitive. Multiple varieties with varying maturity timing and climate and weather variables have long challenged human sorters.
California Citrus growers are assessing the damage from freezing temperatures in early December. The state's citrus industry spent $32.4 million using wind machines and irrigation to protect the valley's $1.5-billion crop from freezing.
Hop acreage continues to grow in the Northwest due to the boom in craft breweries. Washington, Idaho and Oregon are the only states that grow hops.