A boost of protein
This article was originally published in January 2014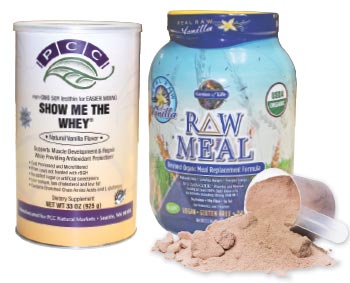 Protein powders
If you don't need a whole meal replacement but just want to provide a satiating protein boost to your smoothie or food, try one of these:
Show Me The Whey — This whey protein powder comes from cows not treated with rBGH. It provides 18 grams of protein per serving and is easy to mix into yogurt, applesauce and many other foods and drinks. It contains no artificial colors, flavors or preservatives, and no wheat, gluten, eggs, peanuts, tree nuts or soy. It's lightly sweetened with stevia, a natural sweetener shown to have no effect on blood sugar levels.
PCC Vegan Protein Powder — An organic, soy-free powder made with organic rice protein, organic hemp protein, organic chia protein and organic mushroom proteins. No artificial colors, flavors or preservatives.
Garden of Life RAW protein — This raw protein powder contains 17 grams of protein per serving — 33 percent of the recommended daily value. It mixes instantly in liquid and has a neutral taste. It's suitable for vegetarians and vegans, those on low-carbohydrate diets, and people with gastrointestinal sensitivities to milk or whey.
The protein comes from organic sprouts of rice, amaranth, quinoa, millet, buckwheat, garbanzo beans, lentils, adzuki beans, flax seeds, pumpkin seeds, sunflower seeds, chia seeds and sesame seeds. Healthy live probiotics and enzymes are added as well.
MRM egg white protein — A source of protein that's 100-percent derived from egg albumen, with no artificial flavors, colors or sweeteners. It's also free of cholesterol, carbs and dairy.
Omega Nutrition pumpkin seed protein powder — Made in Bellingham from defatted organic pumpkin seeds and nothing else, this is good for people who don't want a protein powder with allergens such as soy or dairy. It has a neutral taste, so you can add it to baked goods or other dishes.
Manitoba Harvest hemp protein — Some people experience an unsettled stomach from other plant-based protein powders. They may find hemp protein powder to be more agreeable. PCC carries these from Manitoba Harvest:
Hemp Pro 70 — This is the hemp powder highest in protein, with 20 grams of protein per serving.
Certified Organic Chocolate Hemp Protein Powder — Choose this powder if it's important to you that the protein be organic. It has a touch of sweetness from organic palm sugar and is flavored with fair-trade cocoa.
Meal replacements
No time to make a nutritious meal? Adding a scoop of a meal replacement powder to water, almond milk, soy milk, coconut water or your favorite smoothie can be a quick way to get nutrients and keep you energized. Both brands below are vegan.
Garden of Life RAW Meal — A convenient meal-on-the-go, these raw, organic, gluten-free, dairy-free, Non-GMO Project Verified powders contain 26 superfoods from raw organic seeds, sprouts and greens. They're full of probiotics, enzymes, vitamins and minerals (from food sources), and provide 34 grams of plant-based protein and 9-16 grams of fiber (depending on flavor) per serving. They're also free of fillers, synthetic nutrients, preservatives and artificial flavors and sweeteners.
Standout ingredients: High-protein chlorella, organic sprouts, organic barley grass, berries and cherries.
Try Original, Vanilla, Chocolate or Vanilla Spiced Chai.
Vega One Nutritional Shake — Made from natural, whole-food ingredients, these meal replacement powders are free from dairy, gluten and soy, and contain no added sugar, artificial flavors, colors or sweeteners.
Vega One provides omega-3 fats from flaxseed, antioxidants from a variety of superfruits, live probiotics, greens (including chlorella, spinach and broccoli), and 50 percent of the recommended daily intake of vitamins and minerals. It also provides 15 grams of protein and 6 grams of fiber. 
Standout ingredients: Pea protein, kale, broccoli, maqui, goji and açaí berries, pomegranate seeds, mangosteen, and maca root, which is rich in amino acids and said to regulate hormones and energize.
Available in French Vanilla, Berry, Chocolate, Vanilla Chai and Natural.