Thank you, I-522 supporters
This article was originally published in December 2012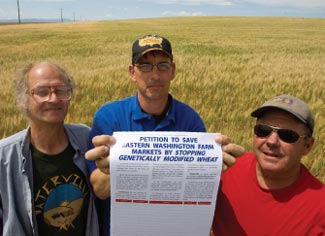 With the vote on California's Prop 37 to label genetically engineered foods behind us, we in Washington are in the homestretch of our signature gathering to present I-522 to the legislature in January.
By the time you read this, we estimate having 250,000 signatures in hand — about 70 percent of the number recommended by the state. A third has been gathered by volunteers.
No initiative since 2000 has succeeded in getting the signatures required, in the time allowed by the state, without paid support from professional signature gathering services. So we're very grateful for the companies that not only endorsed I-522 but also provided funding early in the campaign needed to push the numbers. Most gave very generously to Prop 37, so we're thankful they were able to allocate additional funds so early in the campaign.
PCC Natural Markets pledged $100,000 to the effort. We're thankful for the support and generosity of our CEO and CFO. Yet it's you, the customer, who really made it possible.
Please join us in honoring the partners that donated $1,000 or more, putting wind in our sails and hope in our hearts.
Organic Consumers Association
This grassroots nonprofit was the first to step up early in the campaign, contributing $10,000 for I-522 even when it wasn't clear if we had a chance. OCA very recently announced an additional $50,000 challenge grant in partnership with mercola.com in November. OCA and Mercola raised more than $2.2 million for Prop 37.
Natural Products Association Northwest
NPA Northwest donated $10,000, plus an additional $10,000 challenge grant in memory of Craig Winters, founder of the 1999 Campaign to Label Genetically Engineered Foods. PCC staffer Roxanne Green completed her term as NPA NW president and will become president of NPA national in 2013.
Nature's Path
Delicious all-organic, non-GMO verified, whole-grain cereals, granola, toaster pastries and bars from a Northwest family-owned brand. Nature's Path donated $650,000 — more than any other company — for Prop 37 and we're thankful for the $11,000 given to support I-522 in the early stages.
Earthbound Farm
Started on 2.5 acres in California's Carmel Valley, Earthbound now employs 150 farmers on 30,000 acres. Its $5,000 contribution comes from customer support, such as yours, for its fresh, certified organic salad greens, spinach, broccoli and other produce sold at PCC. Earthbound also supported Prop 37 with $10,000.
Organically Grown Company
PCC's signature supplier of fresh, organic produce from near and far provides much of the best produce on the planet. The personal relationships with OGC staff also are something we treasure. Its $1,000 contribution to this campaign is true to its core values and much appreciated.
Udi's/Earth Balance/Glutino
These companies have made life a lot more delicious for people with special diets — PCC's gluten-free and vegan customers have relied on their breads and spreads for years. They donated $1,500 and PCC's bakery is pleased to use Earth Balance to make the frostings for our vegan cakes and cupcakes. These companies gave $150,000 to Prop 37.
Turtle Island/Tofurky
Another brand that makes life more delicious for vegans, Tofurky products include pizza, tempeh, slices and sausages. Its $1,000 contribution helped us before bad weather raised costs. Tofurky contributed $5,000 to Prop 37.
Let Us Farm
Organic farmer Steve Hallstrom played a key role in the small coalition making I-522 a reality. When it seemed all but
impossible, Steve held steady, provided leadership, and gave $5,000 from his own pocket, plus a $10,000 "forgivable" loan. Look for Steve and Cecelia Boulais and their vibrant fresh, organic vegetables at the U-District Farmer's Market.
Marlene's Markets
An independent grocer with stores in Olympia and Federal Way, Marlene's stores have gorgeous produce and deli foods we trust. We admire these markets, Education Director Lori Lively, and Marlene especially for years of leadership on this issue, and for $2,000 that helped us meet NPA's matching grant challenge.