Year-end giving
This article was originally published in December 2012
Consider donating to these worthy organizations and efforts:
PCC Food Bank Program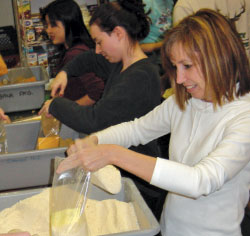 Everyone deserves good food. That's why PCC collects contributions for our 10 local food bank partners.
We use donations to purchase nutritious bulk foods that are most needed at each food bank such as grains, beans, pasta, raisins, pancake mix and much more at discounted wholesale prices.
All funds donated to the PCC Food Bank Program go directly to the food banks in the form of food or cash; none is used for administrative costs. Look for displays near checkstands at PCC stores throughout December.
So far this year, we've raised $57,486.90 and donated 44,090 pounds pounds of food. Thank you!
PCC Farmland Trust
PCC Farmland Trust relies on individuals like you to help save local organic farmland forever, so please consider a gift.
The goal for the trust's 2012 Annual Campaign is to raise $400,000 for crucial on-the-ground work of stewardship, community education and land preservation, as well as the behind-the-scenes work of appraisals, boundary line adjustments and soil tests.
You can donate online and learn more about how to help preserve farms at pccfarmlandtrust.org.