Soil & Sea: reports from our producers
This article was originally published in May 2012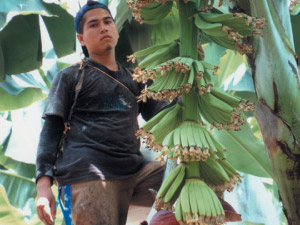 Organic banana pricing is up sharply due to active demand on the world market. The increases may be permanent.
The price of skipjack tuna keeps rising. Whole skipjack are being quoted to Thai canners at double the price a year ago. Growing demand for canned tuna in China and an extended ban on controversial fishing equipment called FADs are blamed for the price increase. In the past, the canned tuna industry has responded to increasing prices by reducing the size of the can, now down to a 5-ounce standard. Skipjack accounts for more than 70 percent of the world's canned tuna.
The quota for Alaskan sablefish (Black cod) is bumped up 20 percent for the 2012 season to 29 million pounds. This means for the first time in recent history more sablefish than halibut will be caught. Halibut quotas in Alaska were reduced 18 percent to 24 million pounds. The U.S. appetite for buttery sablefish has grown modestly in recent years, but more than 90 percent of the catch still is exported, primarily to Japan.
Demand for U.S. wine in Asia has skyrocketed. From 2007 to 2011, exports to Japan are up 91 percent, to China 314 percent, and Vietnam 2,900 percent. Sales topped $1.2 billion in 2011, up 44 percent from 2007.
The supply of fruit tree saplings from Washington is way down, as nurseries are trying to recover from major losses caused by early freezes two years ago. Five nurseries that produce about half the national supply say they lost a fourth of their stock, or 1.9 million trees, at an estimated value of $13.6 million.
Honeycrisp apples cost more to grow than other varieties but fetch higher prices. Honeycrisp require more calcium sprays in the orchard to prevent bitter pit, more thinning, and special storage because they're chill-sensitive. Still, volume has exploded in Washington because farmers earn double the price for other varieties.